Die Korallenriffe von Curaçao, die unzählige Meerestiere beherbergen, sind das auffälligste Naturmerkmal der Insel unter Wasser. Weiche Organismen machen lebende Korallen zu dem, was sie sind. Die Zellen am Boden des Korallenriffs von Curaçao scheiden jedes Mal einen lebenswichtigen Tropfen Kalk aus, der das Wachstum des Riffs ermöglicht. Wenn diese Korallen absterben, bleibt nur das Kalksediment zurück. Darauf wachsen dann andere Korallen, die mehr Kalkstein produzieren und schließlich verrotten.
Add a header to begin generating the table of contents
Tauchen und Schnorcheln
Es gibt viele einfache Möglichkeiten, das Beste, was die Insel zu bieten hat, zu genießen. Ein Großteil des Korallenriffs von Curaçao ist nur wenige Minuten vom Strand entfernt. Wer die wunderschöne Unterwasserwelt der Karibik kennen lernen möchte, kann dies beim Schnorcheln oder Tauchen mit einer Sauerstoffflasche tun.
Es dauerte Millionen von Jahren, bis sich das Riff langsam bildete. Deshalb ist es sehr wichtig zu wissen, dass Korallen sterben, wenn man sie berührt (zum Beispiel mit den Schwimmflossen). Andererseits dauert es sehr lange, sich zu erholen. Achten Sie deshalb beim Tauchen und Schnorcheln darauf, dass Sie sich oberhalb des Korallenriffs von Curaçao aufhalten und nichts anfassen.
Korallenriffe auf Curaçao
Es gibt mehrere Orte, an denen Sie das Korallenriff von Curaçao bewundern können. Wir nennen unsere vier besten.
Klein Curaçao
Einer der beliebtesten Ausflüge auf Curaçao ist eine Bootsfahrt nach Klein Curaçao, einer kleinen Koralleninsel etwa 16 km von der Hauptinsel entfernt. Der 800 Meter lange weiße Sandstrand auf der Leeseite der Insel ist ein beliebter Ort, um Meeresschildkröten zu beobachten und zu schnorcheln. Die angrenzenden Korallenriffe von Curaçao beherbergen etwa 350 tropische Fischarten und 65 Korallenarten. Falterfische, Mondfische, Tangfische, kleine Zackenbarsche, Kugelfische und eine Fülle anderer Rifffische kann man beim Schnorcheln vor dem Strand von Klein Curaçao beobachten.
Schlepper in der Bucht von Caracas
Vor 30 Jahren erlitt ein kleiner Schlepper vor der felsigen Küste der Bucht von Caracas Schiffbruch. Das Wrack, das jetzt mit Korallen bedeckt ist, liegt nur fünf Meter unter der Wasseroberfläche und ist ein beliebter Ort zum Schnorcheln und Tauchen. Keine Strömungen oder Wellen stören Ihr friedliches Tauch- oder Schnorchelerlebnis über den Trompetenfischen, Muränen, Kaiserfischen und Röhrenkorallen unter Wasser. Das Korallenriff von Curaçao, das um die Ecke von Tugboat liegt und bis zu 30 Meter tief ist, kann von Tauchern erkundet werden, die ein wenig weiter hinausschwimmen. Tauchboote fahren von mehreren Stellen ab, oder Sie können vom Ufer aus zu den Tugboat-Ruinen schwimmen.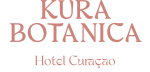 Dieses Anwesen, das sich über ein Gebiet von acht Häuserblocks erstreckt, bietet ein einzigartiges Luxuserlebnis in einem botanischen und friedlichen Rückzugsort, der absolute Privatsphäre und Intimität bietet.
Ideal für
Geschäftsleute, Paare oder Liebende
pausenbedürftig
Alice im Wunderland in Playa Kalki
Playa Kalki bietet eine fantastische Unterwasserwelt neben dem wunderschönen Korallenriff von Curaçao und einem weißen Strand aus Sand und Korallengeröll. Sie fühlen sich wie Alice im Wunderland, wenn Sie eine völlig neue, aufregende Welt entdecken. Stachelrochen, Schildkröten, Muränen und tropische Fische sind in den verschiedenen pilzförmigen Korallenformationen zu Hause, die nur drei Minuten vom Ufer entfernt sind. Vom Kura Hulanda Lodge & Beach Club führt eine Treppe hinunter zum kleinen Strand. Go West Diving ist ein Ort, an dem Sie Tauch- und Schnorchelausrüstung mieten können.
Cas Abao
Dieser exklusive Strand am Cas Abao Beach bietet puderweißen Sand, sich wiegende Palmen und azurblaues Wasser. Tauchen Sie in den Ozean, um eine Vielzahl von Meereslebewesen zu beobachten, darunter Hart- und Weichkorallen und Meeresschwämme am Korallenriff von Curaçao. Auch tropische Fische wie Kugelfische, Papageienfische, Majors und Muränen schwimmen hier in Hülle und Fülle. Auch Meeresschildkröten und Seepferdchen können mit etwas Glück am Korallenriff von Curaçao angetroffen werden. Das Tor des verlassenen Anwesens Cas Abao führt direkt zum Strand. Im Tauchgeschäft direkt am Ufer kann man Ausrüstung zum Schnorcheln und für andere Aktivitäten mieten.
Stiftung zur Wiederherstellung der Korallen auf Curaçao
Leider geht es nicht allen Teilen des Korallenriffs von Curaçao gut. Die Wiederherstellung von Korallen- und Fischgemeinschaften erfordert die Überwindung von Hindernissen. Hier ist die Aufklärung über die oben erwähnte Manipulation von Korallen von entscheidender Bedeutung.
Die gemeinnützige Organisation Reef Renewal Curaçao (früher bekannt als Coral Restoration Foundation Curaçao) hat es sich zur Aufgabe gemacht, den vom Aussterben bedrohten Teil des Korallenriffs von Curaçao zu vergrößern und das Bewusstsein für die Bedeutung des Meereslebens zu schärfen.
Sensibilisierung für die Bedeutung der Korallen.
Die Wiederherstellung des Flachwasser-Riffsystems, die Aufklärung der Öffentlichkeit und die Erhaltung der natürlichen Ökosysteme Curaçaos sind die Hauptziele dieses Programms.
Das Ziel von Reef Renewal Curaçao ist es daher, den Schutz der Korallenriffe und den verantwortungsvollen Umgang mit den Ozeanen in den Mittelpunkt der Kultur Curaçaos zu stellen. Dadurch sind die Flachwasserriffe nicht mehr bedroht.
Das Korallenriff von Curaçao ist für mehrere Dinge wichtig. Vom Küstenschutz über Lebensmittel bis hin zu den begehrten Tourismusdollar. Das Korallenriff von Curaçao ist für die Wirtschaft und die Infrastruktur der Insel lebenswichtig. Allerdings stellen menschliche Aktivitäten eine ernsthafte Bedrohung für diese Riffe dar, und die Wiederherstellung der Riffe ist nur ein Teil der Antwort.
Reef Renewal Curaçao braucht neben der Unterstützung der Regierung auch die Hilfe vieler verschiedener privater Parteien, um das Korallenriff erfolgreich wiederherzustellen.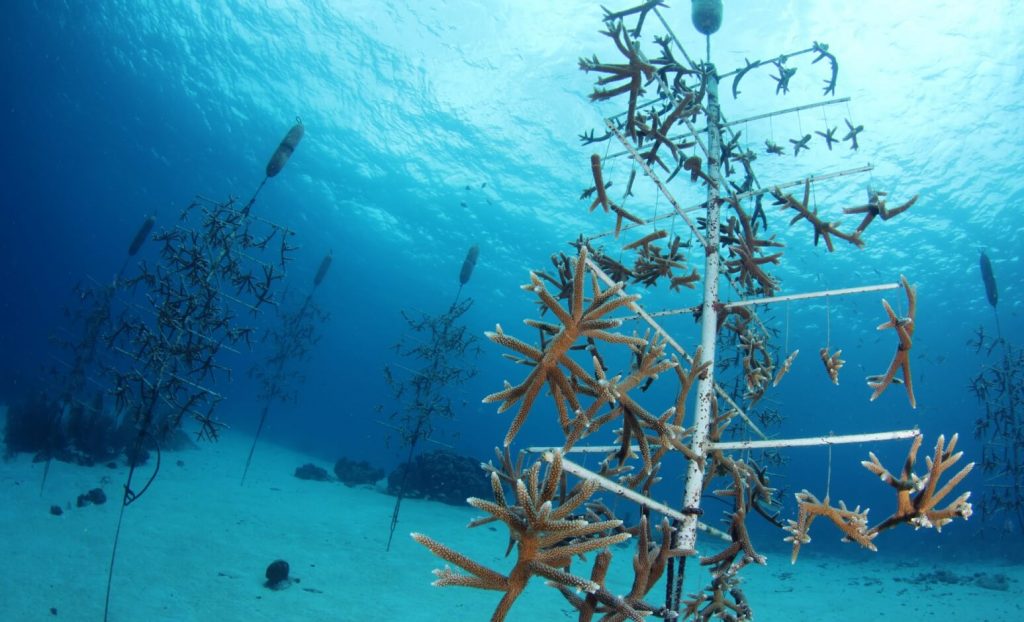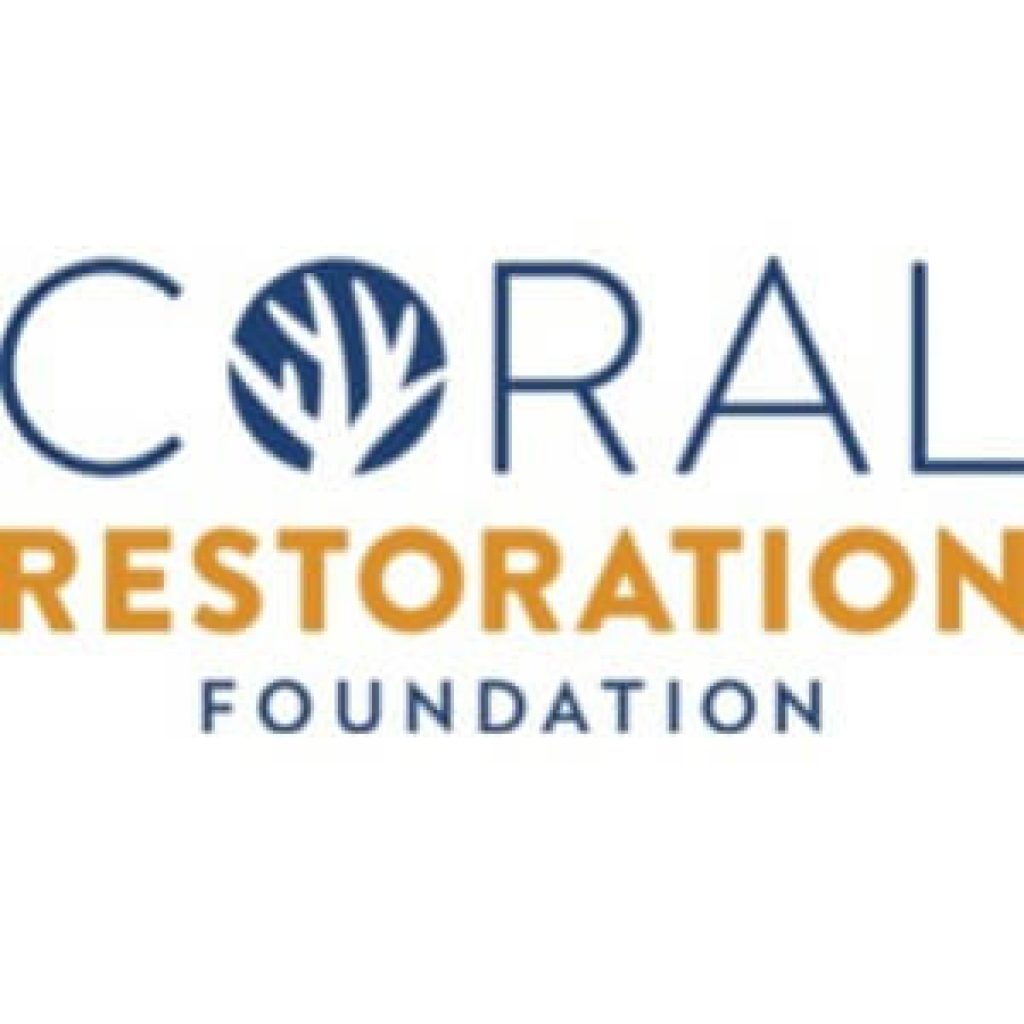 Wie funktioniert die Wiederherstellung von Korallen eigentlich?
Reef Renewal Curaçao beginnt mit der Wiederherstellung des Riffs, indem Teile von Elchhorn- und Hirschhornkorallen auf Korallenbäumen wachsen. Ein Vorteil dieser Methode zur Wiederherstellung von Korallen ist die Geschwindigkeit, mit der Korallen gezüchtet werden können, die wesentlich höher ist als in der freien Natur. Die Korallen bleiben in der Wassersäule schwimmend, wo sie ständig mit Nährstoffen versorgt werden und auch der Sonne näher kommen. Diese beiden Bedingungen sind ideal für die Entwicklung des Korallenriffs von Curaçao.
Bild von OceanEncounters.com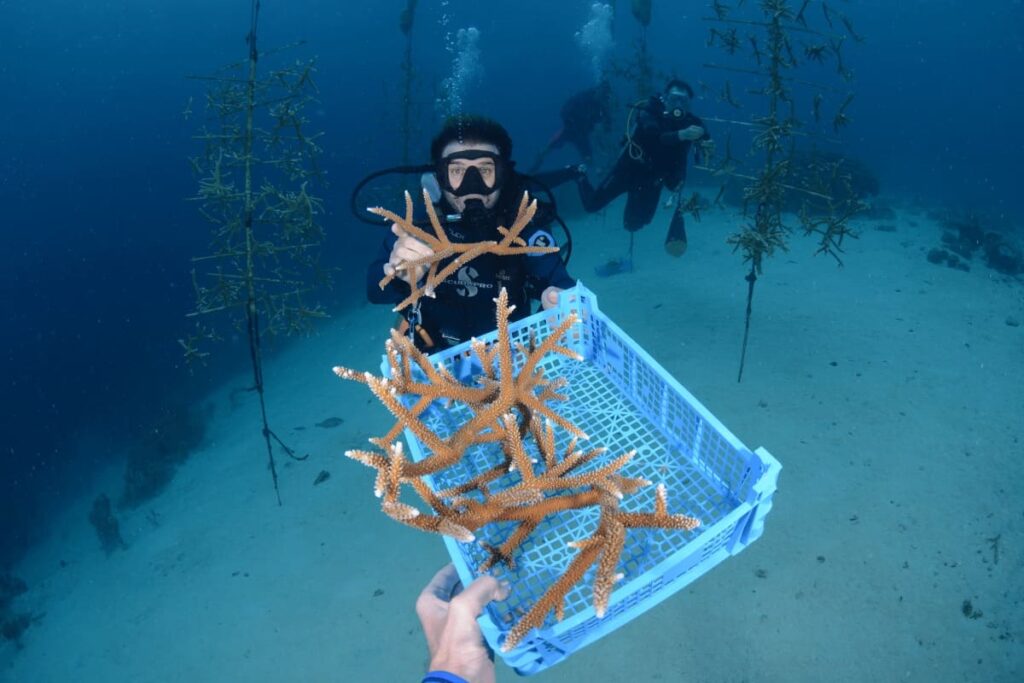 Curaçao hat mehrere Korallenfarmen
Eine Korallenbaumschule ist eine Gruppierung von vier oder mehr dieser Korallenbäume. Acht Baumschulen mit insgesamt fünfundfünfzig Bäumen sind über die Insel Curaçao verstreut. Sie können auch eine Patenschaft für einen Korallenbaum übernehmen, um die Korallen wiederherzustellen und das Korallenriff von Curaçao zu erhalten! Dieser wird mit Ihrem Namen beschriftet sein.
Im Baoase Luxury Resort, im Avila Beach Hotel, im Kontiki Beach Resort, im Lions Dive Beach Resort am Mambo Beach, in Marie Pampoen und im Eel Valley unterhält Reef Renewal Curaçao aktive Staghorn-Aufzuchtstationen.
Die Korallen können nach sechs bis neun Monaten freigelassen werden, wenn sie die ideale Größe erreicht haben. Bei der Verpflanzung werden die Korallen wieder mit dem Riff verbunden, damit sie reifen und sich vermehren können.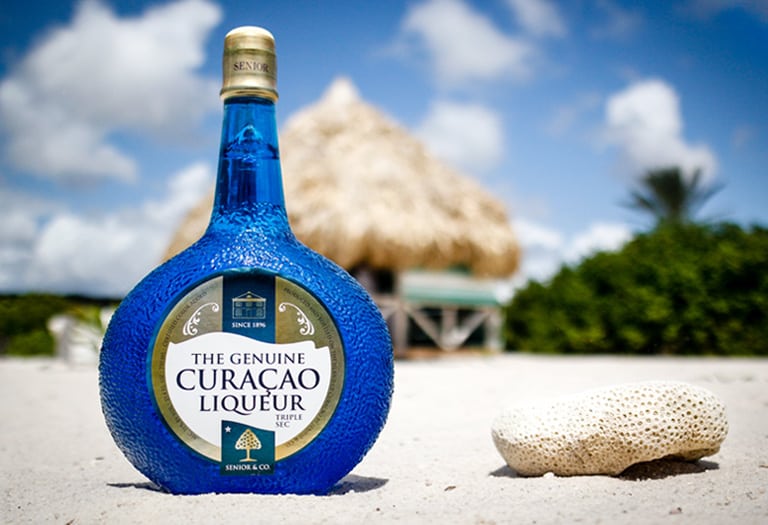 Wenn Menschen auf der ganzen Welt nach Curaçao googeln, stoßen sie schnell auf schöne Bilder von Blue Curaçao, den berühmtesten Cocktails der Insel! Blauer Curaçao-Likör ist eine der beliebtesten und vielseitigsten Spirituosen. Es ist ein süßer Likör mit Zitrusgeschmack, der aus den getrockneten Schalen der Laraha-Zitrusfrucht hergestellt wird.
Mehr lesen "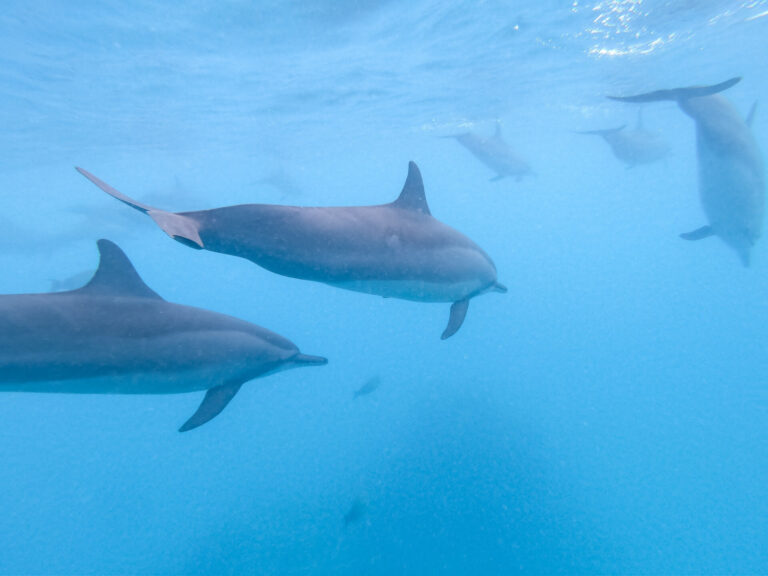 Curaçao ist bekannt für seine Delfine Treffen, Schwimmen oder Tauchen mit einem Delfin Curaçao ist der perfekte Ort, um Delfine zu beobachten, mit ihnen zu schwimmen und sogar mit ihnen zu tauchen. Curaçao ist oft für sein Delphinhaus, die Dolphin Academy, bekannt. Die Dolphin Academy Curaçao befindet sich auf dem Gelände des Sea Aquarium in
Mehr lesen "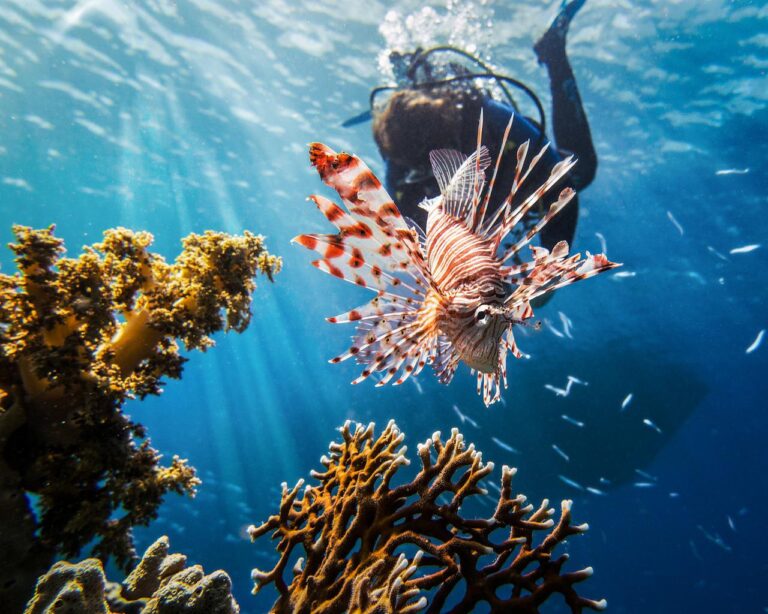 Tauchen Curacao Es ist nicht verwunderlich, dass sich jedes Jahr viele Menschen für einen Urlaub auf Curaçao entscheiden. Abgesehen davon, dass man hier Niederländisch sprechen kann, ist es auch wahr, dass man hier hervorragend tauchen kann. Die Chancen stehen gut, dass Sie darüber nachdenken, einen Tauchurlaub auf Curacao zu buchen, denn Sie sind nicht ohne
Mehr lesen "