BlueFinn Charters offers you the newest and largest catamarans in Curaçao: 75ft Catamaran BlueFinn and 80ft Catamaran BlueFinn2. Both catamarans are equipped with a large covered seating area, including a bar, benches with storage compartments, tables and two marine bathrooms. The catamarans also offer a large net area, outdoor benches, a barbecue, music system, snorkeling equipment and crew.
Seven days a week, these two catamarans offer a variety of trips: from the most beautiful beaches on the west side of Curacao to our secluded paradise island called "Klein Curacao". From sunset cruises to exploring Spanish Water.
Catamaran BlueFinn visits Klein Curaçao 5 times a week. Fridays are reserved for the 3-in-1 snorkeling trip, where we visit the wreck of a sailboat surrounded by colorful fish. The second snorkeling spot is the famous tugboat wreck in Caracas Bay. This 9 meter long wreck is covered with coral, sponges and surrounded by schools of colorful fish. It's a site to see! After snorkeling here we visit our third and last snorkeling spot on the pier of Caracas bay where we also serve a delicious lunch for you. In shallow water you can swim among an abundance of fish, coral and other marine life. You can even go under the pier to see different formations of hard and soft corals. It really is a spectacular snorkeling spot!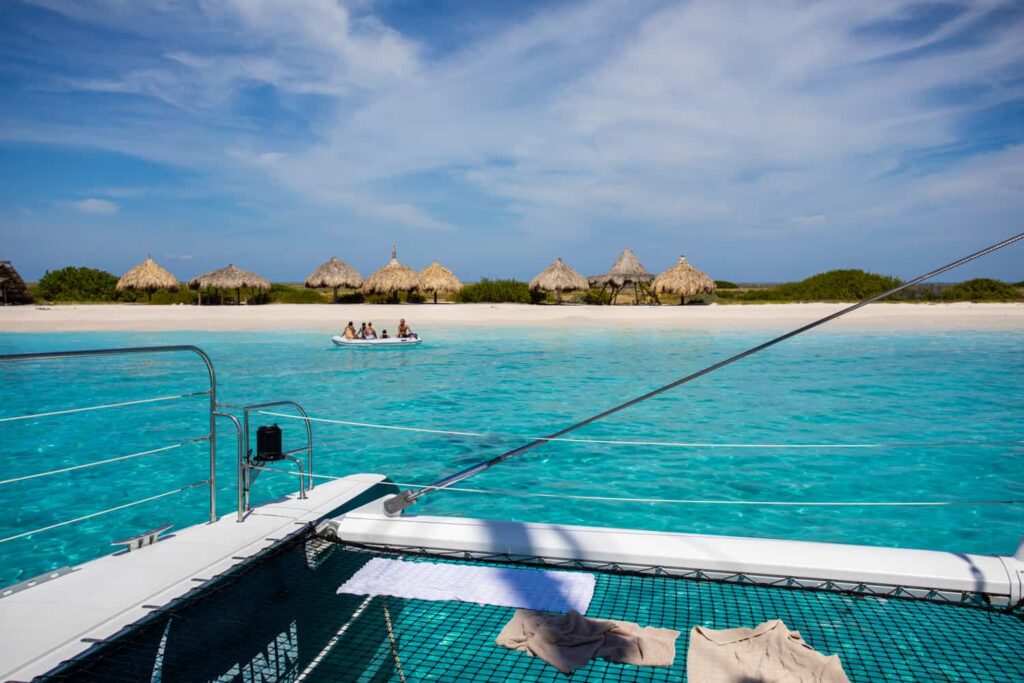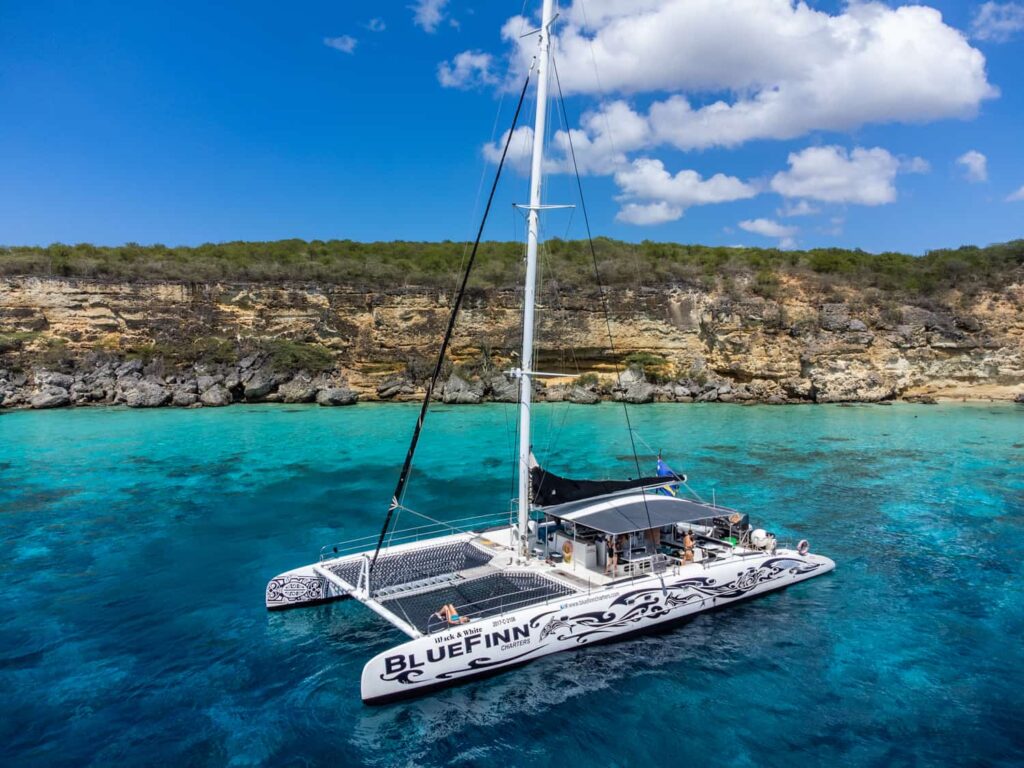 Friday night Catamaran BlueFinn sets sail on a 2,5 hour Sunset Cruise to the Curacao east coast, Caracas Bay, Fuik Bay and Spanish Water. On board we serve you drinks, bites and good music as we sail into the sunset. If you have something special to celebrate, looking for a romantic night out, or just want to do something totally different for Happy Hour, our afternoon cruise is the best ambience for a romantic or fun sunset cruise.
On Sunday, Catamaran BlueFinn sails to the west coast of Curaçao. As we cruise along the coastline, enjoy the sites and admire Curacao from the water. Our first stop of the day will be at Cas Abao Beach, voted one of the top 5 most beautiful beaches in the world, and once we arrive you will surely understand why! We dock here so you can swim, snorkel, dive or just relax on the boat or in the water while the crew prepares an extensive BBQ lunch for you! After relaxing for a few hours here, we head to our second stop of the day: Kokomo. This is also a wonderful place to snorkel and enjoy the water. There's even a cool swing in the water for selfies. A tour of the harbor completes the tour.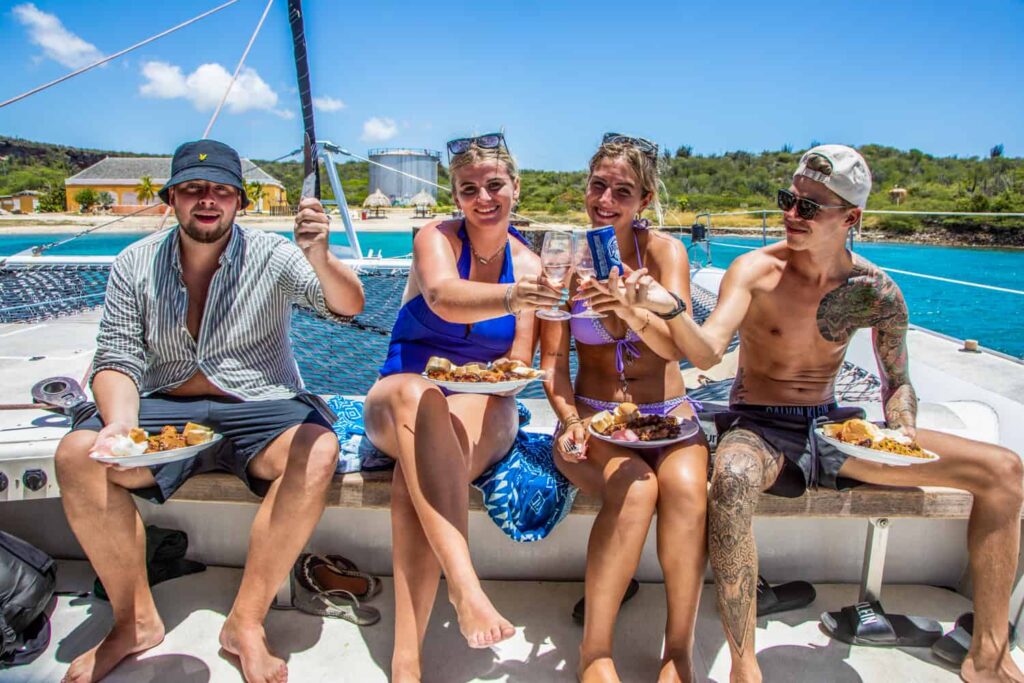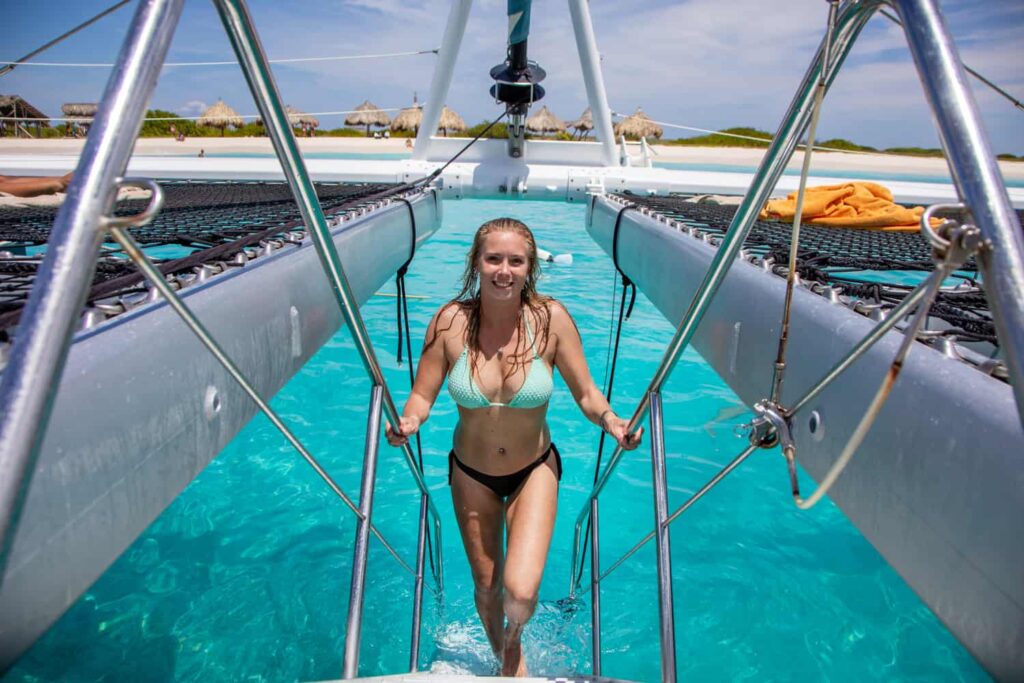 Meanwhile, Catamaran BlueFinn2 is enjoying its daily trips to Klein Curaçao. This uninhabited island just off the coast of Curaçao is a must when you are on Curaçao! The catamaran trip takes approximately 1 hour and 45 minutes, depending on weather conditions. Once on the island, you can leave ship to enjoy the island and see the sights. Swim, snorkel, dive, explore or just relax on the beach or catamaran. We serve an extensive BBQ lunch on board and also offer a premium open bar. Only the good stuff! We hoist sails around 3 pm and partially sail back to the mainland. This is also when our famous "Captains Happy Hour" begins!!
In addition to two catamarans, BlueFinn Charters offers a motor yacht called Kailani, ideal for small groups to charter. If you are interested in spending the day with just your group of friends or family, or if you want to celebrate a small event on the water, this is the yacht for you! An experienced crew, premium open bar and extensive BBQ lunch are always included!
We invite you to join one of our regular trips, or charter one of our boats for your private getaway. Either way, we look forward to welcoming you aboard and making sure you have the best time and make unforgettable memories!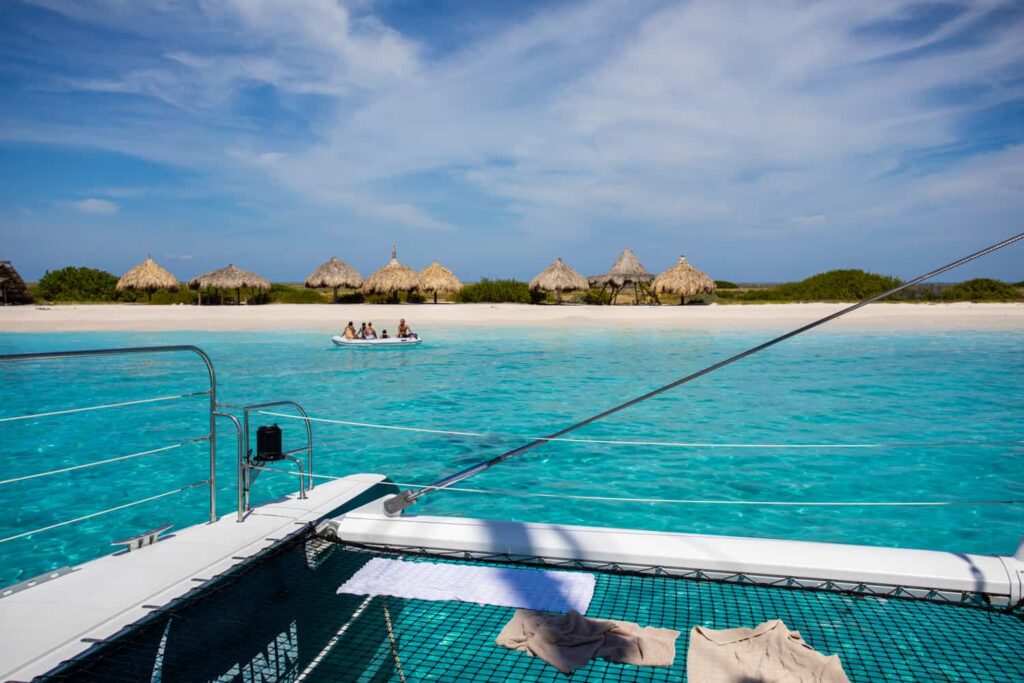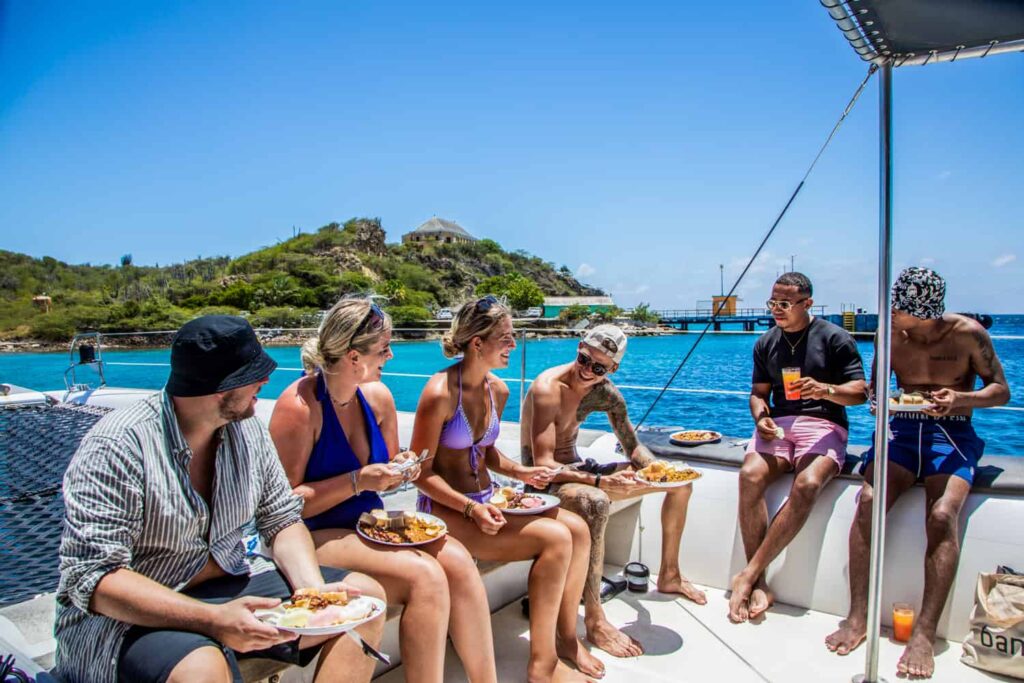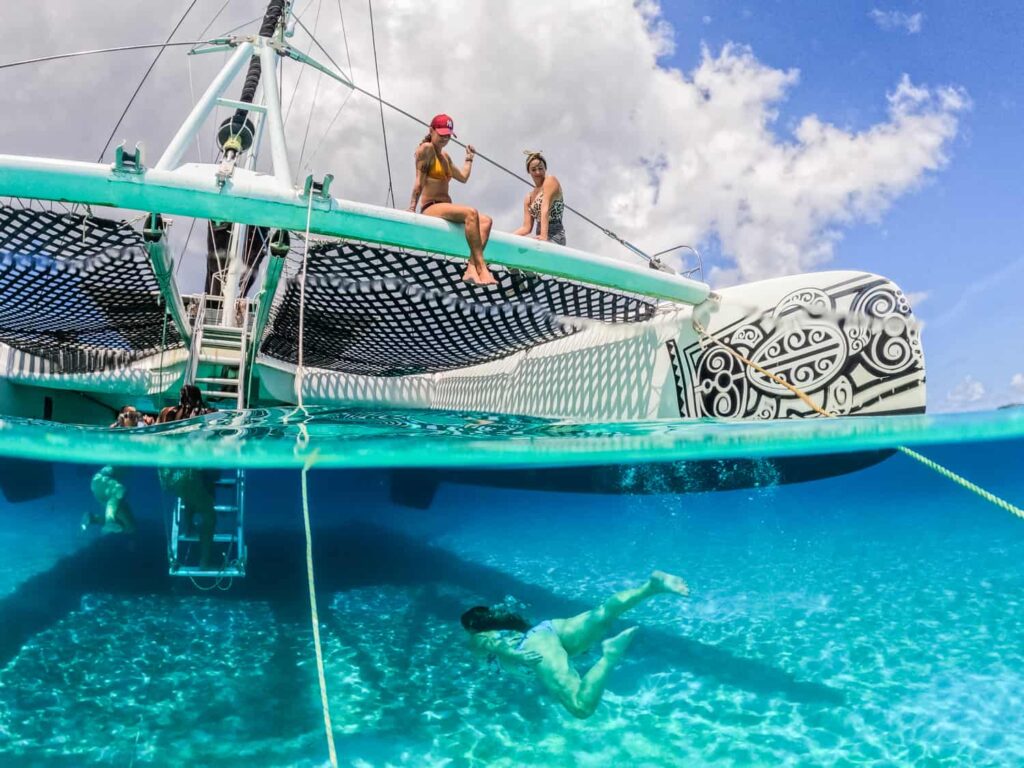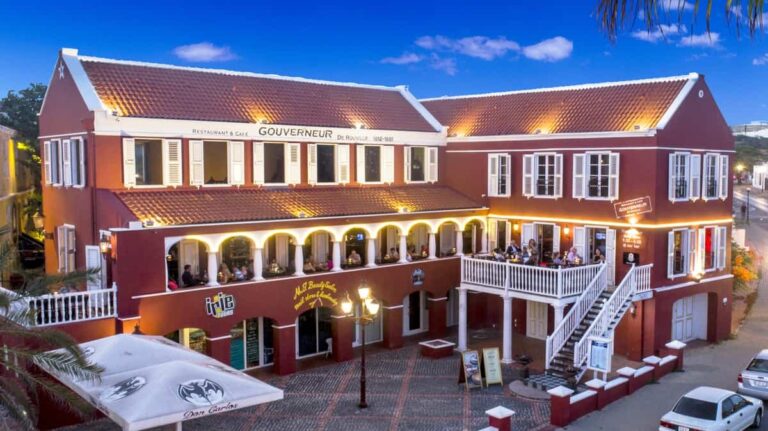 Situated directly at the Anna Bay, with a beautiful view over the Handelskade and harbor entrance, you will find Grand Café 'Gouverneur de Rouville'. This stately Curacaoan location you shouldn't miss, welcomes you from early morning to late at night for drinks, breakfast, lunch and dinner.Breakfast and lunch are served from 09:00 AM till 4:00
Read More »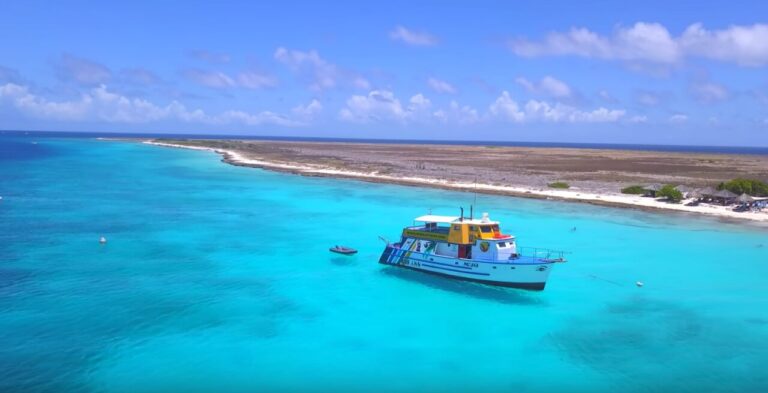 Klein Curaçao is an uninhabited small tropical bounty island. It has a stunning reef, beautiful sea and colorful marine life. This beautiful island is located about. This island is located about 15 miles from Curaçao. It has an area of about 1.7 km2. It is definitely worth a visit if you are in Curaçao. Klein
Read More »