You are probably thinking about a holiday to the Island of Curaçao. When you go to Curaçao, the following is assured: beautiful clear waters, gorgeous beaches, great food and lots to explore under the water. Are you thinking about exploring Curaçao under the water?
This article will tell you all about diving in Curaçao.
Add a header to begin generating the table of contents
Where is Curaçao Located?
The island nation of Curaçao lies in the southern Caribbean Sea about 43 miles (70 kilometers) west of Venezuela, near the Venezuelan coast. Curaçao is one of three major islands that make up the ABC Islands, along with Aruba and Bonaire. These three small islands are collectively referred to as the ABC Islands because they form a single entity under the sovereignty of the Netherlands.
Curacao is an autonomous country that belongs to the Kingdom of the Netherlands. Together with Aruba and Boraie, it forms the Dutch Caribbean, which is one of the most popular destinations among tourists.
Curaçao Best Dive Locations
Curacao is consistently rated one of the best shore-diving locations in the world
The island of Curacao is located in the Caribbean Sea, about halfway between Venezuela and Aruba. With over 80 named dive sites, Curacao offers plenty of opportunities for those looking for great shore dives.
The main reason why many people choose Curacao over Bonaire is because the water clarity here is much better than what we experience in Bonaire. This makes it possible to see a lot more underwater life, including large schools of fish, coral reefs, and wrecks.
Most of Curacao's shore diving sites are just a couple of minutes swim-out from shore, making them easy to access. Even though most of the sites are close together, each site is unique and offers something different. The majority of the sites are found along the South East and West Leeward Coast Line, with only a handful being found along the Northern Coast Line.
If you want to explore the waters around Curacao, make sure to check out where to find the best places to scuba dive in Curacao.
Your perfect holiday in Curaçao
Since this island has become one of the world's best diving destinations. In fact, it holds the record for being the highest number of dives per capita in the world. With over 2,000 diveable wrecks, it is no wonder why divers flock here every year. Here are the top 10 reasons why you should book a trip to the tropical paradise now.
Water temperatures – Between 78°F to 82°F (or 25°C to 28°C)

Marine Life – There are around 500 species of fish including barracuda, nurse sharks, moray eels, sea turtles, and even the occasional shark.

Scuba Diving – Curacao offers everything from beginner courses to PADI Master Instructor training.
History – Curacao's capital Willemstad is full of historical buildings like Fort Amsterdam.
Food & Drink – You won't go hungry because there are plenty of restaurants serving up local dishes like seafood stews, ceviche, and freshly caught snapper.
Beaches – Whether you want white sand beaches or crystal clear water, Curacao has got you covered.

The unique position of the island allows it to remain relatively unaffected by hurricanes and tropical storms. This makes it perfect for divers looking to explore the waters around the island.

The 15 Best Dive sites in Curaçao?
Watamula
Watamula is probably the best dive site around Curaçao. This is because it offers a lot of diversity and a lot of fish. There are many different types of coral formations, including soft coral, hard coral, mushroom coral, and even some caves. You can see a lot of small fish like clownfish, angelfish, butterflyfish, damselfish, etc. The current helps bring nutrients into the area, making it a great place for macro photography.
There are several different dive spots within Watamula. One of the most popular ones is called the Pillar Collar. Here, there are numerous large rock columns rising out of the water. These serve as natural diving platforms where you can find schools of fish above and below. Another good spot is called the Gorgonians. These are huge colonies of giant fan shaped coral that grow vertically down towards the surface.
They provide shelter for smaller fish, and are often home to moray eels.
Another favorite among divers is the Tunnel Reef. This is a massive structure that stretches across the ocean floor. Here, you can find a variety of tropical fish such as parrotfish, barracuda, sergeant majors, scorpionfish, wrasse, etc.
If you want to experience something completely unique, try the Drift Diving option. In this technique, you float along with the current. As you move forward, the current pushes you deeper into the reef. If you stop moving, you sink. So, you have to keep up with the current while being careful not to bump against the rocks.
Booby Trap
The Booby Traphole is located just off the coast of Curaçao and it is one of the most popular dives on this island. It is a gentle slope drop down into the clear turquoise water where you are surrounded by colorful tropical reefs. The current is usually very calm and there is plenty of room to explore. The site is known for its abundance of marine life including sea turtles, moray eels, barracuda, lionfish, nurse sharks, stingrays, and many species of butterfly fish. You can only go to this dive spot by charter.
Beacon Point
The water here is crystal clear and the visibility is fantastic. There are large pillars of coral extending over 50 feet into the ocean. These reefs attract many different types of marine life including snapper, barracuda, grouper, parrotfish, reef sharks, moray eels and even octopus. You can see schools of small schooling fish, rays, turtles and stingrays in the shallows.
There are several spots along the edge of the reef where you can swim out beyond the reef and explore the deeper waters. Here there are some great drop offs and caves. From huge schools of bait fish feeding to plankton just beneath the surface.
Superior Producer
The Superior Producer is one of the most popular dives in Curacao. This wreck dive offers divers the chance to explore the interior of the shipwreck, including the hold where the crew lived during the voyage.
This wreck dive is located just off shore of Willemstad, Curacao. The wreck sits upright at a depth of 30 meters (100ft), making it a great choice for those looking for something different.
In addition to exploring the inside of the ship, divers can enjoy swimming along the outside of the hull, watching for fish and coral formations.
Tug Boat
The wreck of the tugboat lies off the coast of Curacao, just north of Willemstad. This shipwreck is one of the best diving sites in the Caribbean Sea, as it is located close to shore and offers great visibility. Divers love the fact that there are no currents here, making the water very calm. In addition, the wreck is situated in about 10 meters of water. Because of this, the wreck makes for excellent dives for beginners and experienced divers alike.
East Point
The east coast of Curaçao is home to some amazing dive sites, including the East Point. This is a must dive.
Only accessible by boat, this spot is located within the National Marine Park of Curaçao, making it a protected area. This makes it illegal to anchor here, and you must use a charter boat.
This site is largely one of Curaçao's most pristine and unblemished fringing reefs, if not the entire Caribbean. Lush gorgonian growth covers much of the site, along with hard corals and sponge gardens.
A large school of tarpon lives in the underwater bridge, a naturally occurring rock formation that was formed over hundreds of years.
Sharks, eagle rays, large Barracuda, and turtles are often seen at this beautiful Curaçao diving destination.
Small Wall
The small wall is located near Directors bay, just north of the entrance. It is a very popular spot for divers looking for a little excitement. The wall drops off into a large cavern system with lots of interesting formations and coral growth. The current is strong here and there is lots of movement.
There is a lot of life around the area including fish, crustaceans and even sharks. You might see schools of barracuda, snapper, jacks, parrotfish, etc.
This is a great place to start out your trip to Curacao. We recommend you bring your camera and take some photos while you explore the reef.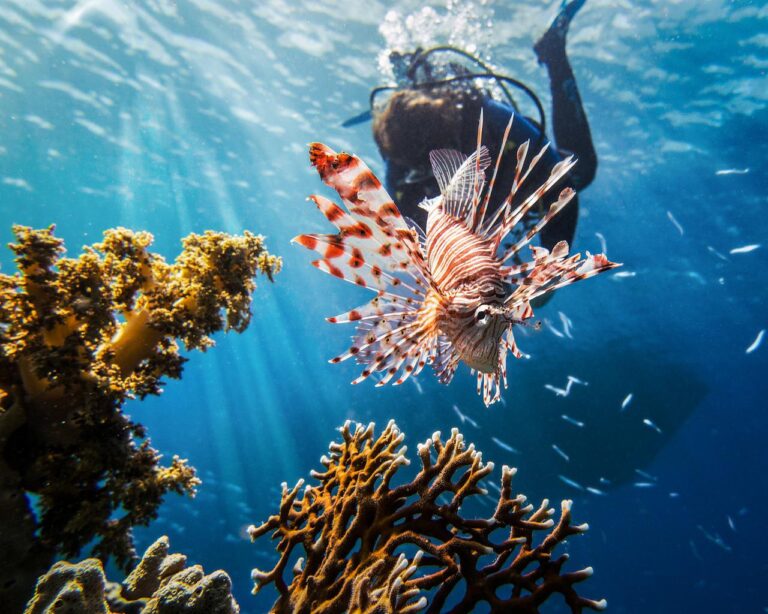 Diving Curacao It is not surprising that every year many people choose to vacation in Curaçao. Besides the fact that you can speak Dutch here, it is also true that you can do excellent diving here. Chances are you are thinking about booking a diving vacation to Curacao, you came to this article for a
Read More »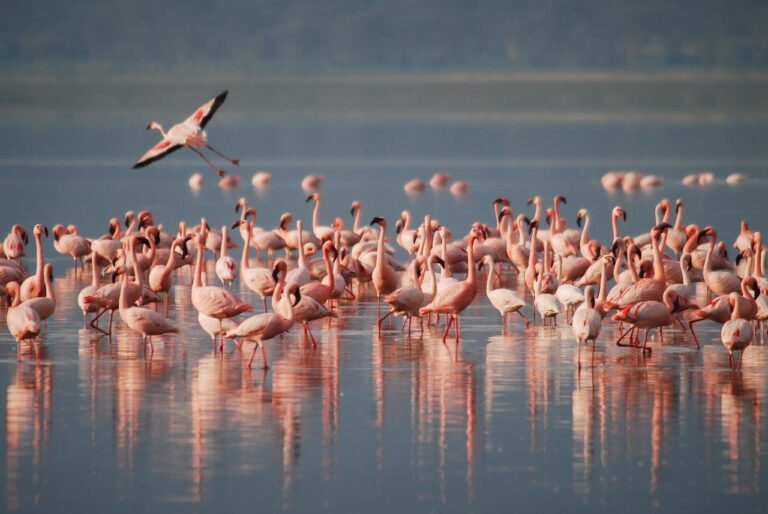 I'm sure you've heard how beautiful flamingos are. They're cute, right? Well, they are even cuter in real life. The island of Curaçao is home to some of the most amazing flamingos in the world. And now you can see them, too. There are many different places to bird watch here. One such place is
Read More »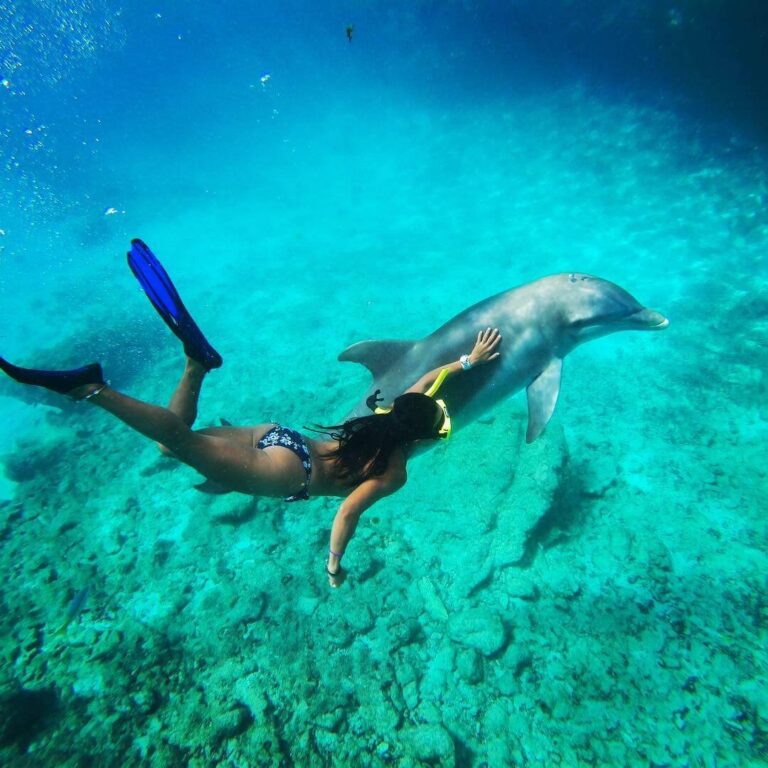 Swimming with dolphins may be one of your dreams that can come true during your vacation in Curaçao. If you are lucky, you can spend hours admiring the dolphins from the terrace of your Royal Resorts villa, or you can visit the Dolphin Academy at the Curaçao Sea Aquarium. Swimming with dolphins at the Curacao
Read More »