Swimming with dolphins may be one of your dreams that can come true during your vacation in Curaçao. If you are lucky, you can spend hours admiring the dolphins from the terrace of your Royal Resorts villa, or you can visit the Dolphin Academy at the Curaçao Sea Aquarium.
Add a header to begin generating the table of contents
Swimming with dolphins at the Curacao Dolphin Academy
Curaçao Dolphin Academy was founded in 2002. It offers interactive dolphin programs for people of all ages. Their goal is to promote a genuine bond between dolphins and humans. Their experiences serve as an educational platform. The open-water programs are symbolic of the close relationship between trainers and dolphins. The dolphins may join the trainers on daily excursions in the open ocean. Dolphins are capable of interacting with each other in a "home" social environment. Dolphin Academy's individual animals display a natural pattern of mutual interaction. They are also capable of finding their own food. Mothers teach their calves how to catch fish, in fact.
Can I spot wild dolphins on Curaçao?
The simple answer is: yes, you can. You do need a little luck to spot dolphins during your stay in Curaçao. At Sea Aquarium Park, you can spot dolphins in the open ocean. As well as in the area where the Dolphin Academy houses its bottlenose dolphins.
You can also spot wild dolphins on a boat. The best way to spot dolphins on a boat is to look sideways from the boat or at the waves behind the boat. The dolphins have fun jumping through the waves.
If you want to see dolphins from the shore, you should look out to sea from your deck and then scan the horizon for any splashes or birds. Any surface other than smooth is worth looking for a pod of dolphins. Wild dolphins are best seen on a boat trip to Klein Curaçao or the south coast.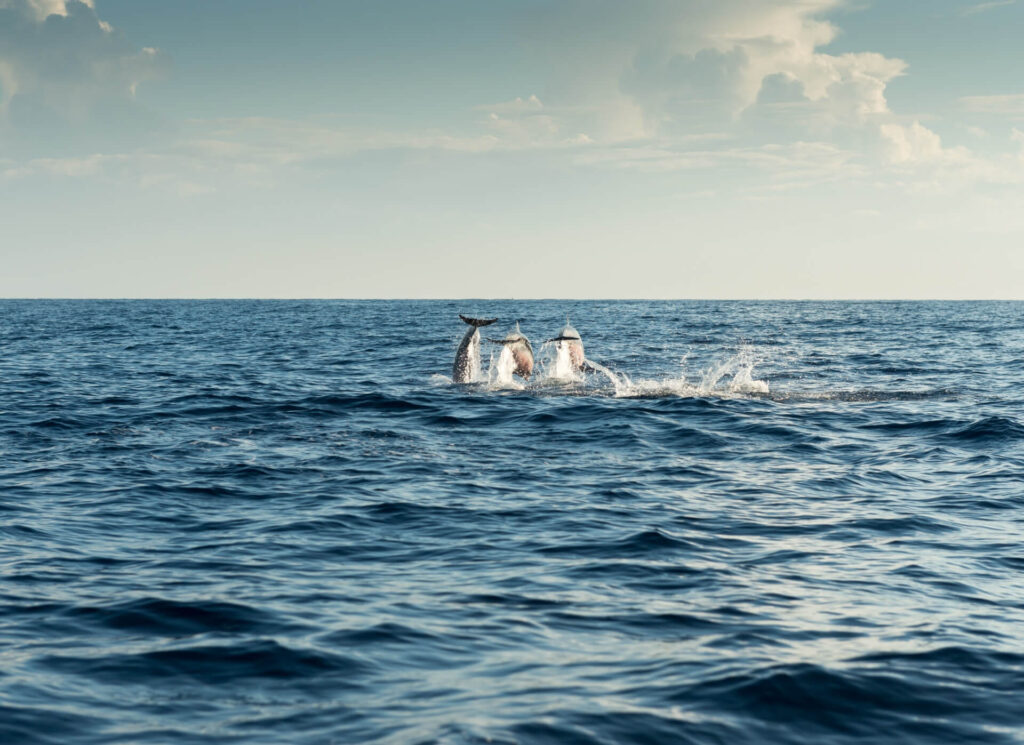 Why swimming with dolphins is an amazing experience
It's a great way to escape everything while swimming with dolphins. When you have these amazing creatures beside you, it's hard to think of anything else. These amazing marine mammals will fascinate you.
After the trainers show you the dolphins and explain the basics, you can jump in the water and see them up close. Dolphins are intelligent and social animals, so this activity is a great way to get close to them. Important tip: Do not apply sunscreen in the water before swimming with dolphins, as some chemicals from the sunscreen can be harmful to the dolphins.
After you have been in the water (with your life jackets on), you can interact with the dolphins in a variety of ways. These beautiful marine mammals can be touched, hugged and even kissed. You also have the opportunity to do more complicated things like belly rides, foot pushes and belly rides. If this is not exciting enough, ask the trainers for some examples of their signals with dolphins. You can then spend a few minutes trying to be a dolphin trainer. You will also have the opportunity to interact with dolphins, building a relationship with them.
Swimming with dolphins is not a typical vacation activity. This is an unforgettable experience that may change your perception of the world and the magnificent creatures it houses.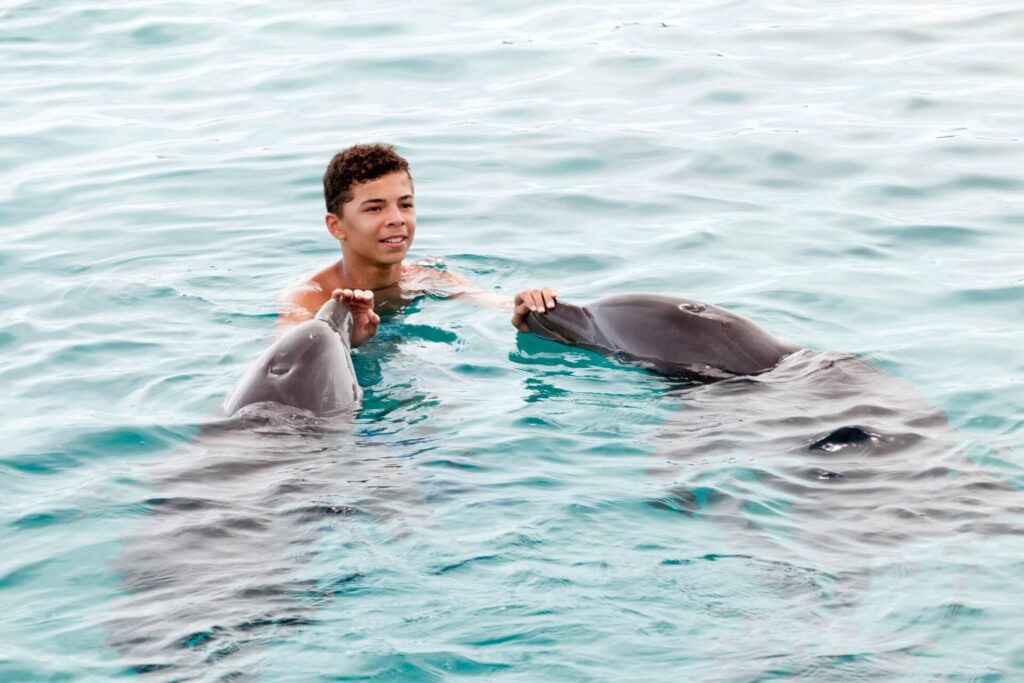 Some fun facts about dolphins on Curaçao
We have some interesting facts about dolphins in Curaçao that will make you love these animals even more:
Dolphins are used to staying with their mothers for long periods of time before leaving their pack. Some dolphins stay with their mothers for as long as 3 to 8 years.
Dolphins are great divers. Dolphins are creatures of the ocean and can dive as high as 1,000 feet.
There are about 40 species of dolphins. Many dolphins can live in salt water, while others thrive in fresh water. Their smallest is about 3-4 feet long, and their largest is about 30 feet.
These compassionate creatures often care for the elderly, sick and injured of their group, known as the "pod."
They are the friendliest and most caring animals, but they also have the highest intelligence. Scientists believe that compared to their bodies, dolphins are second only to humans in brain size.
Dolphins do not chew their food; they swallow it whole. Their teeth are used only to catch prey.
Scientists have proven that dolphins can give themselves names, and they have proven that dolphins can recognize each other's names and develop their own whistles.
Part of their brain remains awake and alert even when they sleep. This protects them from predators and allows them to breathe while they sleep.
They are very friendly with people and love to play with their groupmates. They often play with and tease other underwater animals.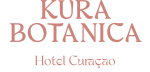 Spread over an eight-block area, this property offers a unique luxury experience in a botanical and tranquil retreat, offering complete privacy and intimacy.
Ideal for
Business people, Couples or Lovers
who need a break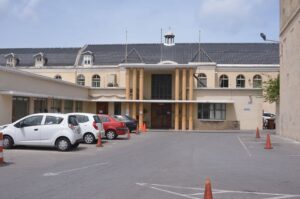 St. Elizabeth Hospital (SEHOS) is the old hospital located in the Kura Hulanda Village in the Otrobanda district. On Dec. 3, 1855, Monsignor Ferdinand Kieckens, with the support of the Franciscan nuns of Breda, founded this first nursing home, the St. Mary's Hospital. Elisabeth Hostpital. In the beginning, mainly leprosy patients and people with intellectual
Read More "