You can make a list of the places you want to visit before you go on vacation to Curacao. Speaking of excitement, Curaçao's fantastic beaches, rich culture and history, and luxurious resorts are some of its most popular attractions. In this blog, we are going to talk about the most beautiful beaches of Curaçao.
Add a header to begin generating the table of contents

Mambo Beach
Mambo Beach is more than a beach. You will find it attractive with its white sandy beaches. The clear blue waters are a reason to visit Curaçao, an incredible island destination. Located on Curaçao's Mambo Beach Boulevard, this beach is still a popular choice for tourists.
This is what to expect if you plan to visit Curaçao with a stop at Mambo Beach in your itinerary:
Curaçao, a small island with plenty of character, is one that can pack a punch. It is part of the ABC Islands chain, which includes Bonaire and Aruba. Its location on the Caribbean Sea makes it an excellent choice for beach vacations. These shores offer a plethora of activities, so plan your vacation well. You can visit some of Curaçao's most popular attractions, including Mambo Beach Boulevard, with some of the best restaurants, bars and entertainment.
Mambo Beach is known for its great water sports, shade and good amenities. It is also home to all the necessary amenities for a perfect day at the beach. Mambo Beach, also known as Sea Aquarium Beach, is one of the most beautiful man-made beaches in Curaçao. There are many things to do around the beach, including walking along the boardwalk and visiting the nearby Sea Aquarium.
Mambo Beach is just 4 miles from Willemstad. It's easy to find when you're on vacation in the Caribbean.
Mambo Beach on Curacao is family-friendly. There are many stores selling everything from clothing and food to souvenirs and gifts. Mambo Boulevard is a shopping area that surrounds the beach. It has a variety of restaurants, stores and other services. You can rent umbrellas and beach chairs on the beach to enjoy the beautiful view from a shaded vantage point. Mambo Beach is very popular with cruise passengers, so it can get crowded.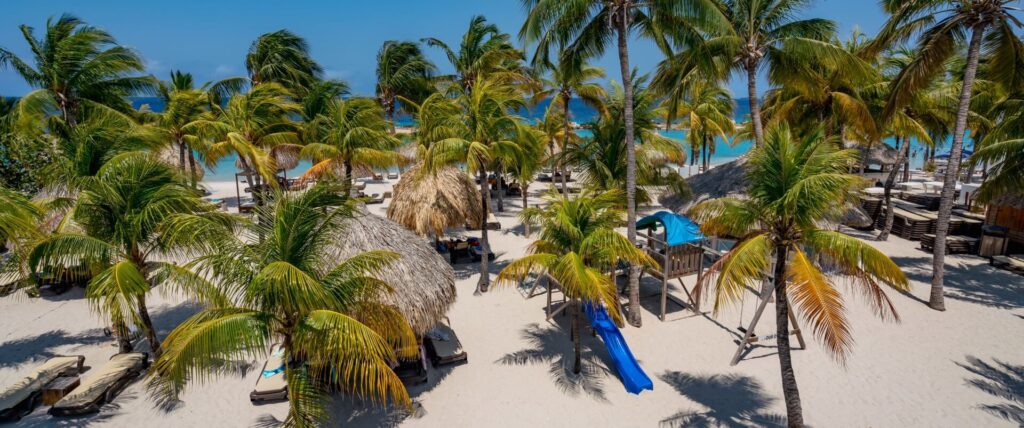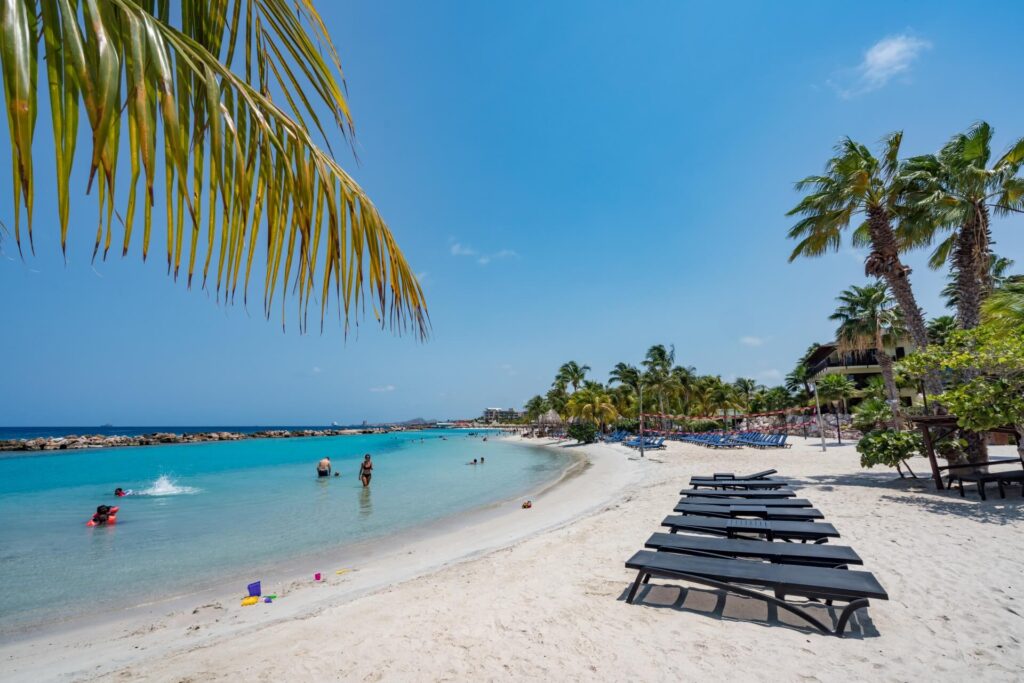 Daaibooi Beach
Daaibooi, a beach located on the Caribbean island of Curaçao, is close to St. Willibrordus. It is about 30 minutes from Willemstad to the northwest. Located in a quiet bay, the beach is surrounded by Coral Estates to the east and Porto Mari to the west.
This is a secluded beach perfect for shore diving, snorkeling, or just a relaxing dip in the large sandy plateau.
Daaibooi Beach, which is close to town, is known for its good snorkeling. There are pergolas that provide shade, and a snack bar open both weekdays and weekends. There is a path leading west from the beach to reach the countryside, if you are feeling adventurous. This path should only be explored by someone you trust.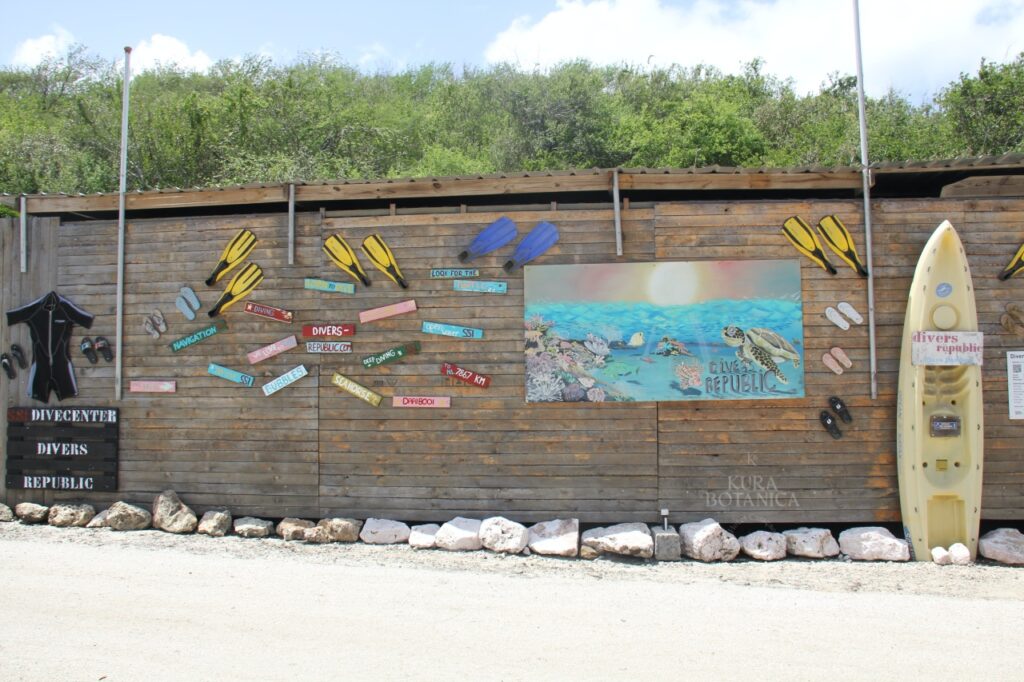 Kokomo Beach
This beach was sung about by the Beach Boys in the catchy song "Fall in Love," which is about melting tropical drinks and falling in love in Kokomo. With its peaceful atmosphere and breathtaking views, Kokomo Beach in Curaçao could be it. Kokomo Beach, whether real or not, is a unique place perfect for couples. You do not have to pay an entrance fee and have free access to lounge chairs and a dive center. This beach also has a bar and restaurant.
Kokomo beach has great views and is only 200m long. The staff is always ready to help you and is there to keep the beach clean. On weekdays, you can relax on the beach. On weekends, Kokomo is a little busier. A DJ plays lots of fun tunes on Sunday. At the end of each day, a live band will come to play. The photo-worthy swing in the ocean at Kokomo Beach is well known. Many people visit Kokomo to snorkel and see the beautiful, colorful corals and fish. You can swim in the ocean without problems because there is not much current. The Kokomo Beach Club offers a great restaurant and bar serving a wide range of drinks. There are many options for lunches, snacks and dinners. So that you can continue to enjoy the sun, you can also have lunch or dinner delivered to your beach bed.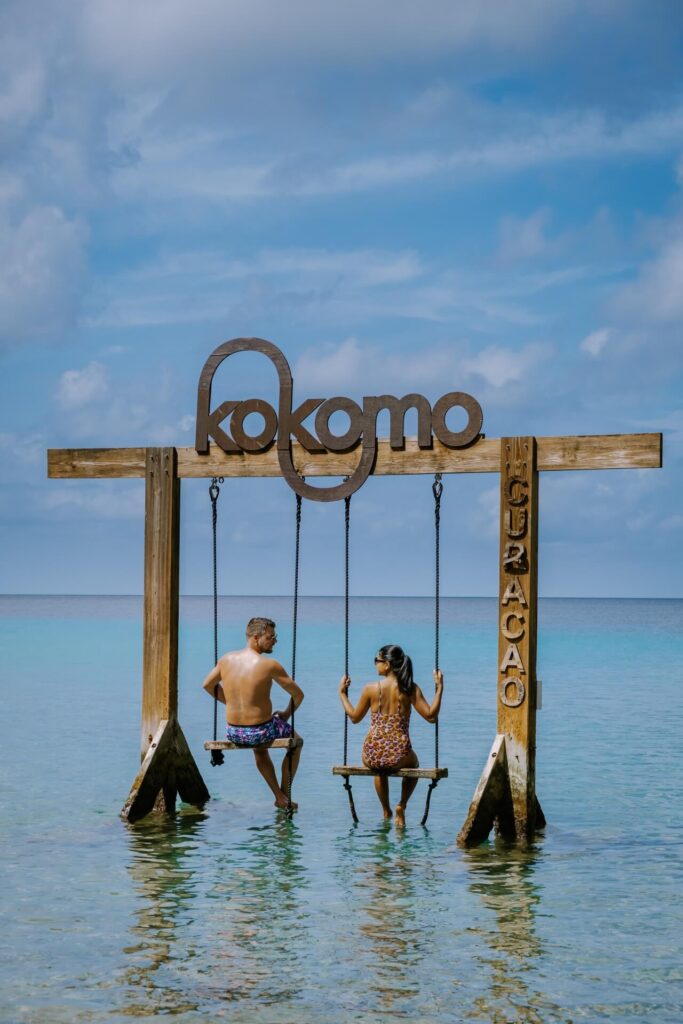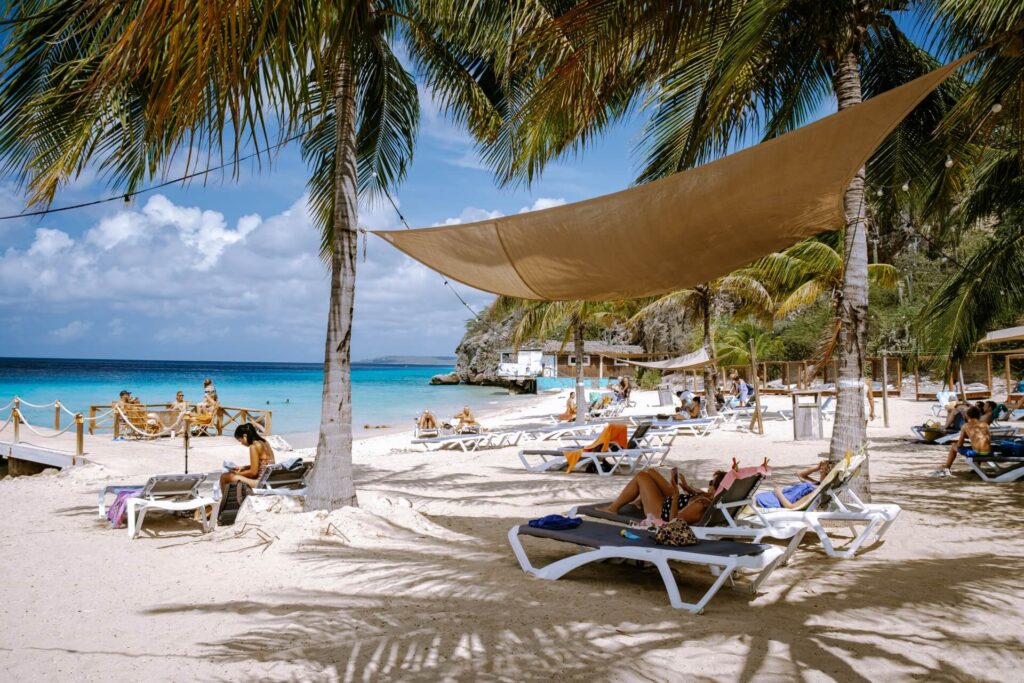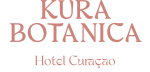 Spread over an eight-block area, this property offers a unique luxury experience in a botanical and tranquil retreat, offering complete privacy and intimacy.
Ideal for
Business people, Couples or Lovers
who need a break

Playa Kalki
Playa Kalki, one of Curaçao's most beautiful beaches, lies on the shore of a small bay surrounded by lush tropical greenery. The beach is accessible by stairs.
A narrow strip of beach with fine white sand rests on steep cliffs. Although the descent into the ocean is easy, there are many rocks and coral debris on the bottom. Near the shore, a platform is available for tourists to reach an adequate depth without risk. There are sun loungers, umbrellas, changing rooms, showers and toilets on site. A café, restaurant, snack bar, diving school and store are all available on the beach.
Because it is so inaccessible, Playa Kalki is not crowded. Most vacationers are avid divers, snorkelers and snorkelers.
Playa Kalki is paradise for divers and snorkelers. It is equipped with ropes that allow divers to descend to the most beautiful spots. The depths offer a spectacular underwater world of rocks and caves with coral gardens, algae, swarms, colorful tropical fish, turtles and other marine life.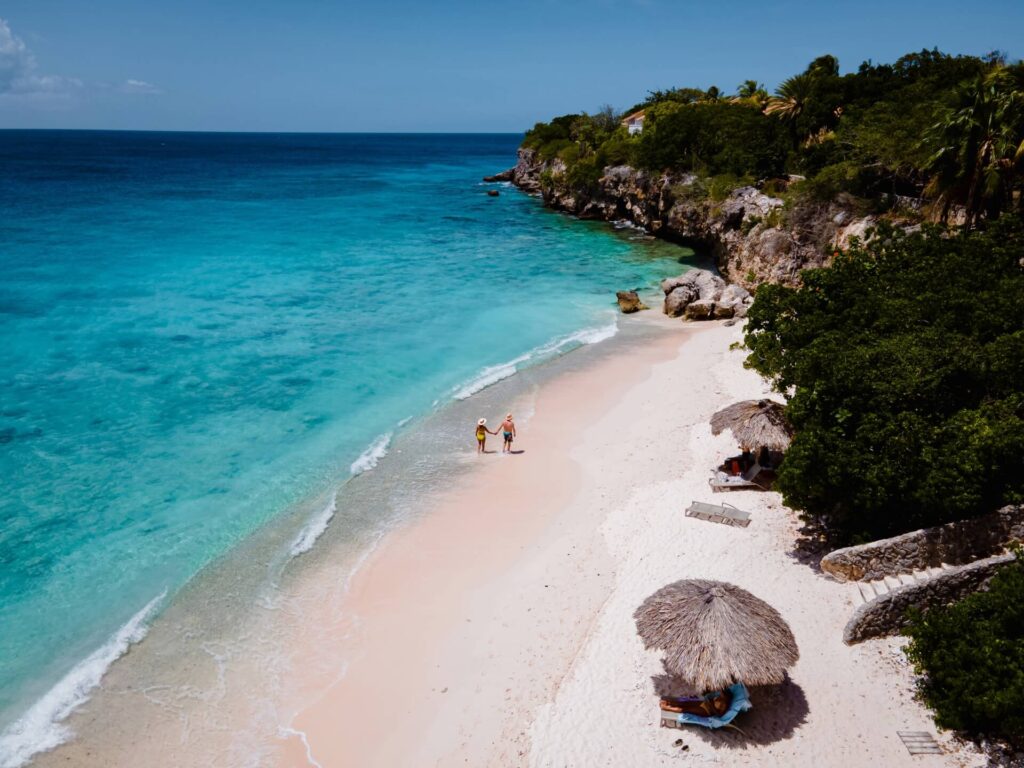 Playa Jeremi
Playa Jeremi has great views and is a beautiful little cove. The bay is quiet and ideal for relaxing, especially from the early morning hours until sunset. To get to the beach, you have to climb down steps made in the rocks. But once at the end, you will be amazed at how clear the water is and how peaceful it is, especially when the sun goes down.
Playa Jeremi offers a great escape from the crowds. It is located near Lagun, in a quiet area in the middle of nature. This bay is a picturesque, narrow spot that you can visit late at night to enjoy the magnificent sunset.
You can also enjoy the crystal clear turquoise water during this time without worrying about the lack of shade. Follow the stairs to the parking lot. Carved into the rocks, these steps take you to Curaçao's hidden treasure, the beautiful beach.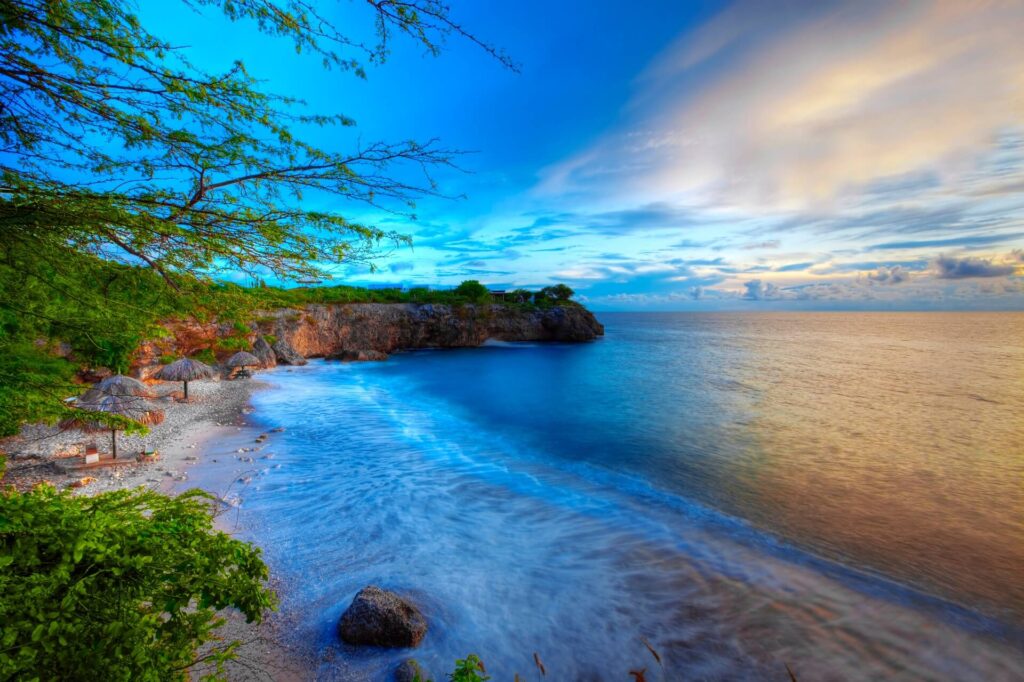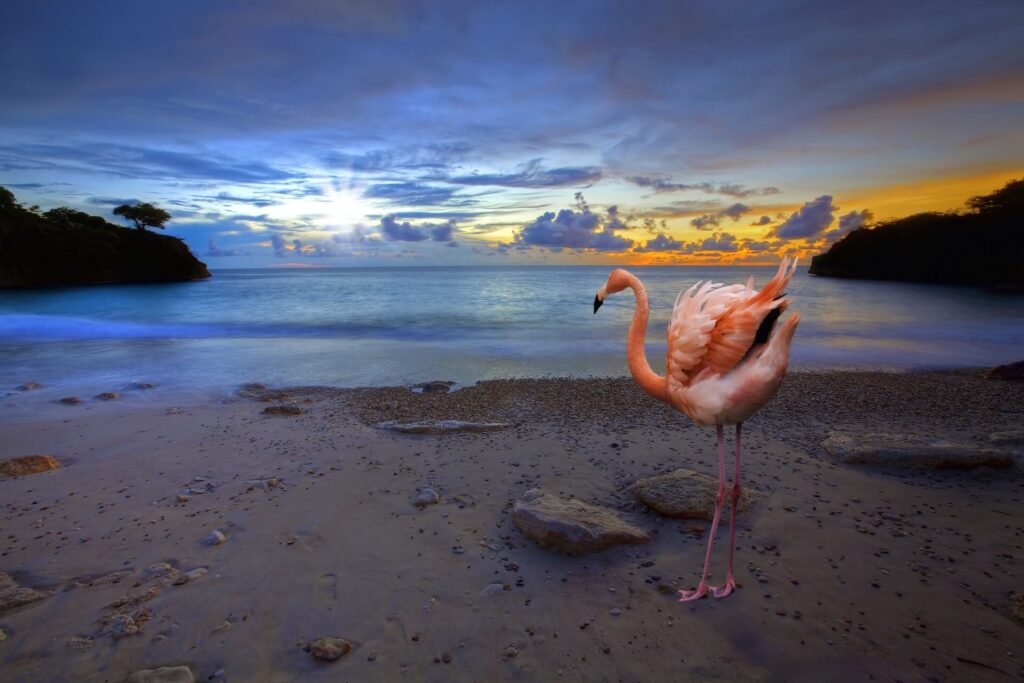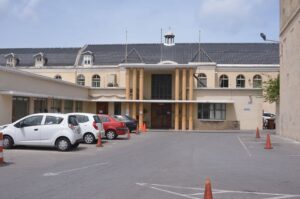 St. Elizabeth Hospital (SEHOS) is the old hospital located in the Kura Hulanda Village in the Otrobanda district. On Dec. 3, 1855, Monsignor Ferdinand Kieckens, with the support of the Franciscan nuns of Breda, founded this first nursing home, the St. Mary's Hospital. Elisabeth Hostpital. In the beginning, mainly leprosy patients and people with intellectual
Read More "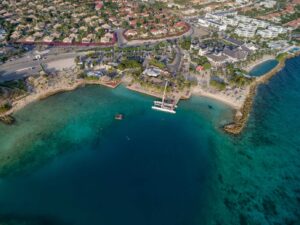 Jan Thiel Beach is almost the most popular beach on the island of Curaçao. It is known for its fine sand, crystal clear waters and many amenities. There are several beach resorts at Jan Thiel Bay that offer a wide range of services and facilities. In the Jan Thiel Curaçao area, you can find a
Read More "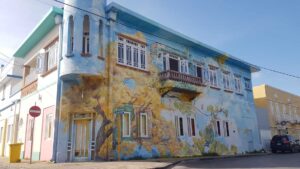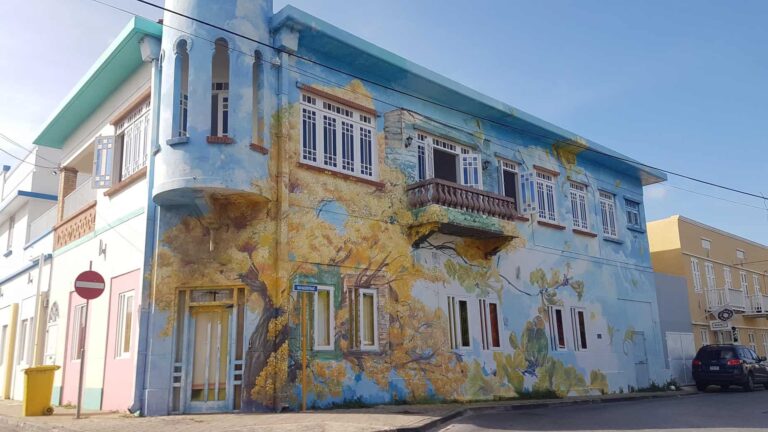 Curaçao people value art. It is a society in which people of many different origins and ethnicities live and work together harmoniously. The wave of art on the island is as diverse as its people. This is to be expected, given the island's rich local culture and cultural heritage. You are probably already familiar with
Read More "