Puedes hacer una lista de los lugares que quieres visitar antes de irte de vacaciones a Curaçao. Hablando de emoción, las fantásticas playas de Curaçao, su rica cultura e historia y sus lujosos complejos turísticos son algunas de sus atracciones más populares. En este blog, vamos a hablar de las playas más bonitas de Curaçao.
Add a header to begin generating the table of contents

Playa Mambo
Mambo Beach es más que una playa. Sus playas de arena blanca le resultarán atractivas. Las cristalinas aguas azules son un motivo más para visitar Curaçao, un destino insular increíble. Situada en el bulevar Mambo Beach de Curaçao, esta playa sigue siendo una opción popular entre los turistas.
Esto es lo que puede esperar si planea visitar Curaçao con una parada en Mambo Beach en su itinerario:
Curaçao, una pequeña isla con mucho carácter, puede dar mucho de sí. Forma parte de la cadena de islas ABC, que también incluye Bonaire y Aruba. Su ubicación en el mar Caribe la convierte en una excelente opción para las vacaciones de playa. Estas costas ofrecen un sinfín de actividades, así que planifique bien sus vacaciones. Puede visitar algunas de las atracciones más populares de Curaçao, como Mambo Beach Boulevard, con algunos de los mejores restaurantes, bares y espectáculos.
La playa de Mambo es conocida por sus estupendos deportes acuáticos, su sombra y sus buenas instalaciones. También cuenta con todos los servicios necesarios para pasar un día perfecto en la playa. Mambo Beach, también conocida como Sea Aquarium Beach, es una de las playas artificiales más bonitas de Curaçao. Hay muchas cosas que hacer en los alrededores de la playa, como pasear por el paseo marítimo y visitar el cercano Sea Aquarium.
La playa de Mambo está a sólo 6 km de Willemstad. Es fácil de encontrar cuando se está de vacaciones en el Caribe.
Mambo Beach, en Curaçao, es ideal para familias. Hay muchas tiendas que venden de todo, desde ropa y comida hasta recuerdos y regalos. Mambo Boulevard es una zona comercial que rodea la playa. Cuenta con una gran variedad de restaurantes, tiendas y otros servicios. En la playa se pueden alquilar sombrillas y sillas de playa para disfrutar de las hermosas vistas desde un mirador a la sombra. La playa de Mambo es muy popular entre los pasajeros de cruceros, por lo que puede estar abarrotada.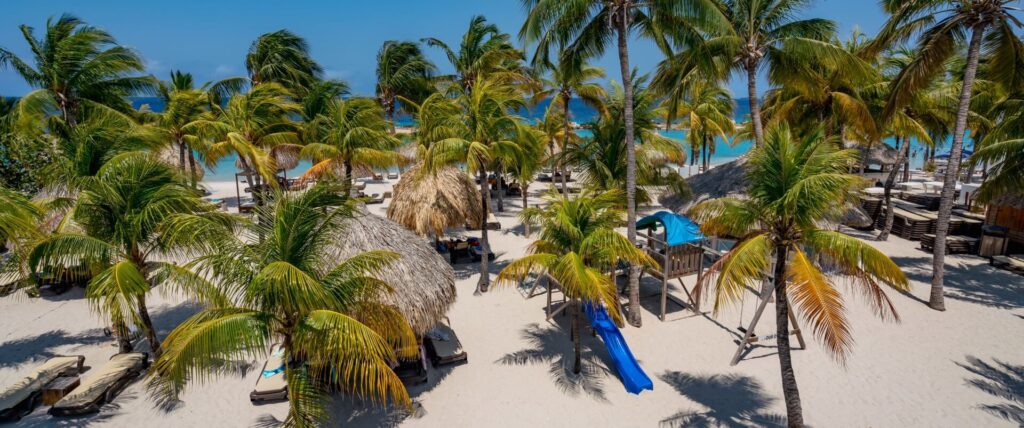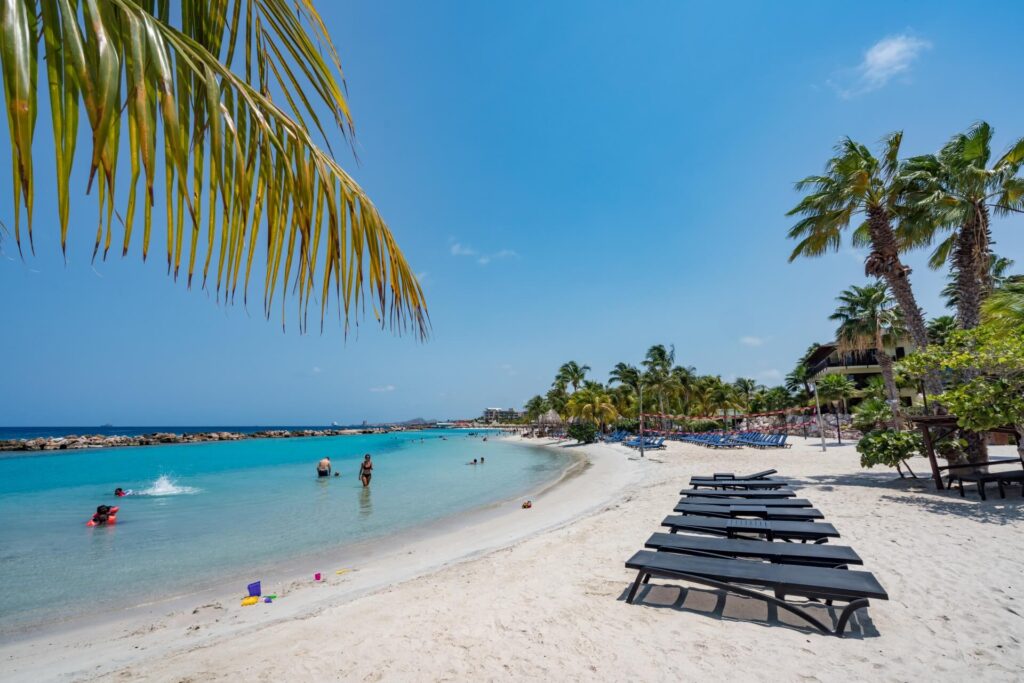 Playa de Daaibooi
Daaibooi, una playa situada en la isla caribeña de Curaçao, está cerca de Sint Willibrordus. Está a unos 30 minutos de Willemstad en dirección noroeste. Situada en una tranquila bahía, la playa está rodeada por Coral Estates al este y Porto Mari al oeste.
Se trata de una playa aislada perfecta para bucear desde la orilla, practicar snorkel o simplemente darse un baño relajante en la gran meseta arenosa.
La playa de Daaibooi, cercana a la ciudad, es conocida por su buen buceo. Hay pérgolas que dan sombra y un merendero abierto tanto entre semana como los fines de semana. Hay un sendero que sale de la playa en dirección oeste para llegar al campo, si se siente aventurero. Este camino sólo debe ser explorado por alguien de confianza.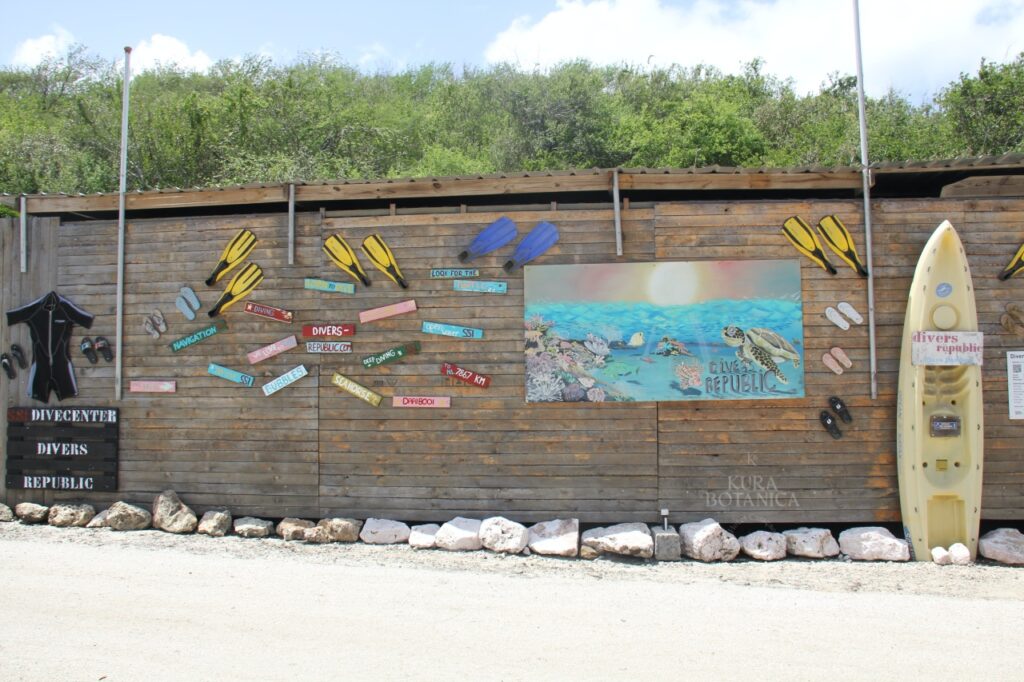 Playa de Kokomo
Esta playa fue cantada por los Beach Boys en la pegadiza canción «Fall in Love», que trata sobre derretir bebidas tropicales y enamorarse en Kokomo. Con su ambiente tranquilo y sus impresionantes vistas, la playa de Kokomo, en Curaçao, podría serlo. La playa de Kokomo, real o no, es un lugar único perfecto para parejas. No hay que pagar entrada y tiene acceso gratuito a tumbonas y a un centro de buceo. Esta playa también cuenta con un bar y un restaurante.
La playa de Kokomo goza de magníficas vistas y sólo tiene 200 m de longitud. El personal está siempre dispuesto a ayudarte y se encarga de mantener la playa limpia. Entre semana, puede relajarse en la playa. Los fines de semana, Kokomo está un poco más concurrida. El domingo, un DJ pincha muchos temas divertidos. Al final de cada jornada vendrá a tocar una banda en directo. El columpio digno de una foto en el océano de la playa de Kokomo es bien conocido. Mucha gente visita Kokomo para bucear y contemplar los hermosos y coloridos corales y peces. Se puede nadar en el océano sin problemas, ya que no hay mucha corriente. El Kokomo Beach Club ofrece un magnífico restaurante y un bar que sirve una amplia variedad de bebidas. Hay muchas opciones para almuerzos, meriendas y cenas. Para que pueda seguir disfrutando del sol, también puede pedir que le lleven la comida o la cena a su cama de playa.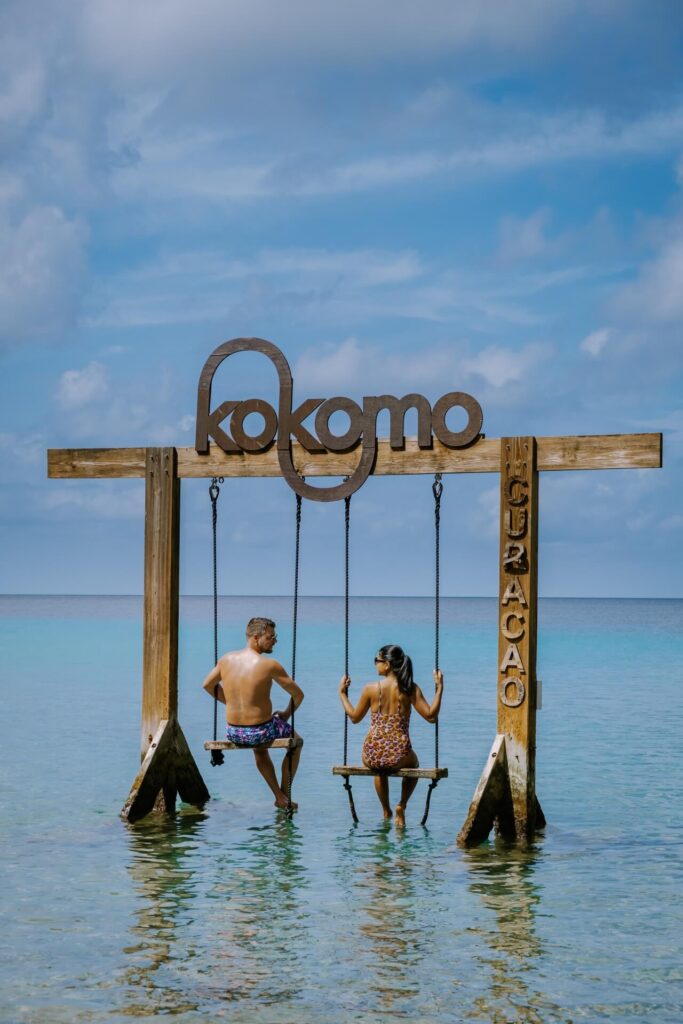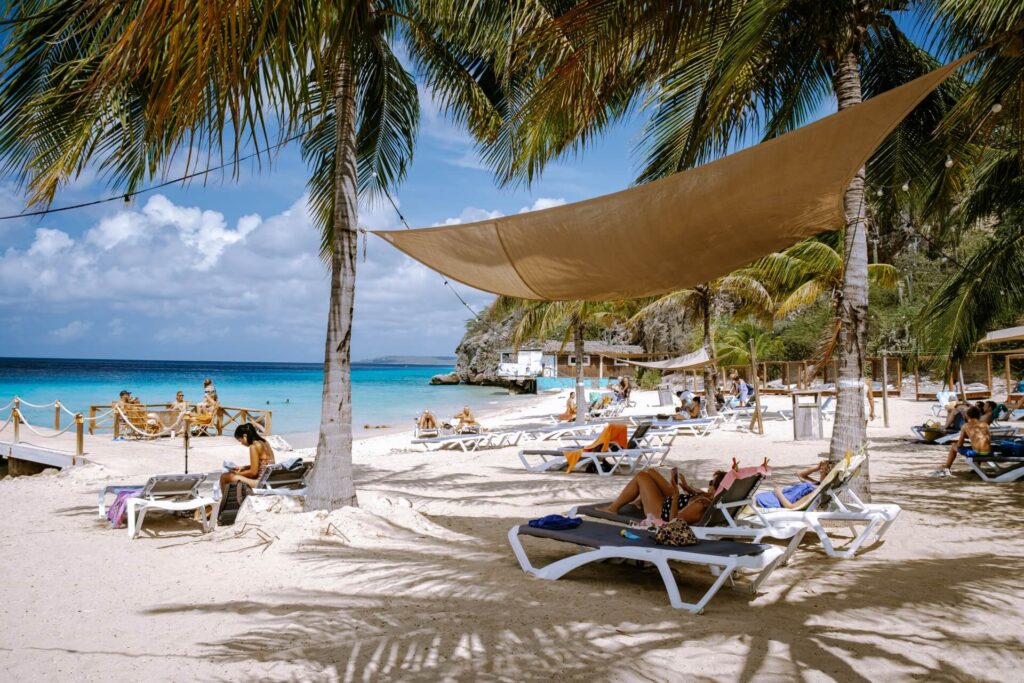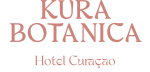 Repartida en un área de ocho manzanas, esta propiedad ofrece una experiencia de lujo única en un refugio botánico y tranquilo, que ofrece total privacidad e intimidad.
Ideal para
Empresarios, parejas o amantes
necesita un descanso

Playa Kalki
Playa Kalki, una de las más bellas de Curaçao, se encuentra a orillas de una pequeña bahía rodeada de exuberante vegetación tropical. A la playa se accede por escaleras.
Una estrecha franja de playa de fina arena blanca descansa sobre escarpados acantilados. Aunque el descenso al océano es fácil, hay muchas rocas y restos de coral en el fondo. Cerca de la orilla, hay una plataforma a disposición de los turistas para que alcancen una profundidad suficiente sin riesgo. Hay tumbonas, sombrillas, vestuarios, duchas y aseos. En la playa hay una cafetería, un restaurante, un bar, una escuela de buceo y una tienda.
Al ser tan inaccesible, Playa Kalki no está masificada. La mayoría de los veraneantes son aficionados al submarinismo, el buceo y el submarinismo con tubo.
Playa Kalki es un paraíso para buceadores y submarinistas. Está equipado con cuerdas que permiten a los buceadores descender a los lugares más bellos. La profundidad ofrece un espectacular mundo submarino de rocas y cuevas con jardines de coral, algas, enjambres, peces tropicales de colores, tortugas y otra vida marina.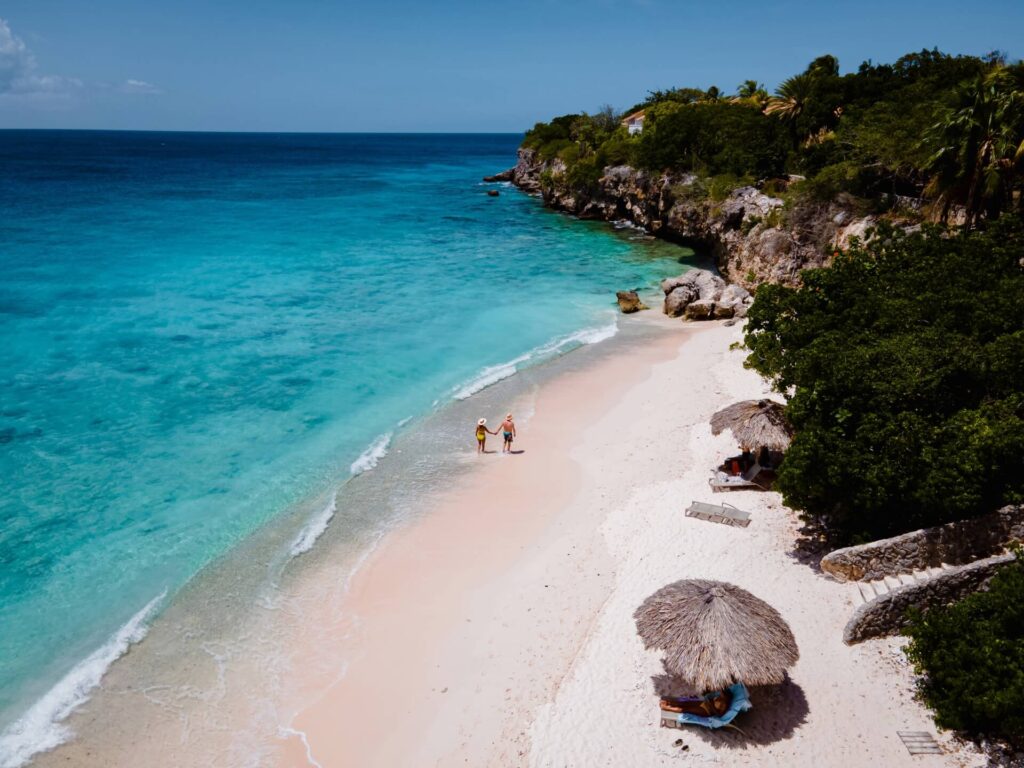 Playa Jeremi
Playa Jeremi tiene unas vistas estupendas y es una calita encantadora. La bahía es tranquila e ideal para relajarse, sobre todo desde primera hora de la mañana hasta la puesta de sol. Para llegar a la playa, hay que bajar escalones hechos en las rocas. Pero una vez al final, se sorprenderá de lo cristalina que es el agua y de la tranquilidad que se respira, sobre todo cuando se pone el sol.
Playa Jeremi ofrece una gran escapada de las multitudes. Se encuentra cerca de Lagun, en una zona tranquila en plena naturaleza. Esta bahía es un lugar pintoresco y estrecho que se puede visitar a altas horas de la noche para disfrutar de la magnífica puesta de sol.
También podrá disfrutar de las cristalinas aguas turquesas durante esta época sin preocuparse por la falta de sombra. Siga las escaleras hasta el aparcamiento. Tallados en las rocas, estos escalones le llevan al tesoro escondido de Curaçao, la hermosa playa.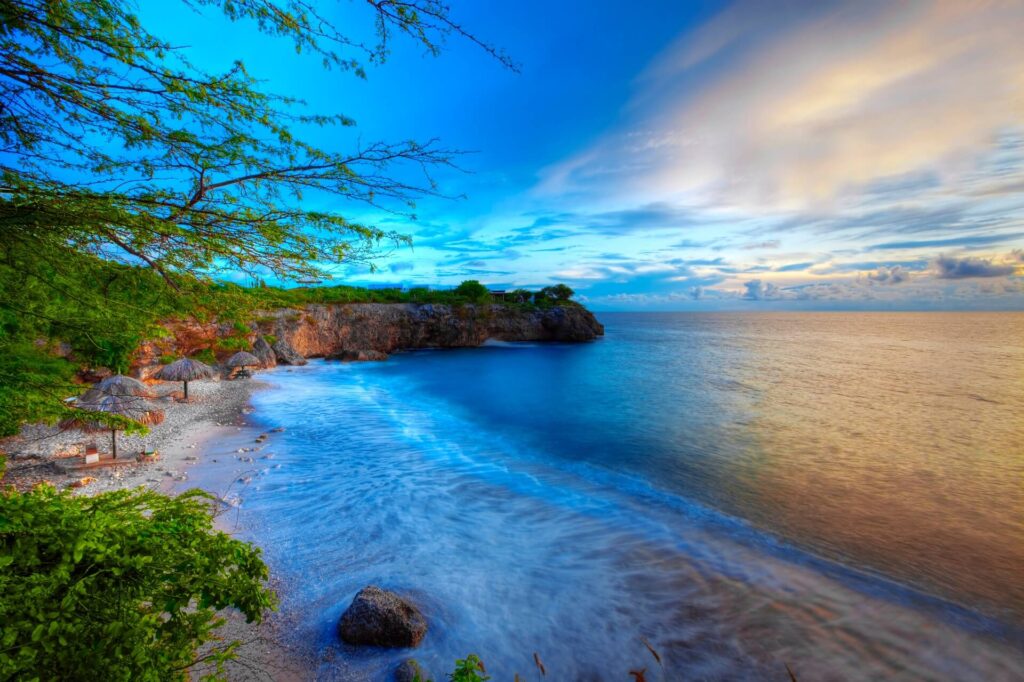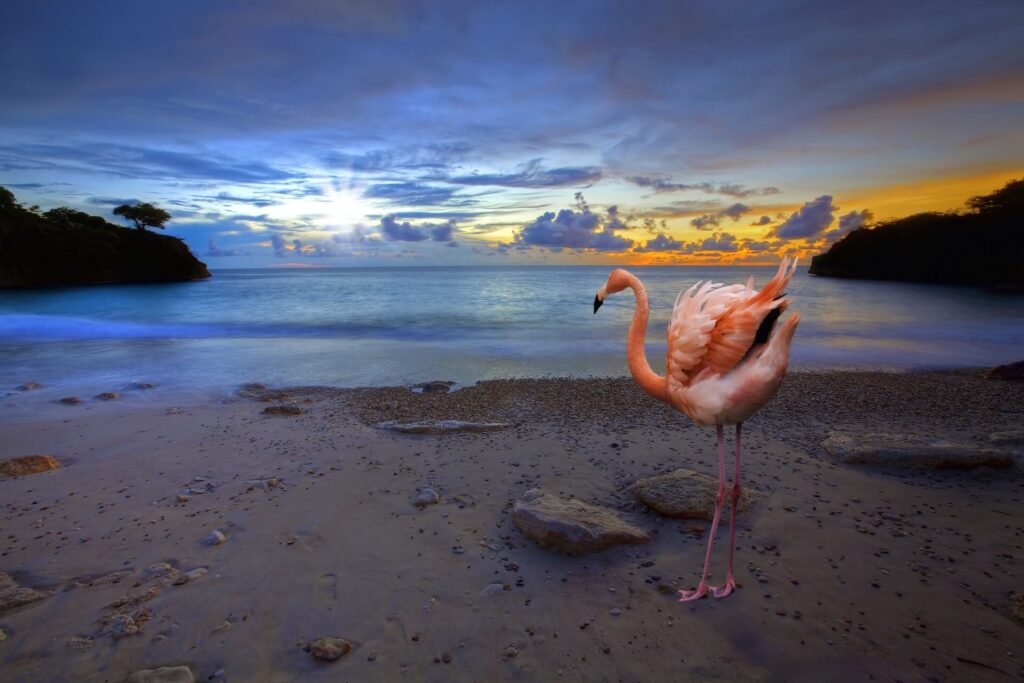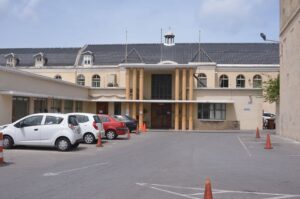 El Hospital Santa Isabel (SEHOS) es el antiguo hospital situado en el pueblo de Kura Hulanda, en el distrito de Otrobanda. El 3 de diciembre de 1855, monseñor Ferdinand Kieckens, con el apoyo de las monjas franciscanas de Breda, fundó esta primera residencia de ancianos, el Hospital de Santa María. Elisabeth Hostpital. Al principio, se
Leer Más "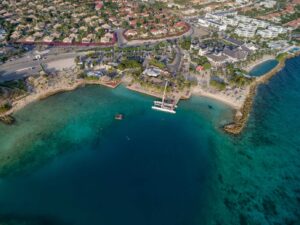 La playa de Jan Thiel es casi la más popular de la isla de Curaçao. Es conocida por su arena fina, sus aguas cristalinas y sus numerosos servicios. En la bahía de Jan Thiel hay varios complejos turísticos de playa que ofrecen una amplia gama de servicios e instalaciones. En la zona de Jan Thiel
Leer Más "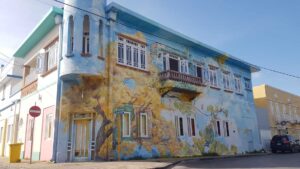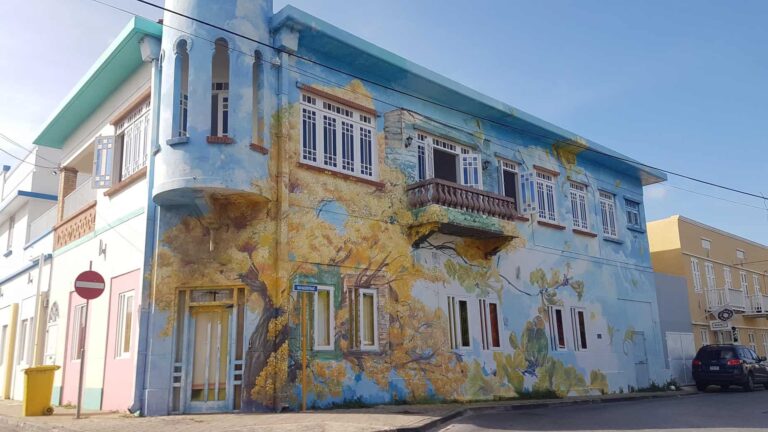 La cultura curazoleña tiene mucho que ofrecer al arte. Se trata de un entorno en el que conviven y trabajan en armonía personas de diferentes orígenes y etnias. El golf en el país es tan diverso como las personas. También hay que tener en cuenta la rica cultura local y el patrimonio cultural del país.
Leer Más "