The Caribbean is home to some of the most beautiful, vibrant and unique marine animals in the world. Among others, Curaçao's Lionfish is one of the most iconic fish species. Around these amazing fish, there is much to do in the Caribbean. This since they are actually unwelcome guests, causing many other marine life to not thrive. However, they are good for sales with their bright colors, unique patterns and fine taste.
Add a header to begin generating the table of contents
The Lion Fish Curaçao (also called lionfish) is an invasive fish species that has affected many coral reefs in the Caribbean. Originally from the Indo-Pacific region, it has managed to find its way into Caribbean waters and become a huge problem. The lionfish is a voracious predator that eats almost all fish and crustaceans that fit in its mouth. Its presence has caused significant damage to native reef systems, native fish communities and associated ecosystems. As a result, the Lionfish is considered a serious threat by many marine biologists and conservationists.
The exact origin of this species in the Caribbean remains unclear, although most experts believe it probably migrated in the early 1990s from the Gulf of Mexico, northwestern and southwestern Atlantic. Perhaps it was accidentally introduced by dumping aquariums or fishing activities in this area. Whatever happened, it was just enough for this species to gain a foothold in these waters and reproduce at an alarming rate.
Unlike most other fish species, lionfish in their new Caribbean environment have no natural enemies to control their populations. This means they can reproduce extremely quickly without competition or predation from other fish species. As a result, they cause even more nuisance. Although it is true that the Sea Bass normally eats fish like Lionfish, the Perch in the Caribbean have not yet realized that they can hunt these. Moreover, Lionfish are also very adaptable, allowing them to survive in many different types of habitats. Both in shallow reefs and deep lagoons. This gives them even more opportunities to reproduce.
Lionfish diving on Curacao
Unfortunately for us humans, attempts to control these invasive lionfish have so far been unsuccessful. This is mainly because of its great speed of reproduction and its ability to adapt quickly to new environments. As a result, lionfish populations continue to grow throughout much of the Caribbean, with some areas reporting increases of up to 30% each year. This means that unless something changes soon, these fish will continue to cause serious damage in this area for years, if not decades. However, we can assume that nature will eventually find a solution for this over industrious fish species. Such as introducing other natural enemies.
Until then, to address this problem themselves, several initiatives have been proposed by both government officials and conservation groups such as Dutch Caribbean Nature Alliance (DCNA). Consequently, the hunt for lionfish was opened years ago. These aim to reduce the number of lionfish through targeted fishing efforts and awareness campaigns about their destructive nature. Lionfish hunting is common in many different parts of Curaçao.
However, while these measures may help somewhat, we will never be able to completely eliminate them from the Caribbean. So at this time it is still important to hunt these animals as often as possible through Lionfish diving in Curacao, among other things.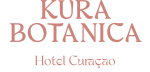 Spread over an eight-block area, this property offers a unique luxury experience in a botanical and tranquil retreat, offering complete privacy and intimacy.
Ideal for
Business people, Couples or Lovers
who need a break
Good for the local economy
So these lionfish are considered a problem by most in the Caribbean islands because of their ability to quickly take over an area's existing ecosystems. On the other hand, they are incredibly fascinating fish that are good for the local economy. In fact, catching Lionfish also allows local fishermen and divers to sell them. This may be for accessories of souvenirs or per kilo to restaurants. Lionfish is on the menu at most Caribbean restaurants.
Not only are they interesting topics of conversation because of their vague origins, but also because they produce beautiful jewelry! Lionfish teeth and spines are often made into pendants or earrings by Lionfish Caribbean, among others. These can be used as special jewelry or simply as mementos of your travels. Therefore, jewelry can all be found in various stores on the island, at Kura Hulanda Village or in the markets, for example.
In addition to jewelry, Lionfish are also super tasty and nutritious. As for preparation, lionfish is often grilled or sautéed with garlic and lemon juice. This gives it a delicious flavor that goes perfectly with rice or salad dishes. It is also widely made into ceviche. This is a fresh cold fish dish with a variety of ingredients. Lionfish has firm white meat with a mild flavor, similar to grouper or snapper. This makes it an ideal choice for dinners or special occasions.
When you visit Curaçao, there are plenty of places in town where you can buy fresh Lionfish, so you can enjoy this amazing delicacy without having to hunt for your own prey. Whether you prefer to buy ready-made fillets at the local fish market or catch your own live ones during Lionfish diving Curaçao – either way, you won't regret sampling this tasty treat during your visit to the island.
Ultimately, we need a more sustainable solution if the Caribbean is to combat this invader, before it is too late for the precious coral reefs and associated ecosystems. However, let's focus on the positive – after all, there is still hope with several research projects currently underway to develop effective management strategies to deter further Lionfish invasions in Curaçao. Until then, let's just enjoy admiring these unique creatures from afar. Whether you are looking for something special for your plate or something beautiful that will remind you of your trip to Curaçao – then you should definitely consider some Caribbean lionfish.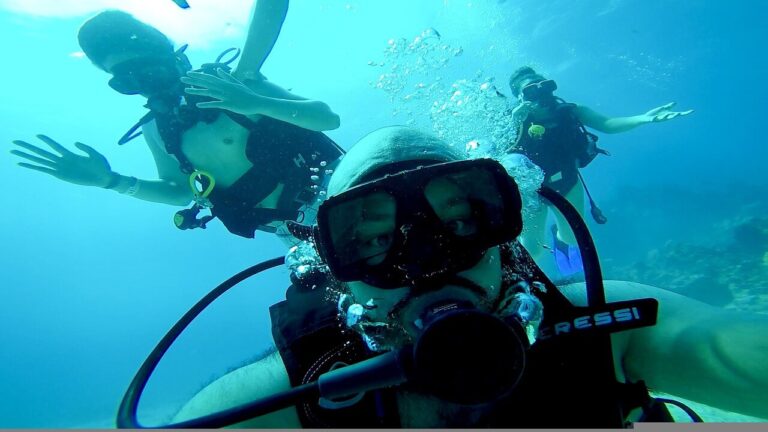 Diving in Curaçao You are probably thinking about a holiday to the Island of Curaçao. When you go to Curaçao, the following is assured: beautiful clear waters, gorgeous beaches, great food and lots to explore under the water. Are you thinking about exploring Curaçao under the water? This article will tell you all about diving
Read More »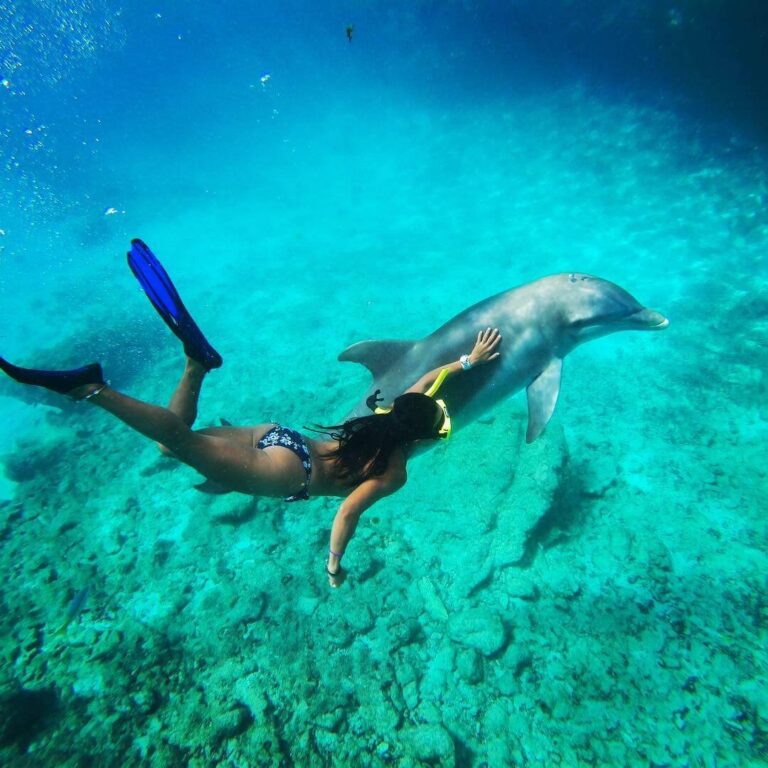 Swimming with dolphins may be one of your dreams that can come true during your vacation in Curaçao. If you are lucky, you can spend hours admiring the dolphins from the terrace of your Royal Resorts villa, or you can visit the Dolphin Academy at the Curaçao Sea Aquarium. Swimming with dolphins at the Curacao
Read More »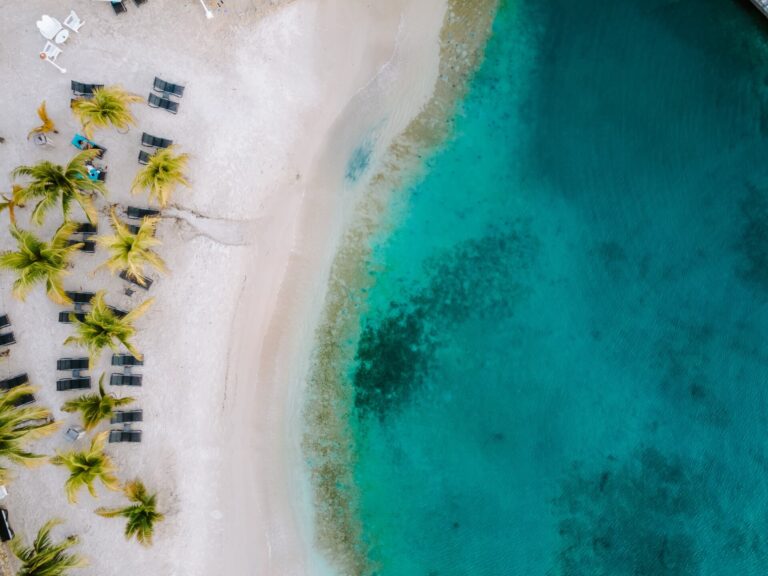 You can make a list of the places you want to visit before you go on vacation to Curacao. Speaking of excitement, Curaçao's fantastic beaches, rich culture and history, and luxurious resorts are some of its most popular attractions. In this blog, we are going to talk about the most beautiful beaches of Curaçao. Mambo
Read More »