Vegetarische en veganistische opties breiden zich snel uit op Curaçao, ondanks dat de Caribische keuken wellicht niet direct in u opkomt als u denkt aan vegetarische en veganistische gerechten. De laatste jaren zijn er steeds meer vegetarische en veganistische restaurants geopend en bieden andere uitbaters veganistische opties op de kaart. Hier is een selectie van de beste veganistische restaurants, cafés en sapbars op het eiland.
Add a header to begin generating the table of contents
Op Curaçao is Sweet and Blue een gezellige mogelijkheid voor een veganistisch middagmaal. Een veganistische rundvleesburrito, wafels met roerei en een zwarte bonenburger zijn slechts enkele voorbeelden van de vele vegetarische opties die er zijn. Bovendien zijn er elke dag nieuwe, lokale veganistische gerechten om te proberen!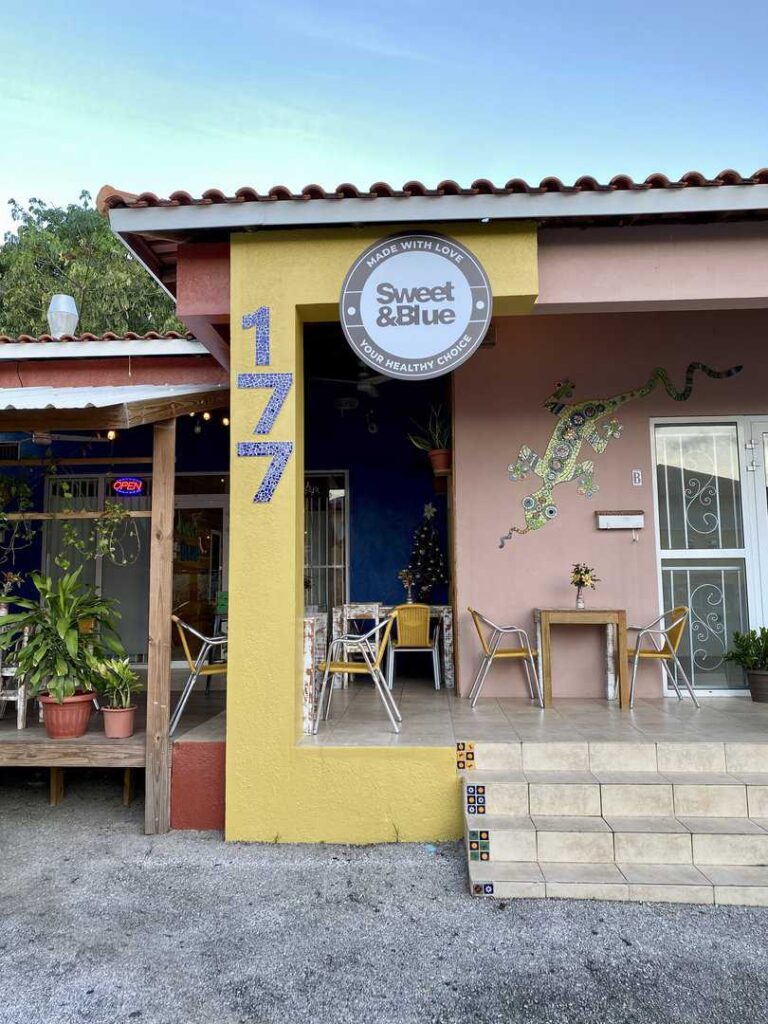 La Bohème is een gezond eetparadijs midden in Punda. Groene en roze smoothies behoren tot de vele opties in deze chique Boheemse bar. Wilt u lekker lunchen? Dan kunt u kiezen uit een verscheidenheid aan plantaardige gerechten, sandwiches, hamburgers, wraps en arepas.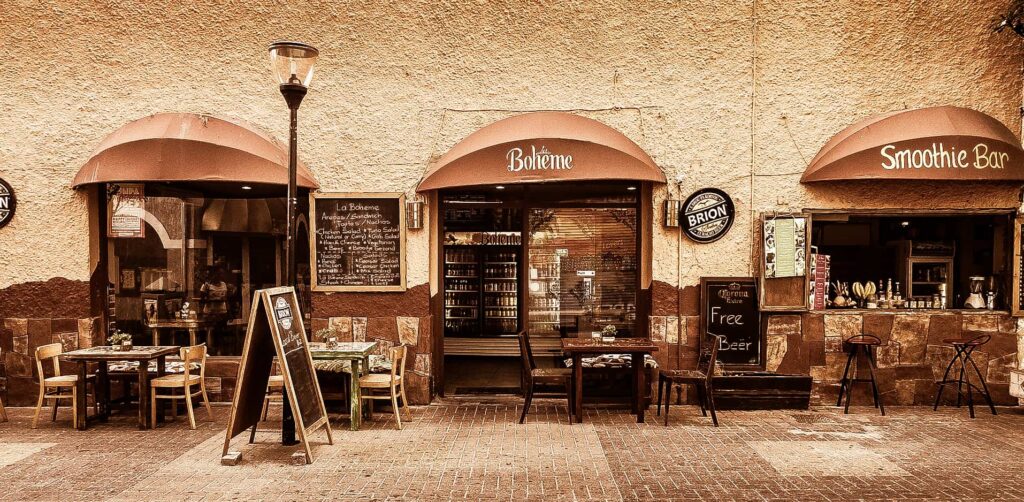 Een echte aanrader voor vega op Mambo Beach Boulevard is Bliss The Berry. Smoothie-bowls in dit warme en gastvrije café hebben een hartvorm van hout. Ook kunt u er terecht voor prachtige melkschuimkunstenaars. U kunt hier met volle teugen genieten van uw bowl, bagel, wafel of croissant want de relaxte strandsfeer is tot in de puntjes verzorgd.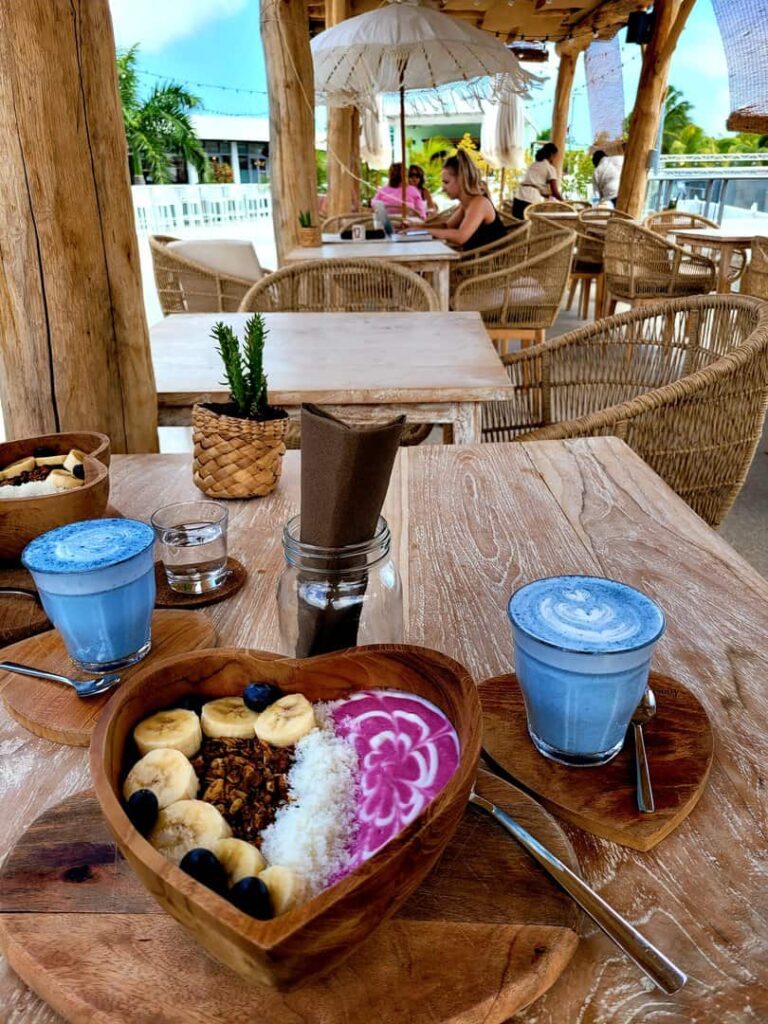 Bij Hofi Cas Cora kunt u genieten van zowel heerlijke lokale gerechten als een adembenemend landschap. Aangezien een 'hofi' een plantage is op Curaçao, komen veel van de ingrediënten die in de keuken worden gebruikt rechtstreeks van de plantages. Het is leuk om de lunch te kunnen combineren met een wandeling over het terrein, waar u een deel van het pluimvee, de ezels en de paarden van de bewoners kunt zien. En daarna kunt u smullen van heerlijke boekweitpannenkoekjes, falafel met spinazie of quinoaburger als het vegetarische gerecht van uw voorkeur.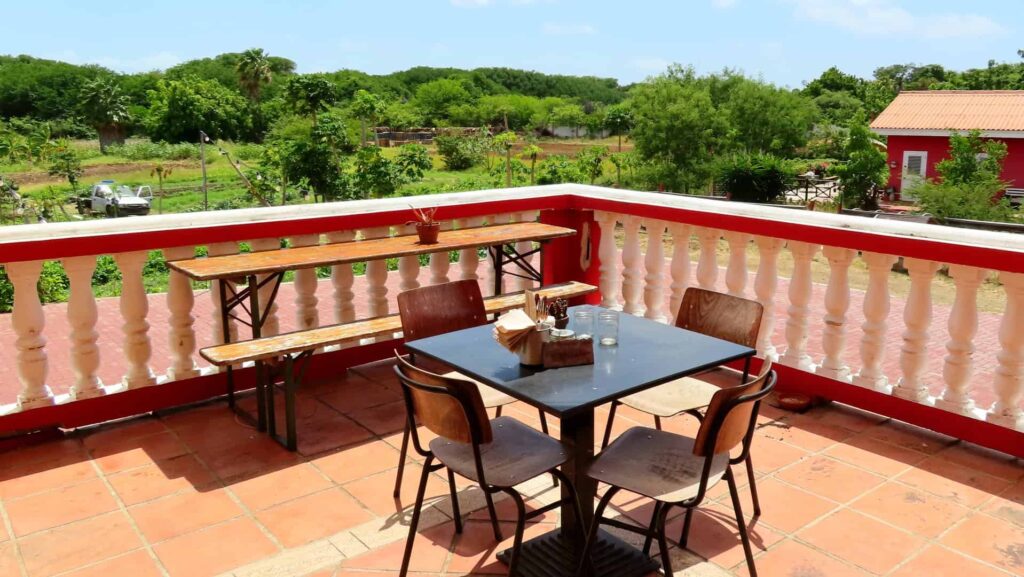 Qua doe-het-zelf vega is De Dames op Curaçao een fantastische keuze. Uw smoothie, sapje en salade wordt helemaal naar uw smaak aangepast. Vegetarische en veganistische alternatieven vormen dan ook een hele pagina op het menu van De Dames. Wat dacht u van chiapudding met bananen en bosbessen, gevulde avocado's of shoarma van kikkererwten? Op deze heerlijke plek kunt u oprecht genieten van super lekkere Caribische smaken.
Wilt u een lekker plakje cake bij de koffie of toch liever een lekkere hartige lunch? Ook voor heerlijke veganistische maaltijden op Curaçao kunt u bij Number Ten terecht. Zowel het eten als de tuin van dit restaurant zien er geweldig uit. In het voormalig Landhuis Bloemhof hangt een fijne, ontspannen sfeer. Zoiets als een kruising tussen een trendy Franse bistro en een rustiek huisje in de tropen.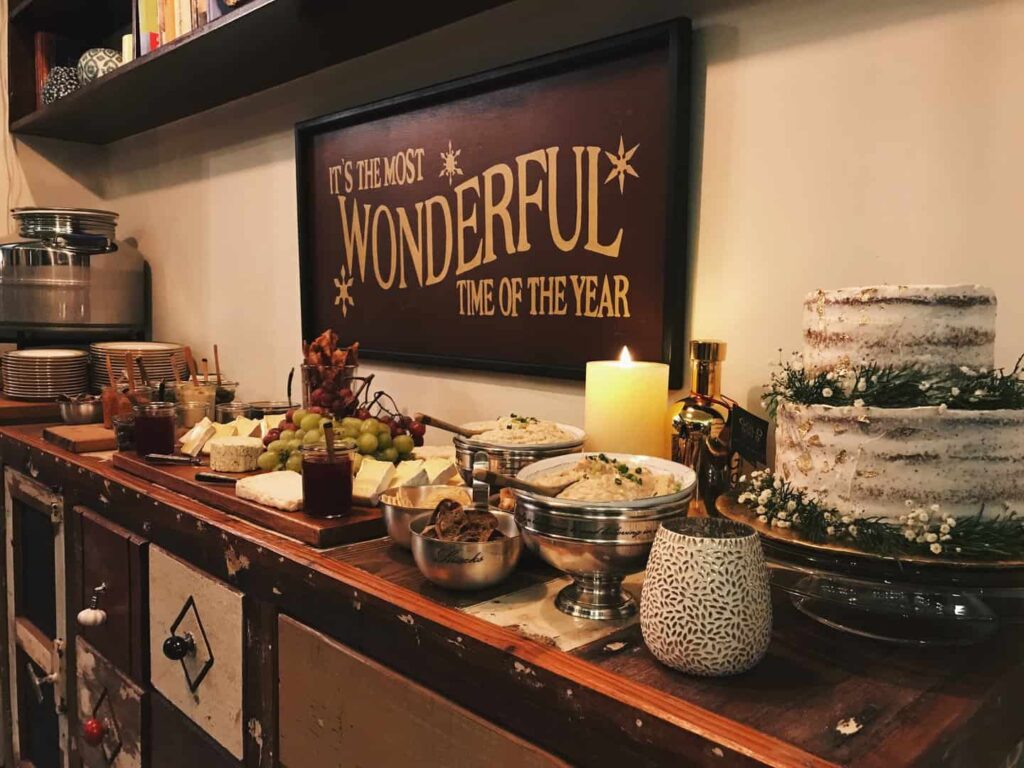 Tandoori Heights bij Mambo BLVD heeft een ruime keuze aan vegetarische en veganistische opties, dus zelfs als Indiaas eten niet bovenaan uw vakantielijstje op Curaçao staat, is het zeker een goede vega keuze. Terwijl u dineert, kunt u ook genieten van de prachtige zonsondergang van Mambo. Al uw favoriete curry's en paneergerechten, samen met naan en rijst, vindt u hier. Ga bijvoorbeeld voor de populaire vlees alternatieven zoals "Mock Duck" en "Mock Chicken" .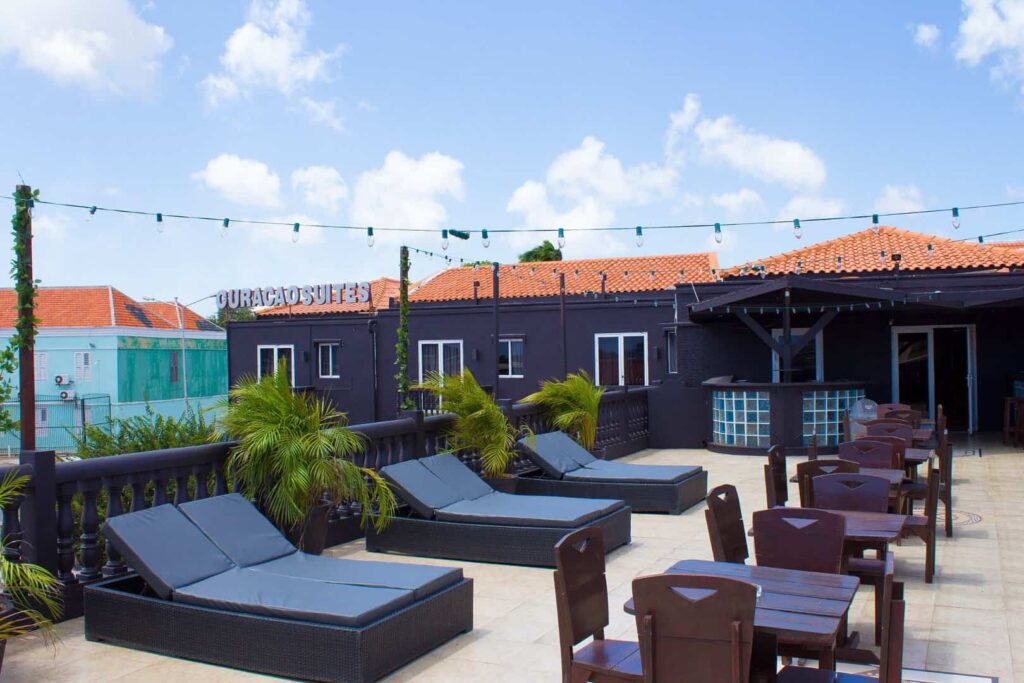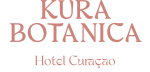 Verspreid over een gebied van acht blokken biedt dit pand een unieke luxe ervaring in een botanisch en rustig toevluchtsoord, dat volledige privacy en intimiteit biedt.
Ideaal voor
Zakenmensen, Stellen of Geliefden
die een pauze nodig hebben
Fusions Curaçao is een uitstekend veganistisch restaurant dat het zeker verdient om op deze lijst te staan. Veganisten kunnen kiezen uit verschillende items op het menu. Van groente bami tot aubergine parmezaan. Daarnaast verzorgen ze naast 'loaded' zoete aardappelfrietjes met vegetarisch rundergehakt en zwarte bonen ook een dhalplate met linzen. Kortom, veganisten hebben genoeg keuze bij dit eetcafé.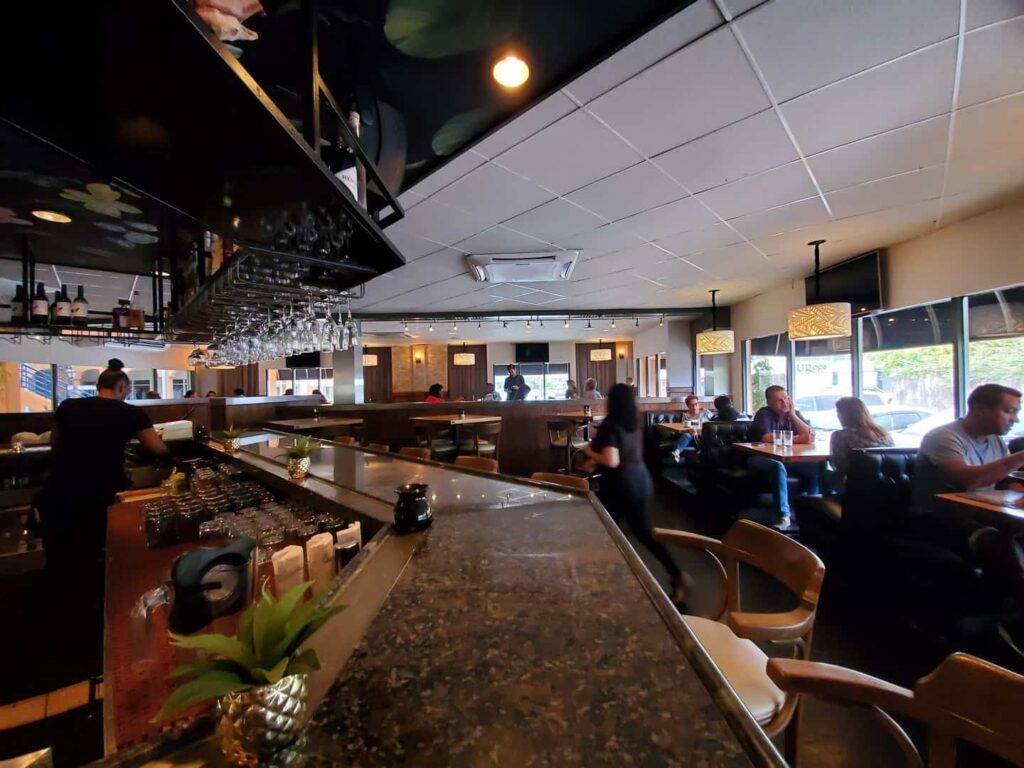 Bij Tabooshh in Jan Thiel kunt u heerlijk Caribisch eten terwijl u vanaf de houten vlonder de boten ziet komen en vanuit de haven gaat. Ze bieden een geweldige veganistische bananensoep en hun gemarineerde chili en jambalaya zijn ook veganistisch. Dessert worden hier overigens met heerlijke groene rum doordrenkt.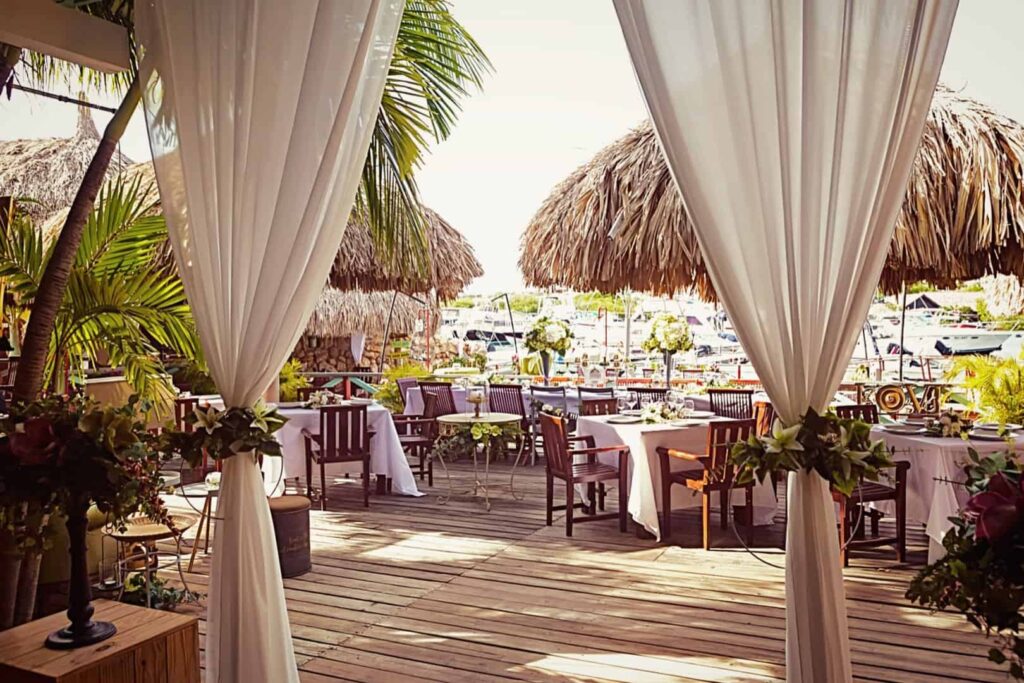 Vis wordt toch altijd gebruikt bij de bereiding van sushi? Dat is zeker niet het geval bij TeMari. TeMari biedt zowel een standaard menu als een apart veganistisch menu aan. De eigenaar is veganist, dus zijn porties zijn gevuld met de meest verse groenten en lokale producten. Combinaties met gebakken banaan, avocado, komkommer of tofu zijn allemaal mogelijk. Er staan meer dan 30 veganistische opties op de kaart.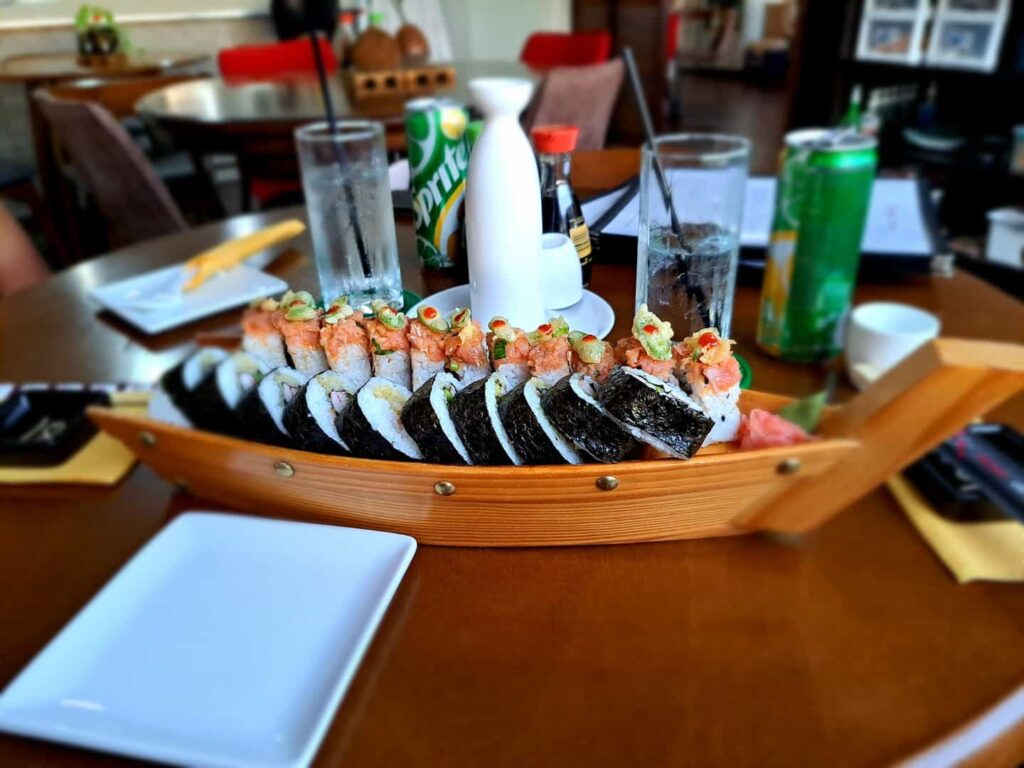 Bali Curaçao heeft twee locaties, één in Punda en één in Grote Berg. Het is geen geheim dat dit een uitstekende Aziatische keuken is. Veganisten kunnen kiezen uit verschillende opties, waaronder Thaise groene curry met tofu en pad thai met groenten of tofu. Dit naast traditionele Indonesische gerechten zoals gado gado, nasi goreng en bami goreng. Genoeg lekkere keuzes dus!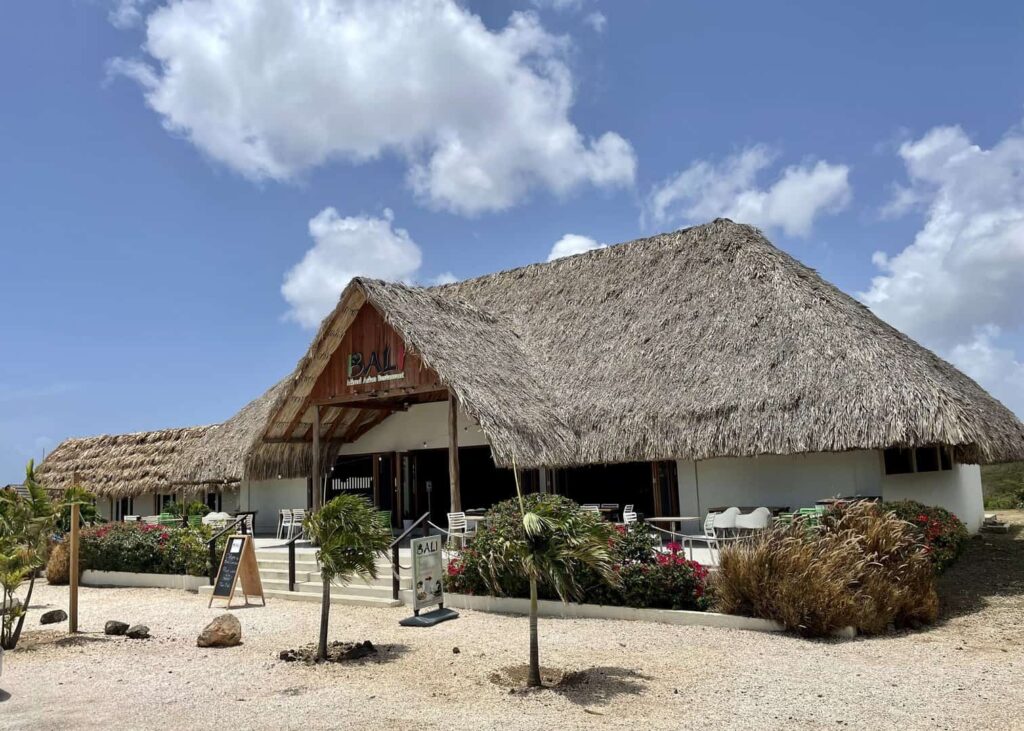 Bario Urban Streetfood in Otrobanda is een andere geweldige plek om te eten op Curaçao als u veganist bent en wat (niet-veganistische) vrienden mee wilt nemen. U vindt hier Caribische gerechten zoals Veganistische burgers met krokant gebakken aardappelen, couscous met kikkererwten en pasta met geroosterde walnoten en spinazie zijn slechts enkele gerechten op de kaart. Dit allemaal in een gezellige sfeer, vaak met live muziek.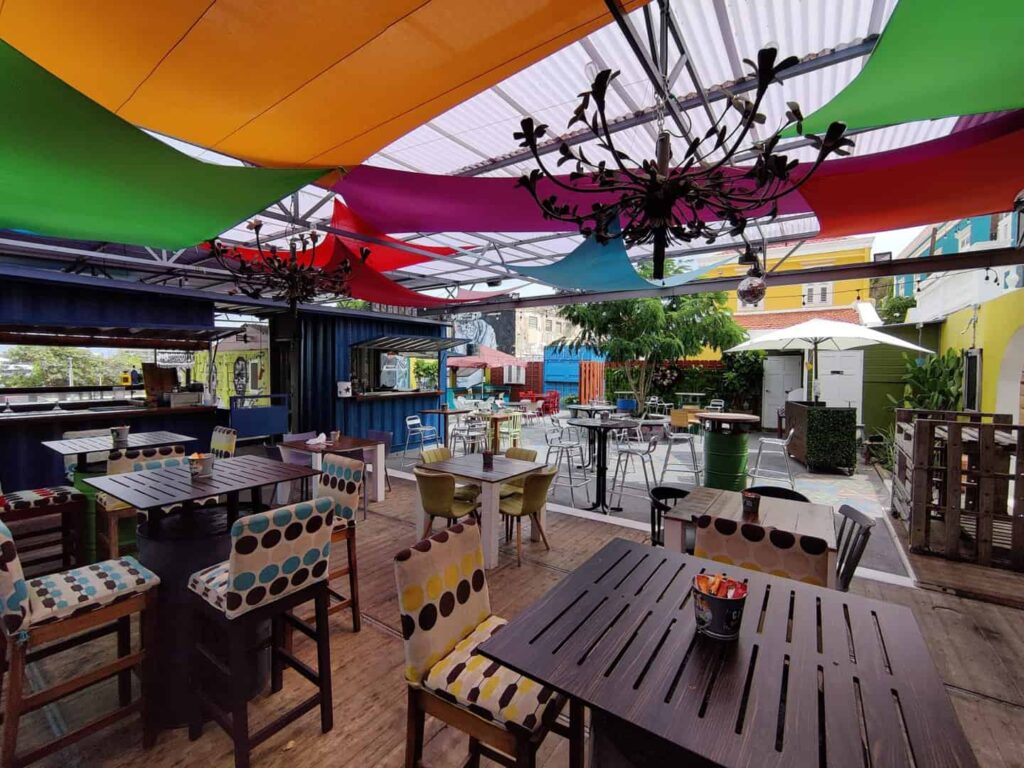 De Groene Batido Truck aan de Caracasbaaiweg
De Groene Batido Truck is een must als één van de juice bars van het eiland, en het is slechts één van de vele uitstekende op Curaçao. De officiële naam is 'Disfruta más', wat zich letterlijk vertaalt naar 'meer genieten'. U kunt er dan ook heerlijke hapjes en sapjes bestellen. U kunt hier een echte verse batido (een soort smoothie) krijgen, en u kunt deze bestellen met of suiker en/of melk.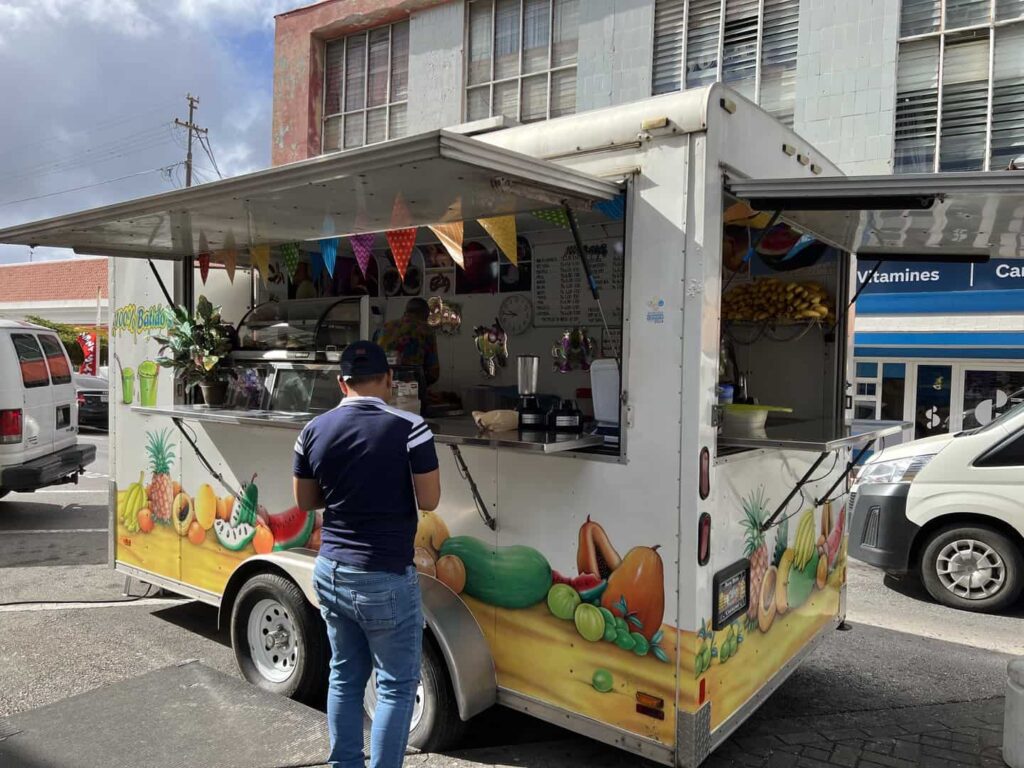 Voor een gezondere optie kunt u ook naar Mahaai. The Sane Sister is het veganistische zusterrestaurant van het populaire Nut House Curaçao. Met verse sappen, bowls, voedzame shots en snacks als hazel chocoballetjes en gevulde dadels, kunt u uw dag zeker goed beginnen. Een echte opfrisser die op meer plaatsen te verkrijgen is, is de Awa di Lamunchi.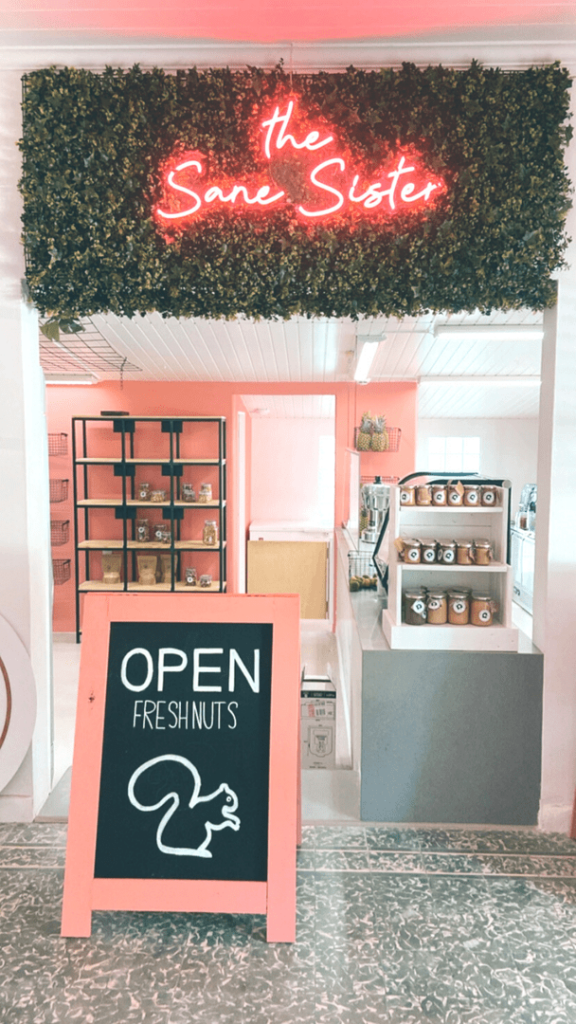 U ziet dat er op het eiland Curaçao veel keuze is in de culinaire ervaring voor vegetariërs en veganisten. Een pro-tip voor wanneer u zo veel mogelijk veganistische maaltijden wilt proeven: Curaçao Vegan Events organiseert maandelijkse veganistische pop-up markten. De beste veganistische voedingsmiddelen en goederen worden gemaakt door een groep lokale ondernemers.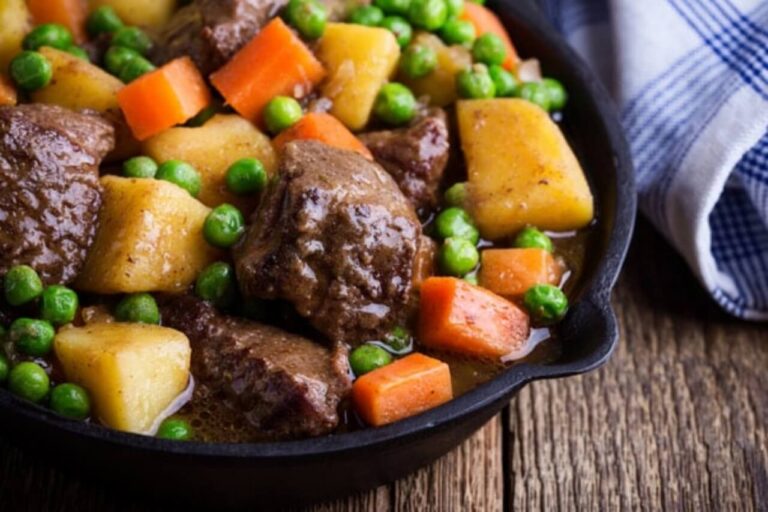 Ontdek de traditionele, beroemde gerechten van Curaçao De Caribische keuken is net zo kleurrijk als de cultuur. Probeer enkele van de beste regionale keukens uit het Caribisch gebied.Curaçao is een van de mooiste eilanden ter wereld. Maar het duurt niet lang om te beseffen waarom veel mensen ervoor kiezen om hier op vakantie te gaan.
Lees verder "
Om een land beter te leren kennen, kunt u zich eenvoudig onder het winkelend publiek begeven op de markt. Op de verschillende markten op het eiland proeft u het echte Curaçaose leven. Ontdek lokale producten, heerlijk eten en een stukje cultuur op de dagelijkse markt. Verspreid over heel Curaçao zijn verschillende bekende markten (ook vaak
Lees verder "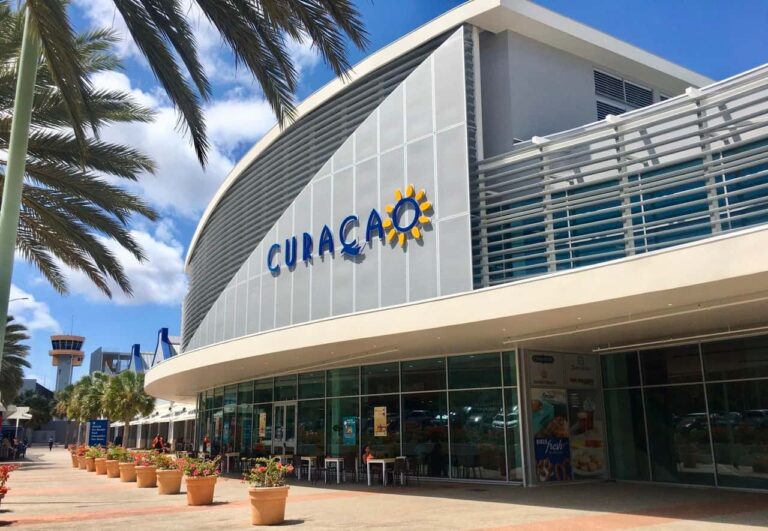 Uw heerlijke vakantie begint zodra u landt op ons mooie Hato International Airport. De kleuren van het eiland schitteren als je het vliegtuig verlaat. Vanaf het moment dat u aankomt op Hato Airport wordt u ondergedompeld in de warme gastvrijheid van Curaçao.
Lees verder "