Curaçaos historische, boutique bestemming
De hoofdstad van het eiland is verdeeld in Punda en Otrabanda. Echter heeft Punda weer een suburb, genaamd Pietermaai District op Curaçao. Deze historische wijk is werkelijk een geweldige samenkomst van prachtige architectuur en cultuur. De geplaveide straten vol leven maken het een perfecte bestemming voor reizigers die op zoek zijn naar een onvergetelijke ervaring. Met haar geschiedenis als UNESCO Werelderfgoed en haar reputatie als één van de meest trendy plekken op Curaçao, is het geen wonder dat het Pietermaai District een steeds populairdere bestemming wordt voor reizigers.
Zodra de zon ondergaat in Willemstad worden zowel bezoekers als de lokale bevolking aangetrokken tot het Pietermaai District. Deze historische buurt herbergt prachtige architectuur en is uitgegroeid tot een bruisend centrum voor boutique hotels, gezellige restaurants, hippe clubs en stijlvolle cafés.
Add a header to begin generating the table of contents
Een korte geschiedenis van het Pietermaai District
Het district ontleent zijn naam aan de Nederlandse ontdekkingsreiziger Jan Pieterszoon Maartenszoon (of "Pietermaij") die het eiland voor het eerst bezocht in 1634. Het gebied werd oorspronkelijk ontwikkeld door rijke kooplieden die hier hun huizen bouwden om te profiteren van de uitstekende ligging aan het water. Na verloop van tijd werden deze huizen vervangen door modernere gebouwen van baksteen of steen, die nog steeds in de straten staan. Naarmate Willemstad in de 18e en 19e eeuw uitgroeide tot een steeds belangrijkere havenstad, werd Pietermaai ook een centrum voor handel en commercie. In 1997 werd het op de Werelderfgoedlijst van UNESCO geplaatst vanwege de unieke mix van ouderwetse Nederlandse architectuur in combinatie met lokale structuren in Caribische stijl.
Uitgaan in Pietermaai District
Als het om uitgaan op Curaçao gaat, is Pietermaai inmiddels the place to be. U kunt hier onder andere genieten van heerlijke cocktails in één van de vele trendy bars in de stad. Of u kunt deelnemen aan levendige thema avonden in plaatsen als Bar P, Bluebird cafe en Saint Tropez, waar er lekker gedanst mag worden! Ook worden er regelmatig leuke dingen in de stad georganiseerd. Denk hierbij aan braderieën, Koningsdag, Blouse Festival, Kerstmarkt en meer.
Restaurants in Pietermaai
Pietermaai draait echter niet alleen om sightseeing – het is ook de thuisbasis van een aantal geweldige restaurants die traditionele Caribische maaltijden serveren. Dit naast internationale gerechten, zoals Argentijns en Italiaanse favorieten zoals pizza of pastagerechten. Een kleine greep uit de gastronomische uitgaansgelegenheden: Ginger, Roast Cannibal Rumbar, Mundo Bizarro, Food And Lifestyle, Kome, Vita Vegetarian Cuisine, La Reina Coffee en Cafe Old Dutch.
Hotelovernachtingen in het Pietermaai District
Tegenwoordig komen veel bezoekers specifiek naar Pietermaai voor de selectie van boutique hotels die een persoonlijke ervaring bieden, zoals geen enkele andere accommodatie op Curaçao doet. De meeste zijn gehuisvest in gerenoveerde gebouwen uit voorbije eeuwen en hebben heldere kleuren en moderne voorzieningen zoals flatscreentelevisies en gratis WiFi. Sommige hebben ook een eigen balkon met een prachtig uitzicht over zee. De hotels in Pietermaai District bieden eersteklas service in combinatie met adembenemende uitzichten die uw vakantie echt onvergetelijk zullen maken!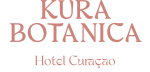 Verspreid over een gebied van acht blokken biedt dit pand een unieke luxe ervaring in een botanisch en rustig toevluchtsoord, dat volledige privacy en intimiteit biedt.
Ideaal voor
Zakenmensen, Stellen of Geliefden
die een pauze nodig hebben
Een thuis weg van huis is wat u in dit hotel vindt. BijBlauw is een gezellig boutique hotel in het hart van Pietermaai. De naam "Bijblauw" verwijst naar het blauw van de oceaan, de lucht en de sereniteit die het hotel uitdraagt. Er zijn in totaal 13 mooie kamers in Hotel BijBlauw, waaronder suites met één of twee slaapkamers. Deze kamers, die variëren van "klein" tot "groot", hebben elk hun eigen duidelijke stijl en niveau van comfort en voorzieningen. ​Bijblauw serveert een smakelijk ontbijt, honger stillende lunches en fijne diners in een informele sfeer. Trakteer uzelf op de verleidelijke BijBlauw smaakcombinaties en geniet.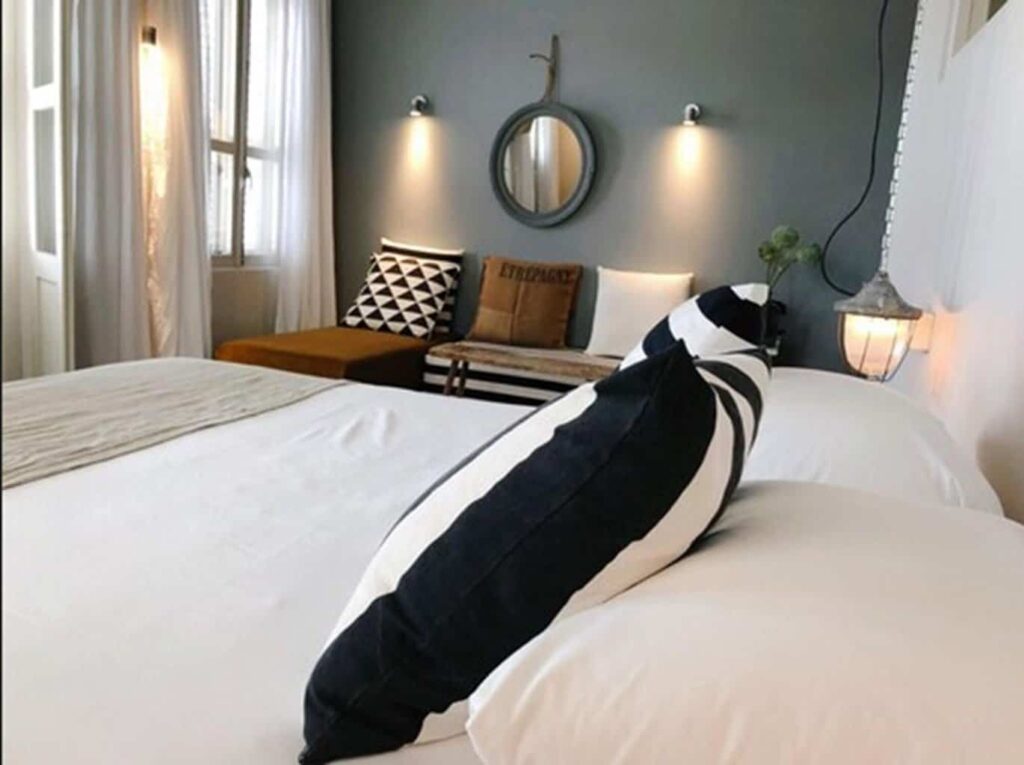 Scuba Lodge Oceanfront Boutique Hotel Curaçao
Er zijn in totaal 28 kamers en 11 suites in Scuba Lodge, die allemaal zijn verspreid over 5 afzonderlijke (UNESCO Werelderfgoed!) prachtige panden en omgeven door tropische tuinen. De heldere buitenkant van het hotel is één van de meest gefotografeerde bezienswaardigheden op het eiland. Het zwembad van Scuba Lodge is verdeeld over een schaduwrijk tuingebied en een zon gedeelte met uitzicht op de Caribische Zee. Voorzieningen ter plaatse zijn een coffeeshop, een gecertificeerde duikfaciliteit en een restaurant en bar aan de oceaan.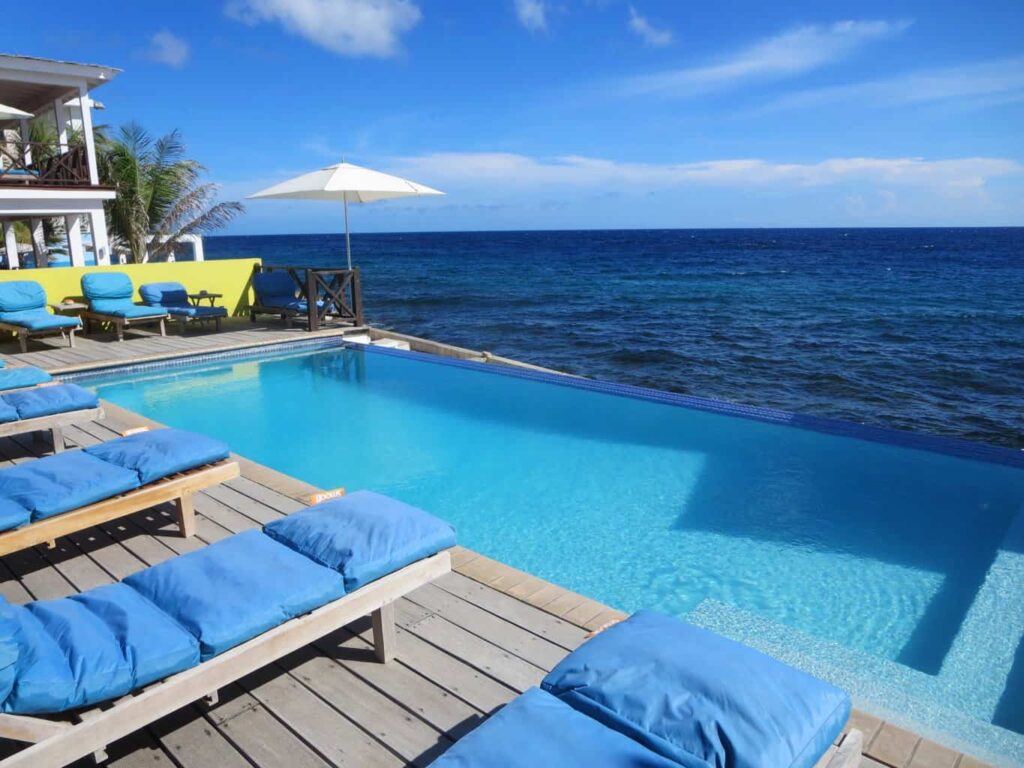 Terra Boutique Hotel Curaçao
Alle comfort van thuis staat tot uw beschikking bij Terra Boutique Hotel,maar u bent nog steeds omringd door de schoonheid van de natuur. De levendige straten van Pietermaai zijn op enkel een korte wandeling, waar u ook een verscheidenheid aan eet- en drinkopties zult vinden. Gasten kunnen gebruik maken van het gratis parkeren, buitenzwembad en het zonneterras van het hotel. In het Terra Boutique Hotel besteden ze aandacht aan de kleinste details. Dat is duidelijk te zien in de doordachte lay -out van elke kamer, evenals in de grote verscheidenheid aan diensten en voorzieningen die voor u beschikbaar zijn tijdens uw verblijf.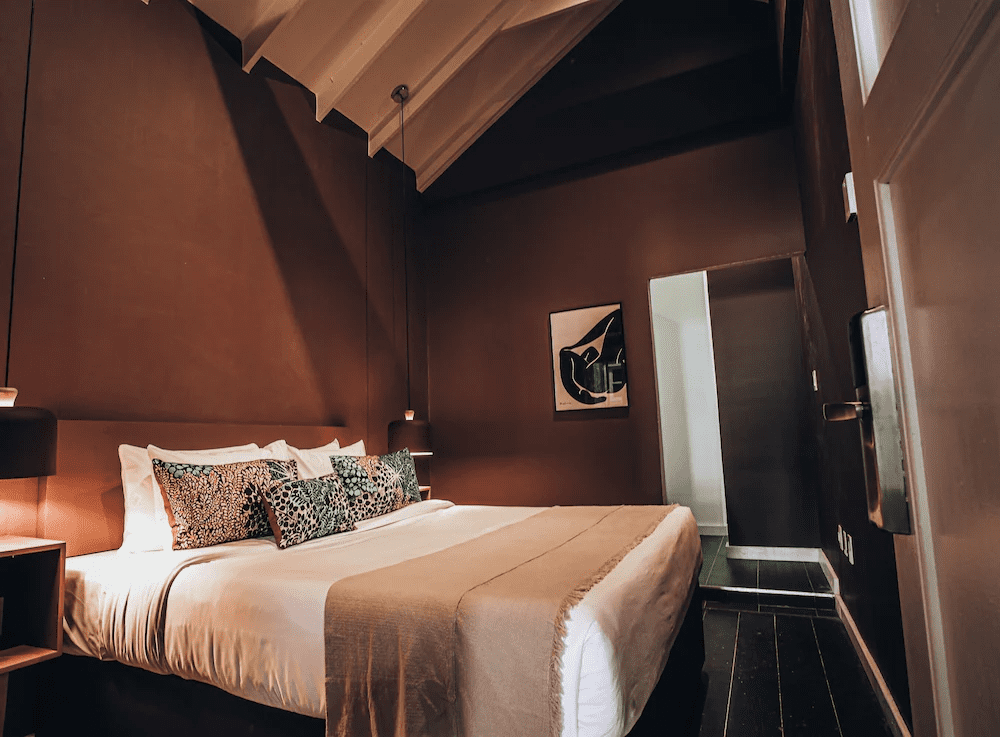 Zoals gezegd is Pietermaai een suburb van de hoofdstad. Deze heeft door de jaren heen een behoorlijke metamorfose doorstaan. Onder andere veel gebouwen zijn grondig onder handen genomen en hebben een mooi likje verf gekregen. Zo'n 15 jaar geleden was er namelijk nog niet veel te beleven in deze toen toch al kleurrijke wijk. Echter rond 2010 begonnen steeds meer ondernemers hun intrek te nemen in de historische panden. Sindsdien is er meer leven in de brouwerij gekomen en staat Pietermaai District bovenaan de lijst van must-do's op Curaçao.
Ga er op uit in het Pietermaai District!
De karakteristieke wijk Pietermaai is dus een hoek van Curaçao die u zeker niet mag missen, als u vakantie viert op dit prachtige eiland ! Of u nu op zoek bent naar accommodatie in klassieke koloniale gebouwen, die één en al charme uitstralen, of gewoon een plek zoekt die lekker centraal ligt; er is in Pietermaai echt iets voor iedereen. Van boutique hotels met comfortabele bedden na een lange dag sightseeing in de stad, gezellige restaurants met heerlijke maaltijden, levendige bars die perfect zijn om uit te gaan en nog veel meer activiteiten op loopafstand. Het zal niet lang duren voordat u helemaal ondergedompeld bent in alles wat deze historische wijk te bieden heeft.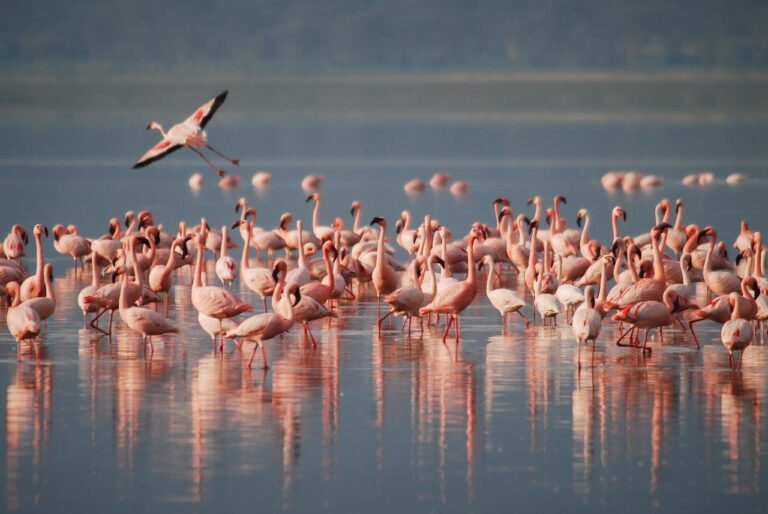 Je hebt vast gehoord hoe mooi flamingo's zijn. Ze zijn schattig, toch? Nou, ze zijn nog schattiger in het echt. Het eiland Curaçao herbergt enkele van de meest verbazingwekkende flamingo's ter wereld. En nu kun jij ze ook zien. Er zijn veel verschillende plaatsen om vogels te kijken. Eén zo'n plek heet het Flamingo Park.
Lees verder "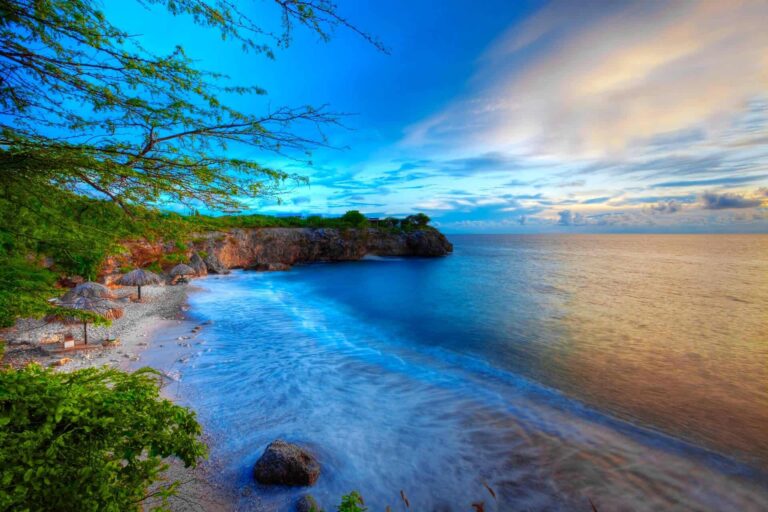 Curaçao, gelegen nabij de evenaar, heeft een tropisch savanneklimaat. Omdat het Caribisch gebied dicht bij de evenaar ligt, worden het weer en het klimaat gekenmerkt door warme temperaturen gedurende het hele jaar. Het is dan ook een populaire bestemming voor zonaanbidders. De gemiddelde temperatuur op Curaçao ligt rond de 27°C (81 graden Fahrenheit) met een
Lees verder "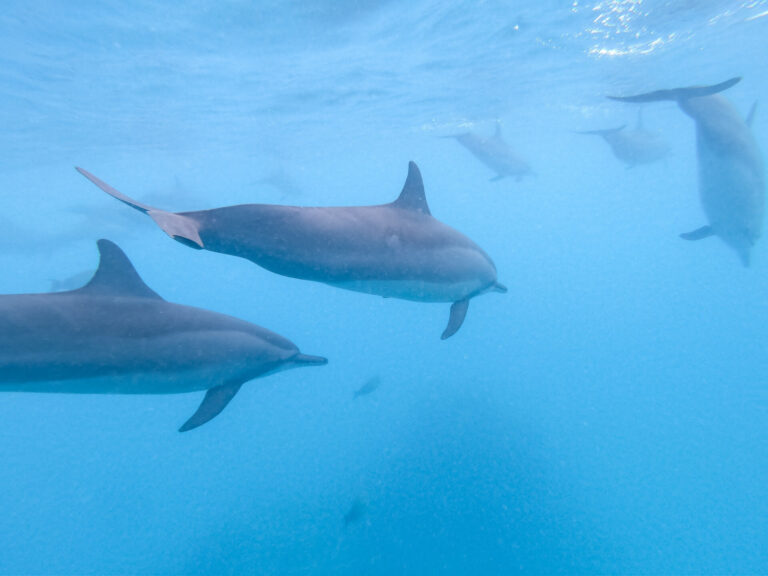 Curaçao staat bekend om zijn dolfijnen Ontmoet, zwem of duik met een dolfijn Curaçao is de perfecte plek om dolfijnen te spotten, met ze te zwemmen en zelfs met ze te duiken. Curaçao is vaak bekend om zijn dolfijnenhuis, de Dolphin Academy. De Dolphin Academy Curaçao is gevestigd op het terrein van het Sea Aquarium
Lees verder "