Curaçao, gelegen nabij de evenaar, heeft een tropisch savanneklimaat. Omdat het Caribisch gebied dicht bij de evenaar ligt, worden het weer en het klimaat gekenmerkt door warme temperaturen gedurende het hele jaar. Het is dan ook een populaire bestemming voor zonaanbidders. De gemiddelde temperatuur op Curaçao ligt rond de 27°C (81 graden Fahrenheit) met een luchtvochtigheid van 80% het hele jaar door. Dit is een stuk hoger dan bijvoorbeeld in Nederland. Met zijn tropische klimaat, zonnige dagen en aangename passaatwinden biedt Curaçao het hele jaar door geweldig weer. Dat maakt het perfect voor buitenactiviteiten zoals strandhangen, snorkelen en duiken.
Add a header to begin generating the table of contents
Aangename temperaturen overdag
De warmste maand van het jaar op Curaçao is augustus met een gemiddelde dagtemperatuur van 30°C. Juli volgt op de voet met gemiddelde tropische temperaturen van 29°C. In deze maanden met zulke hete dagen is het vaak af te raden het eiland te bezoeken. Zelfs de lokale bevolking zoekt koeler weer op in andere landen dan Curaçao. Daarentegen zijn januari tot en met maart meestal de koelste maanden met aangename temperaturen van 27°C.
Eigenlijk is maart tot en met mei de beste tijd voor mensen die niet tegen te hoge temperaturen kunnen. Overigens daalt de gemiddelde temperatuur nooit onder de 20 °C. Zelfs in wintermaanden zoals december, wanneer ze een dieptepunt van 22°C bereiken. Dit is trouwens ongelooflijk koud voor de lokale bevolking. Ondanks de ligging dicht bij de evenaar stijgen de temperaturen zelden boven de 34°C door de nabijheid van grote watermassa's, zoals de Caribische Zee. Natuurlijk kan de gevoelstemperatuur weer heel anders zijn, vooral als er geen wind is.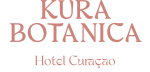 Verspreid over een gebied van acht blokken biedt dit pand een unieke luxe ervaring in een botanisch en rustig toevluchtsoord, dat volledige privacy en intimiteit biedt.
Ideaal voor
Zakenmensen, Stellen of Geliefden
die een pauze nodig hebben
Gemiddeld heeft Curaçao ongeveer acht uur zon per dag, waardoor het een zeer zonnige plek is om te bezoeken. Met een jaarlijks gemiddelde van meer dan 3.000 zonuren is het eiland doorgaans uitzonderlijk helder. Het hele jaar door is er een goed evenwicht tussen bewolkte en zonnige dagen. Zelfs tijdens de regenachtige tijden van het jaar.
Reken bij een bezoek aan Curaçao echter niet alleen op geheel onbewolkte dagen, want meestal zijn er wolken in de lucht. Bij mooi weer heb je meer kans om de mooie witte wolken te zien, maar donkere, onheilspellende onweerswolken zijn altijd een mogelijkheid. Maar zelfs dan is een stortbui niet gegarandeerd.
Het eiland is zo klein dat veel stormwolken er gewoon overheen gaan en hun regen dumpen op het veel nattere vasteland van Venezuela. Het kan ook zijn dat u bij Jan Thiel Beach (in het oosten) in de regen zit, terwijl u bij Cas Abou (in het westen) in de volle zon zit. Een van de redenen waarom Curaçao zo populair is voor een zonvakantie is de grote kans dat u het tijdens uw verblijf lekker warm heeft.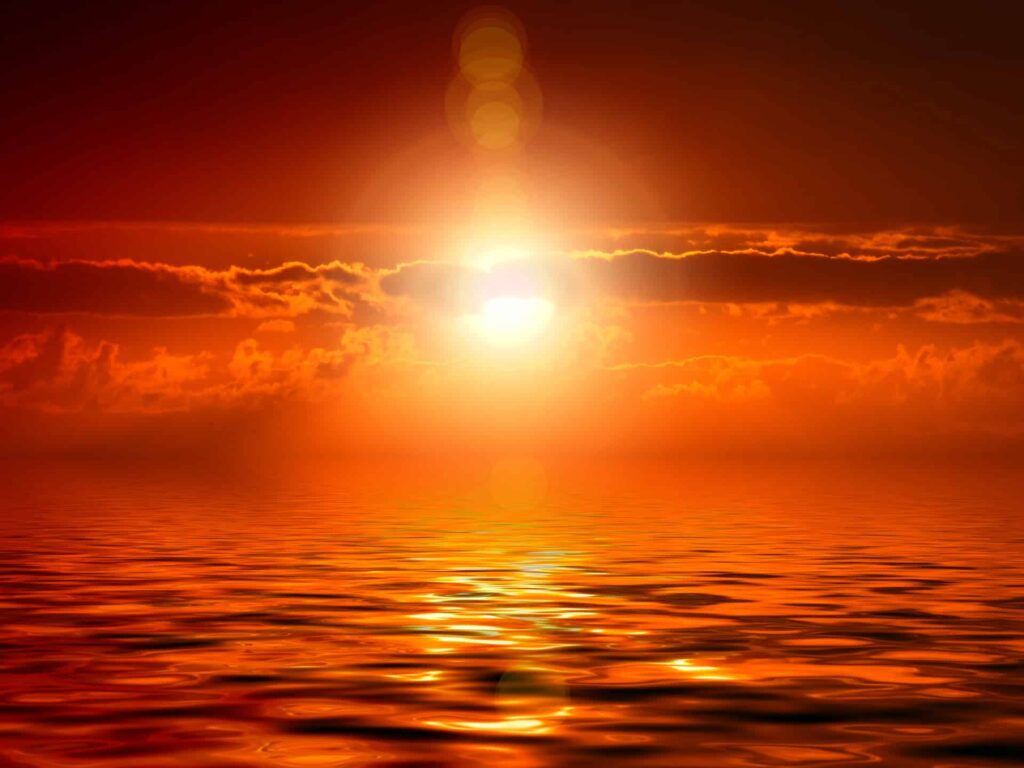 De regenval op Curaçao varieert aanzienlijk, soms afhankelijk van het deel van het eiland dat u bezoekt. Het regenseizoen waarin de meeste regen valt, duurt van oktober tot april en bedraagt gemiddeld ongeveer 20 millimeter neerslag per maand. Dit natte seizoen kent enkele zware regens, maar ook enkele droge perioden waarin dagen of zelfs weken geen neerslag valt. De totale neerslag kan variëren van slechts 10 millimeter neerslag per maand in januari tot 40 centimeter per maand in oktober en november. Dit zijn de natste maanden op Curaçao en worden soms gekenmerkt door dagen met bewolkt weer.
Afgezien van deze maanden blijft de neerslag in de meeste andere delen van het jaar echter vrij constant. De gevolgen van de klimaatverandering zijn de laatste jaren echter zichtbaar. Men merkt op het eiland dat de regenperiodes met korte buien langer duren dan voorheen. Iets waardoor Curaçao wel mooi groen wordt!
Van begin juni tot begin december kunnen orkanen en andere tropische stormen het Caribisch gebied teisteren. Curaçao wordt echter zelden door zulke krachtige stormen getroffen omdat het onder de traditionele aanvoerroutes van orkanen en depressies ligt. Daardoor heeft Curaçao geen echt orkaanseizoen. Waar het eiland vooral last van heeft is de afnemende wind tijdens dit seizoen. Dit kan zorgen voor snikhete temperaturen.
De Benedenwindse Eilanden, waartoe Curaçao behoort, heten niet voor niets zo. Orkanen komen zelden aan land op het eiland, maar het gebied is niet vreemd aan verwoesting door deze krachtige stormen. De zogenaamde Bovenwindse Eilanden. Wanneer een orkaan ten noorden van Curaçao ontstaat, kunnen de daaruit voortvloeiende hoge winden en golven verwoestende gevolgen hebben voor de kustlijn van het eiland. Het is ook denkbaar dat er plotseling veel regen valt omdat er orkaandepressies in de buurt zijn.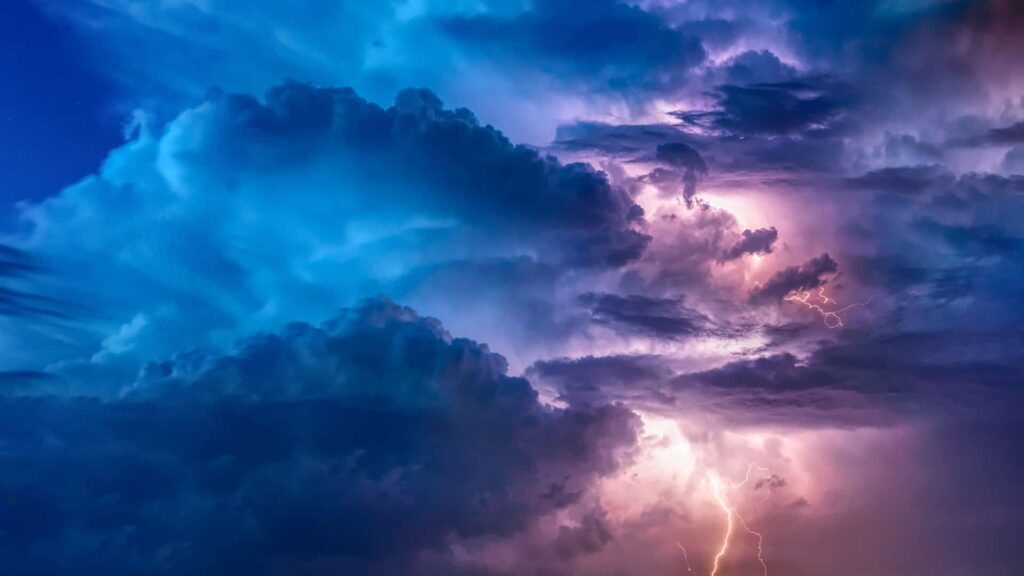 Al met al heeft Curaçao, dankzij de ligging nabij de evenaar en de nabijheid van grote wateren zoals de Caribische Zee, een zonnig klimaat dat wordt gekenmerkt door warme temperaturen gedurende het grootste deel van het jaar. Dit in combinatie met af en toe zware regen. Er zijn dus ook droge periodes waarin het dagen of zelfs weken niet regent. De zonneschijn varieert afhankelijk van de periode die u bezoekt, maar schommelt over het algemeen tussen acht en 12 uur per dag gedurende de meeste delen van het jaar. Ben je klaar voor een zonovergoten vakantie?

Om een land beter te leren kennen, kunt u zich eenvoudig onder het winkelend publiek begeven op de markt. Op de verschillende markten op het eiland proeft u het echte Curaçaose leven. Ontdek lokale producten, heerlijk eten en een stukje cultuur op de dagelijkse markt. Verspreid over heel Curaçao zijn verschillende bekende markten (ook vaak
Lees verder "

GO WEST Diving is erkend als een van de beste PADI duikcentra op Curaçao. GO WEST Diving is gevestigd op een van de beste duiklocaties van Curaçao, Alice in Wonderland, direct aan het idyllische zandstrand van Playa Kalki in Westpunt. Het duikcentrum biedt het volledige scala aan PADI- en SSI-cursussen, verhuur van kwaliteitsuitrusting en een
Lees verder "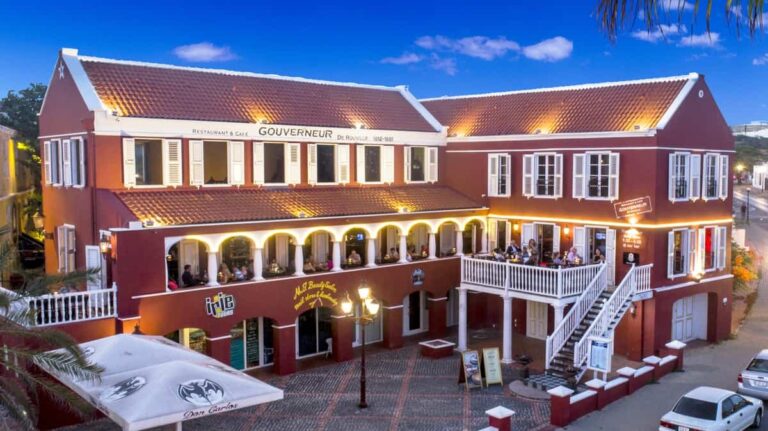 Direct gelegen aan de Anna Baai, met een prachtig uitzicht over de Handelskade en de haveningang, vindt u Grand Café 'Gouverneur de Rouville'. Deze statige Curaçaose locatie die u niet mag missen, verwelkomt u van 's ochtends vroeg tot 's avonds laat voor een drankje, ontbijt, lunch en diner. Ontbijt en lunch worden geserveerd van
Lees verder "