El Caribe alberga algunos de los animales marinos más bellos, vibrantes y singulares del mundo. Entre otros, el pez león de Curaçao es una de las especies de peces más emblemáticas. Alrededor de estos increíbles peces, hay mucho que hacer en el Caribe. Esto se debe a que en realidad son huéspedes no deseados, lo que provoca que muchas otras formas de vida marina no prosperen. Sin embargo, son buenos para las ventas con sus colores brillantes, patrones únicos y buen gusto.
Add a header to begin generating the table of contents
El pez león de Curaçao (también llamado pez león) es una especie de pez invasor que ha afectado a muchos arrecifes de coral del Caribe. Originaria de la región Indo-Pacífica, ha conseguido abrirse camino hasta las aguas del Caribe y convertirse en un enorme problema. El pez león es un depredador voraz que se come casi todos los peces y crustáceos que le caben en la boca. Su presencia ha causado importantes daños a los sistemas de arrecifes nativos, a las comunidades de peces autóctonos y a los ecosistemas asociados. Por ello, muchos biólogos marinos y conservacionistas lo consideran una grave amenaza.
El origen exacto de esta especie en el Caribe sigue sin estar claro, aunque la mayoría de los expertos creen que probablemente emigró a principios de la década de 1990 desde el Golfo de México y el Atlántico noroccidental y sudoccidental. Quizá se introdujo accidentalmente por vertidos de acuarios o actividades pesqueras en esta zona. Pasara lo que pasara, fue suficiente para que esta especie se afianzara en estas aguas y se reprodujera a un ritmo alarmante.
A diferencia de la mayoría de las demás especies de peces, el pez león en su nuevo entorno caribeño no tiene enemigos naturales que controlen sus poblaciones. Esto significa que pueden reproducirse con extrema rapidez sin competencia ni depredación de otras especies de peces. Como resultado, causan aún más molestias. Si bien es cierto que la lubina se alimenta normalmente de peces como el pez león, las percas del Caribe aún no se han dado cuenta de que pueden cazarlos. Además, el pez león es muy adaptable, lo que le permite sobrevivir en muchos tipos de hábitats. Tanto en arrecifes poco profundos como en lagunas profundas. Esto les da aún más oportunidades de reproducirse.
Buceo con peces león en Curaçao
Por desgracia para nosotros, los humanos, los intentos de controlar a estos peces león invasores han sido infructuosos hasta ahora. Esto se debe principalmente a su gran velocidad de reproducción y a su capacidad para adaptarse rápidamente a nuevos entornos. Como consecuencia, las poblaciones de pez león siguen creciendo en gran parte del Caribe, y en algunas zonas se registran aumentos de hasta el 30% cada año. Esto significa que, a menos que algo cambie pronto, estos peces seguirán causando graves daños en esta zona durante años, si no décadas. Sin embargo, podemos suponer que la naturaleza acabará encontrando una solución para esta especie de pez demasiado industriosa. Por ejemplo, introduciendo otros enemigos naturales.
Hasta entonces, para abordar este problema por sí mismos, se han propuesto varias iniciativas tanto por parte de funcionarios gubernamentales como de grupos conservacionistas como Dutch Caribbean Nature Alliance (DCNA). En consecuencia, la caza del pez león se abrió hace años. Su objetivo es reducir el número de ejemplares de pez león mediante la pesca selectiva y campañas de concienciación sobre su carácter destructivo. La caza del pez león es habitual en muchas partes de Curaçao.
Sin embargo, aunque estas medidas pueden ayudar un poco, nunca podremos eliminarlas por completo del Caribe. Así que en este momento sigue siendo importante cazar estos animales tan a menudo como sea posible a través del buceo con pez león en Curaçao, entre otras cosas.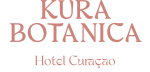 Repartida en un área de ocho manzanas, esta propiedad ofrece una experiencia de lujo única en un refugio botánico y tranquilo, que ofrece total privacidad e intimidad.
Ideal para
Empresarios, parejas o amantes
necesita un descanso
Bueno para la economía local
La mayoría de los habitantes de las islas caribeñas consideran que estos peces león son un problema por su capacidad para apoderarse rápidamente de los ecosistemas existentes en una zona. Por otro lado, son peces increíblemente fascinantes y buenos para la economía local. De hecho, la captura del pez león también permite a los pescadores y buceadores locales venderlo. Puede ser por accesorios de souvenirs o por kilo a restaurantes. El pez león figura en el menú de la mayoría de los restaurantes caribeños.
No sólo son temas de conversación interesantes por sus orígenes imprecisos, sino también porque producen joyas preciosas. Los dientes y espinas del pez león se convierten a menudo en colgantes o pendientes de Lionfish Caribbean, entre otros. Pueden utilizarse como joyas especiales o simplemente como recuerdos de sus viajes. Por eso, todas las joyas se pueden encontrar en varias tiendas de la isla, en el pueblo de Kura Hulanda o en los mercados, por ejemplo.
Además de joya, el pez león es muy sabroso y nutritivo. En cuanto a la preparación, el pez león suele asarse a la parrilla o saltearse con ajo y zumo de limón. Esto le da un sabor delicioso que combina perfectamente con arroces o ensaladas. También se utiliza mucho para hacer ceviche. Se trata de un plato de pescado fresco frío con una gran variedad de ingredientes. El pez león tiene una carne blanca y firme de sabor suave, similar a la del mero o el pargo. Esto lo convierte en una opción ideal para cenas u ocasiones especiales.
Cuando visite Curaçao, hay muchos lugares en la ciudad donde podrá comprar pez león fresco, así que podrá disfrutar de este asombroso manjar sin tener que cazar su propia presa. Tanto si prefiere comprar filetes ya preparados en la pescadería local como pescarlos vivos durante la inmersión con pez león en Curaçao, no se arrepentirá de probar este sabroso manjar durante su visita a la isla.
En última instancia, necesitamos una solución más sostenible si queremos que el Caribe combata a este invasor, antes de que sea demasiado tarde para los preciosos arrecifes de coral y los ecosistemas asociados. Sin embargo, centrémonos en lo positivo: al fin y al cabo, aún hay esperanza con varios proyectos de investigación actualmente en marcha para desarrollar estrategias de gestión eficaces que impidan nuevas invasiones de pez león en Curaçao. Hasta entonces, disfrutemos admirando de lejos a estas criaturas únicas. Tanto si busca algo especial para su plato como algo bonito que le recuerde su viaje a Curaçao, no deje de probar el pez león del Caribe.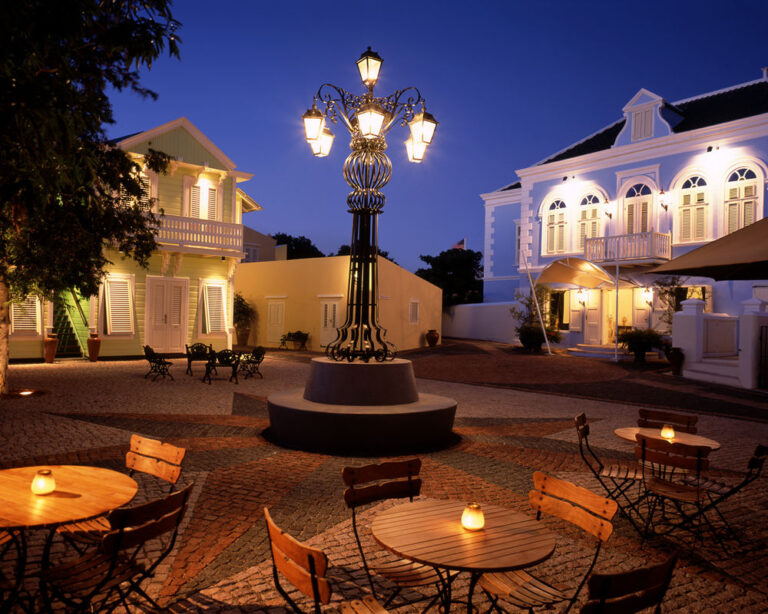 Kura Hulanda Village se encuentra en el histórico barrio de Otrobanda, en Curaçao. Entrar en Kura Hulanda es como entrar en una pequeña ciudad. Las calles y callejones empedrados están rodeados a ambos lados por edificios bellamente pintados. También encontrará hermosos jardines con plantas y flores tropicales, una terraza o una plaza. Es un lugar
Leer más "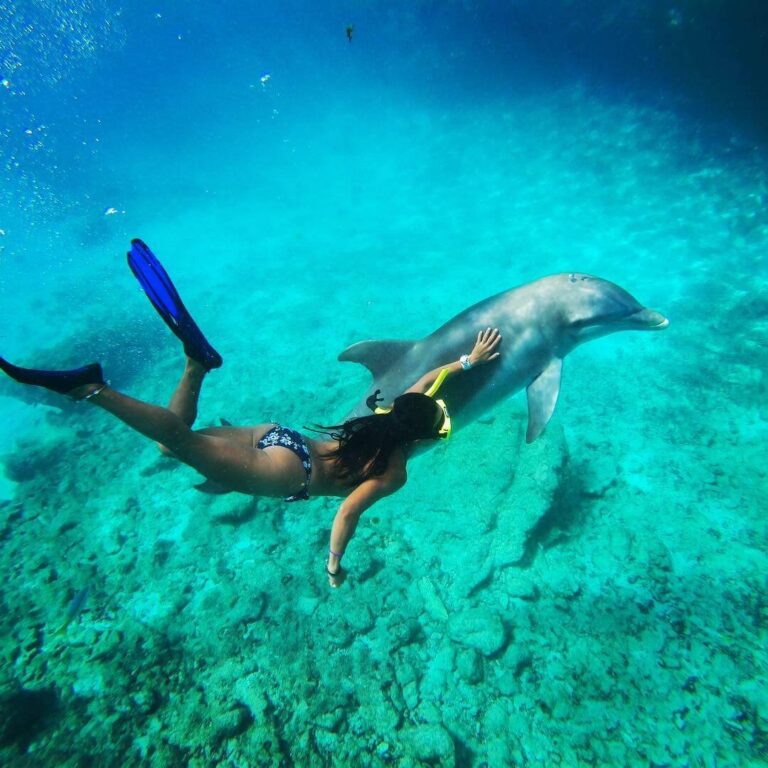 Nadar con delfines puede ser uno de sus sueños que puede hacerse realidad durante sus vacaciones en Curaçao. Si tiene suerte, puede pasarse horas admirando a los delfines desde la terraza de su villa de Royal Resorts, o puede visitar la Academia de Delfines del Acuario Marino de Curaçao. Nadar con delfines en la Academia
Leer más "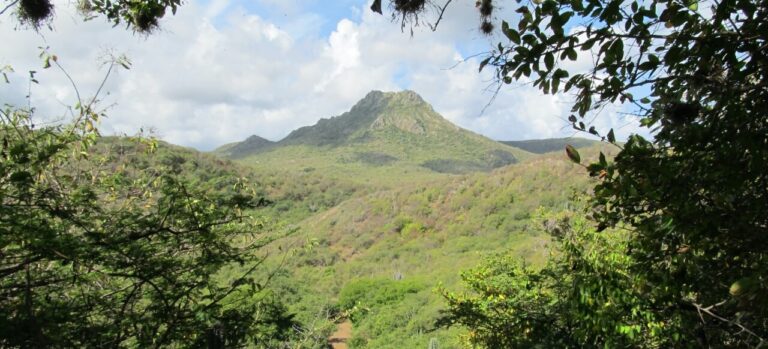 El Parque Christoffel, de 2.300 hectáreas al oeste de Curaçao, es el mayor parque nacional de la isla. Aquí se sumergirá en la exuberante vegetación de Curaçao y verá especies únicas como cactus columnares gigantes (kadushi), ciervos de cola blanca e iguanas verdes. Una de las mejores cosas que hacer en Curaçao es escalar el
Leer más "