La playa de Jan Thiel es casi la más popular de la isla de Curaçao. Es conocida por su arena fina, sus aguas cristalinas y sus numerosos servicios. En la bahía de Jan Thiel hay varios complejos turísticos de playa que ofrecen una amplia gama de servicios e instalaciones. En la zona de Jan Thiel Curaçao encontrará numerosos alojamientos populares, restaurantes, clubes de playa y tiendas. También se la conoce como la bahía más acogedora.
Add a header to begin generating the table of contents
Si desea alojarse cerca de la bahía azul, puede elegir entre varios resorts y hoteles de playa. A poca distancia de estos alojamientos se encuentra el supermercado Van der Tweel (Albert Heijn). También hay un pequeño centro comercial con tiendas de ropa, souvenirs, manicura/pedicura, spa, casino y gimnasio.
El Morena Eco Resort, situado en la bahía de Jan Thiel, ofrece atractivas villas y apartamentos con terraza, piscina al aire libre y spa. Todas las encantadoras villas y apartamentos del Morena Eco Resort tienen muebles de madera. Hay una zona de estar con sofá y TV de pantalla plana. La cocina dispone de frigorífico, placa de gas y cafetera.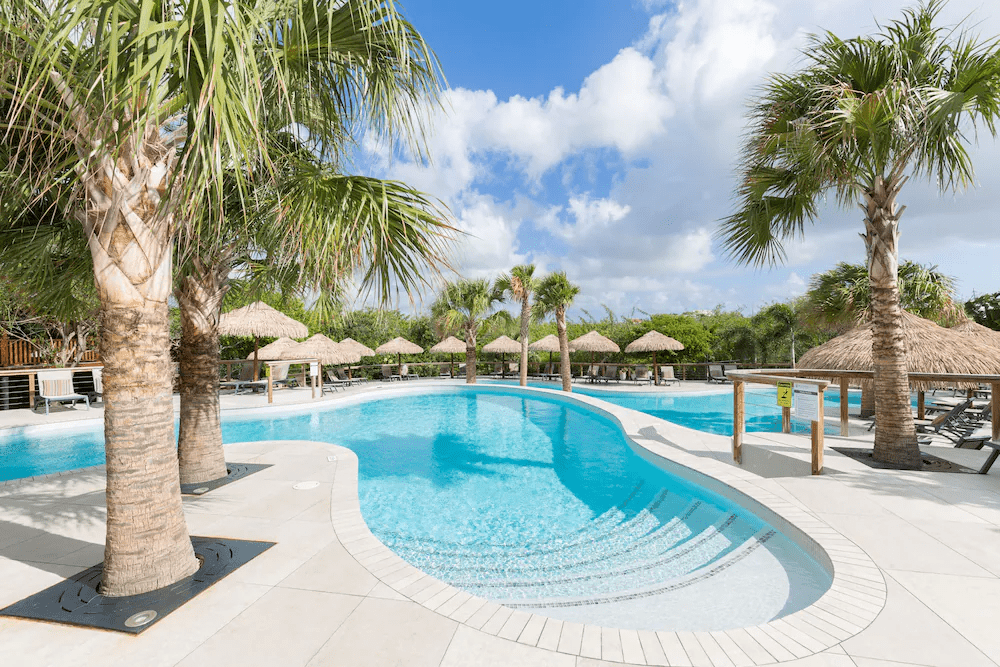 Livingstone Jan Thiel Beach Resort
Este complejo de Jan Thiel dispone de amplias villas y apartamentos con vistas al mar. El alojamiento ofrece fácil acceso a actividades e instalaciones de relax. El Livingstone Jan Thiel Resort cuenta con una gran piscina al aire libre y una piscina infantil. La oficina de actividades puede organizar diversas excursiones y actividades, incluidas excursiones en bicicleta de montaña. El restaurante Don's de Jan Thiel Livingstone sirve desayunos, almuerzos y cenas. Los huéspedes pueden relajarse por la noche con un refrescante cóctel junto a la piscina o en el bar del hotel.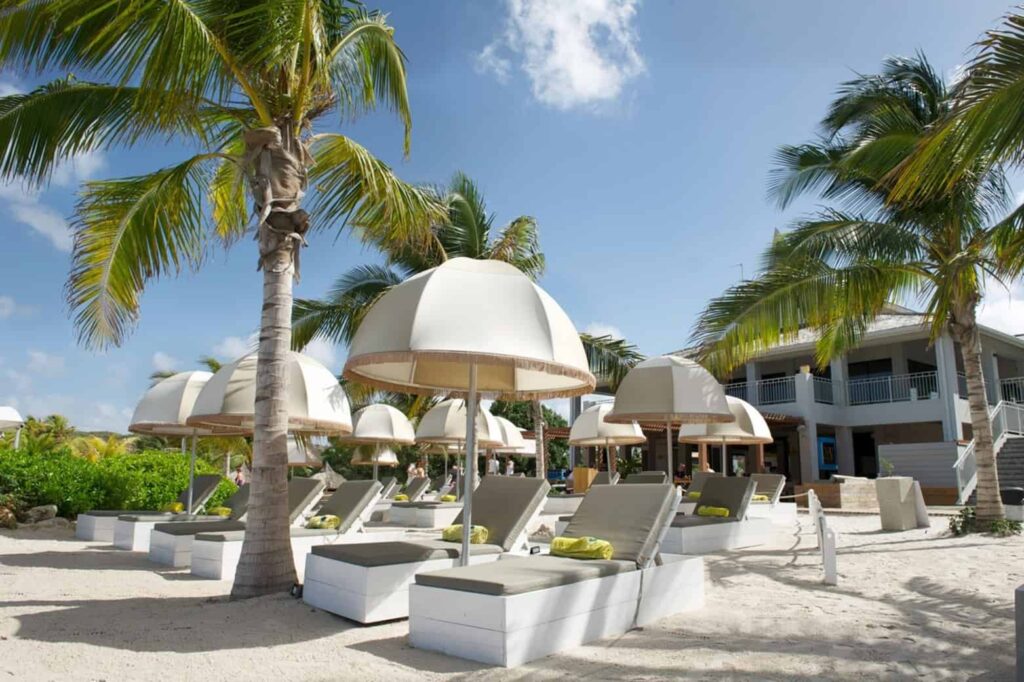 Papagayo Beach Hotel and Resort
Papagayo Beach Hotel ofrece un casino club de playa y un spa en la propiedad. Las elegantes habitaciones disponen de aire acondicionado, conexión Wi-Fi gratuita y TV por cable de pantalla plana. Las habitaciones del Papagayo, decoradas en blanco, disponen de escritorio, sofá y caja fuerte. Los modernos cuartos de baño disponen de artículos de aseo gratuitos.
El Papagayo Beach Hotel cuenta con un restaurante internacional y un bar de lujo situados directamente en la playa. El hotel también cuenta con un elegante bar en el vestíbulo y diversas boutiques. Los huéspedes pueden utilizar la piscina frente a la playa. Hay aparcamiento gratuito y el hotel puede organizar excursiones y servicios de transporte por un coste adicional.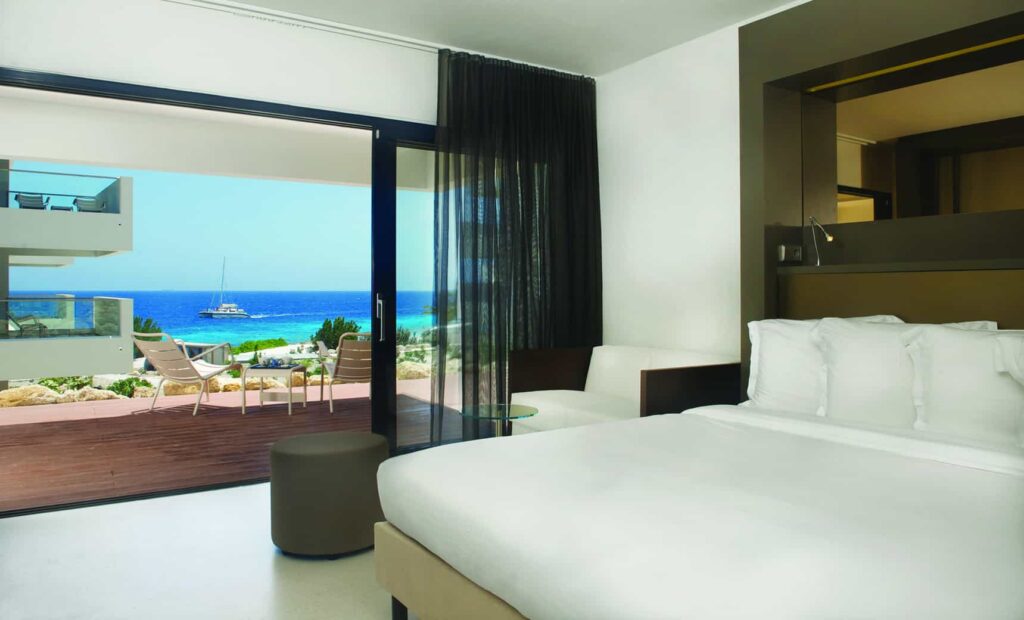 Además del Hotel Papagayo, también hay un complejo de playa en las inmediaciones. Aquí encontrará hermosos bungalows rodeados de jardines tropicales. Hay opciones para distintos números de personas. Las lujosas villas Papagayo cuentan con dormitorios con aire acondicionado y una sala de estar con TV por cable de pantalla plana, mientras que las cocinas abiertas incluyen microondas y lavavajillas. Algunas villas tienen vistas al mar y todas disponen de porches que se abren desde el salón.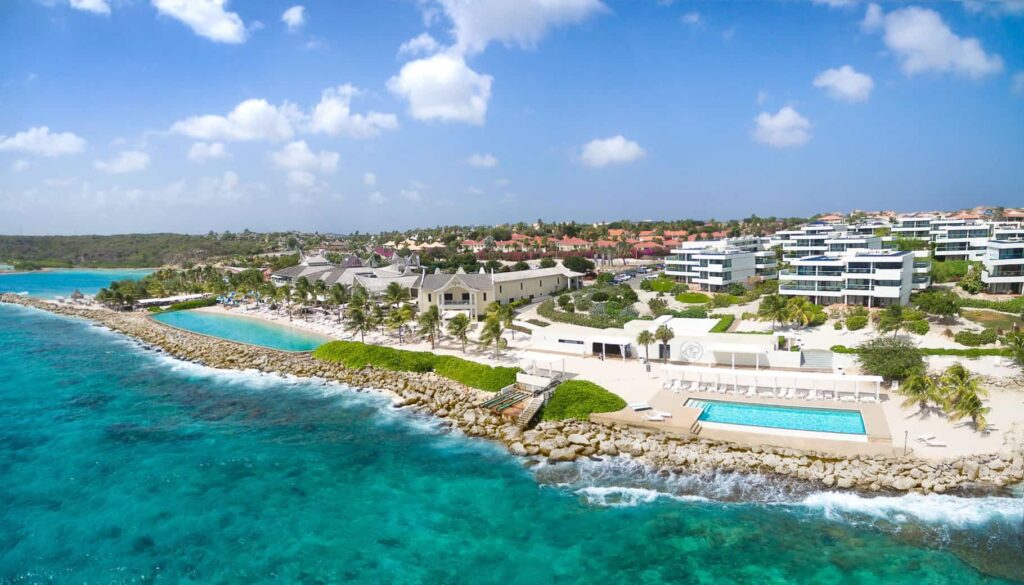 En el Chogogo Resort encontrará un oasis de paz. Disfrute de la belleza de la isla alojándose en uno de los bungalows, pisos o apartamentos de 4 estrellas. Todas las habitaciones y suites del hotel gozan de impresionantes vistas a los hermosos jardines o al mar Caribe.
Aproveche sus servicios para tener acceso a un montón de cosas divertidas que hacer en el hotel y en la isla. En el restaurante principal, donde sólo se utilizan los ingredientes más frescos de todo el mundo y donde podrá cenar rodeado de hermosas plantas, podrá experimentar una amplia gama de sabores y cocinas. Relájese en las aguas cristalinas de las lujosas piscinas, en los jacuzzis o en la playa adyacente de Jan Thiel.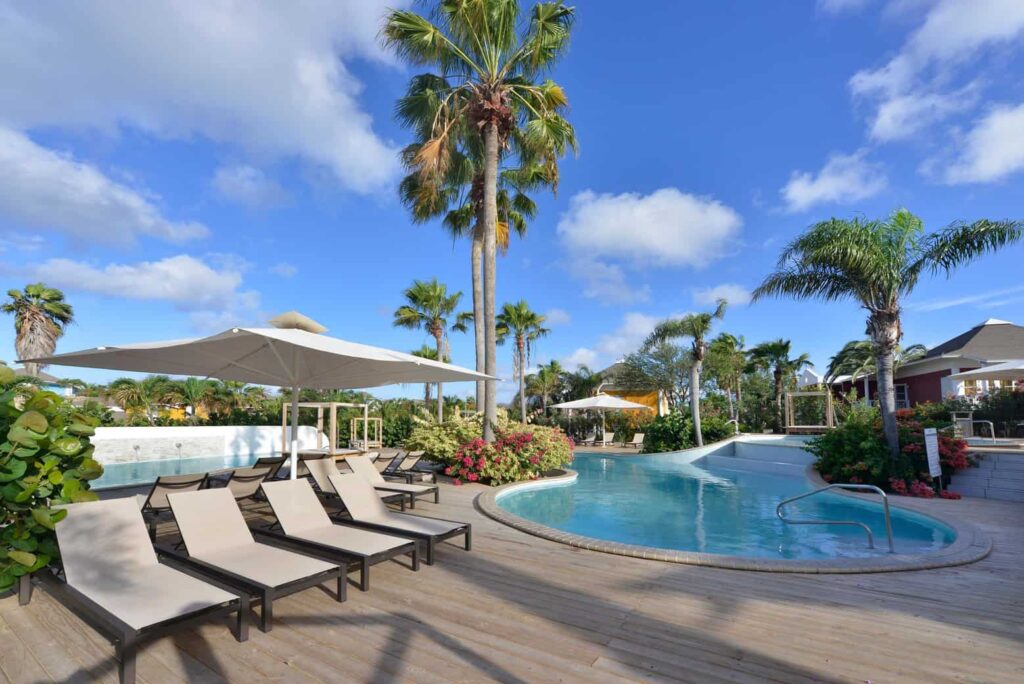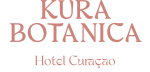 Repartida en un área de ocho manzanas, esta propiedad ofrece una experiencia de lujo única en un refugio botánico y tranquilo, que ofrece total privacidad e intimidad.
Ideal para
Empresarios, parejas o amantes
necesita un descanso
Restaurantes y clubes de playa
Tanto si se aloja en uno de los hoteles/resorts adyacentes como en cualquier otro lugar de la isla, la playa de Jan Thiel cuenta con magníficos restaurantes y clubes de playa que le mantendrán entretenido. Se ofrecen múltiples actividades y servicios en la playa.
Playa y restaurante Zanzíbar
El hermoso Zanzibar Beach & Restaurant se encuentra en la playa de Jan Thiel. El bar y el restaurante están decorados al estilo de África Oriental. Zanzíbar es el tipo de lugar en el que uno nunca se aburre. Desayuno, cena, café y bebidas a pie de playa. Así que puede pasar allí todo el día durante sus relajantes vacaciones. También puede disfrutar de una cena romántica al atardecer o de un tentempié nocturno o una pizza. Jan Thiel Beach es el lugar donde todo sucede. La playa y los restaurantes de Zanzíbar abren todos los días a las 8 de la mañana y permanecen abiertos hasta el anochecer o más tarde. Se puede desayunar, comer y cenar de 8.30 a 22.00 horas. No dejes de pasarte el sábado por la famosa Happy Hour.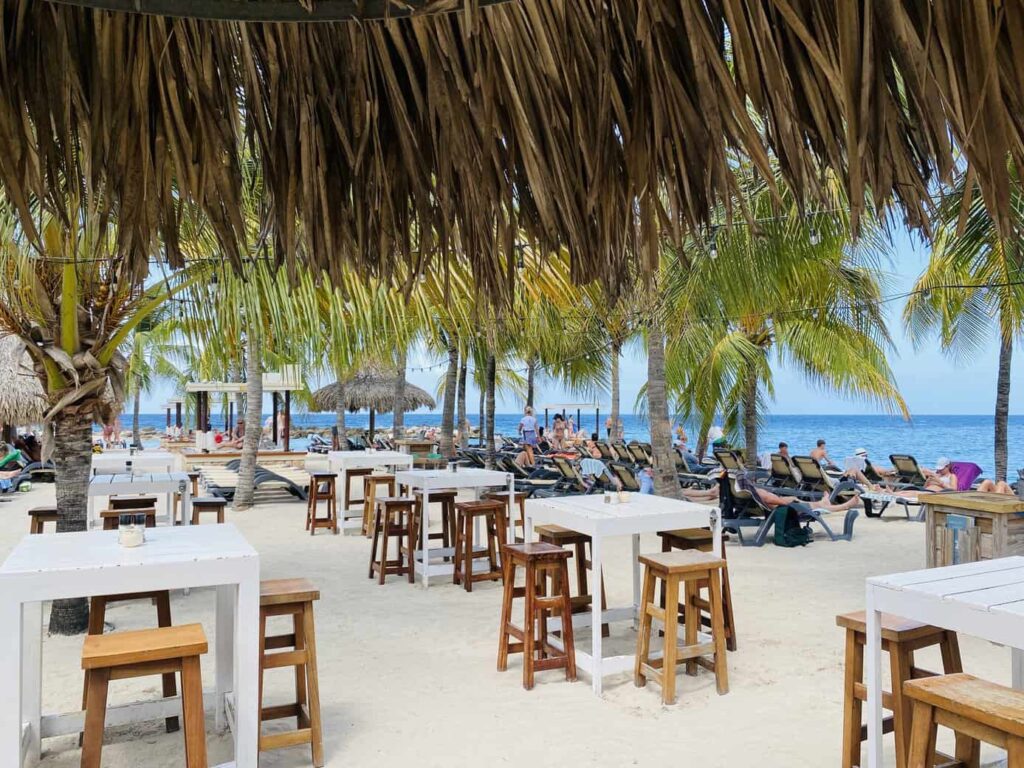 ¿Quiere comer con los pies en la playa o en un elegante restaurante? Puede ser ambas cosas en Zest. El menú del restaurante ofrece una variedad de deliciosos platos con un inconfundible sabor caribeño. Todos los platos del menú, desde el desayuno hasta la cena, son preparados con gran esmero por el chef. No podrás creer lo que ven tus ojos cuando veas este lugar en la playa de Jan Thiel. El restaurante sirve de 8.30 a 22.00 todos los días.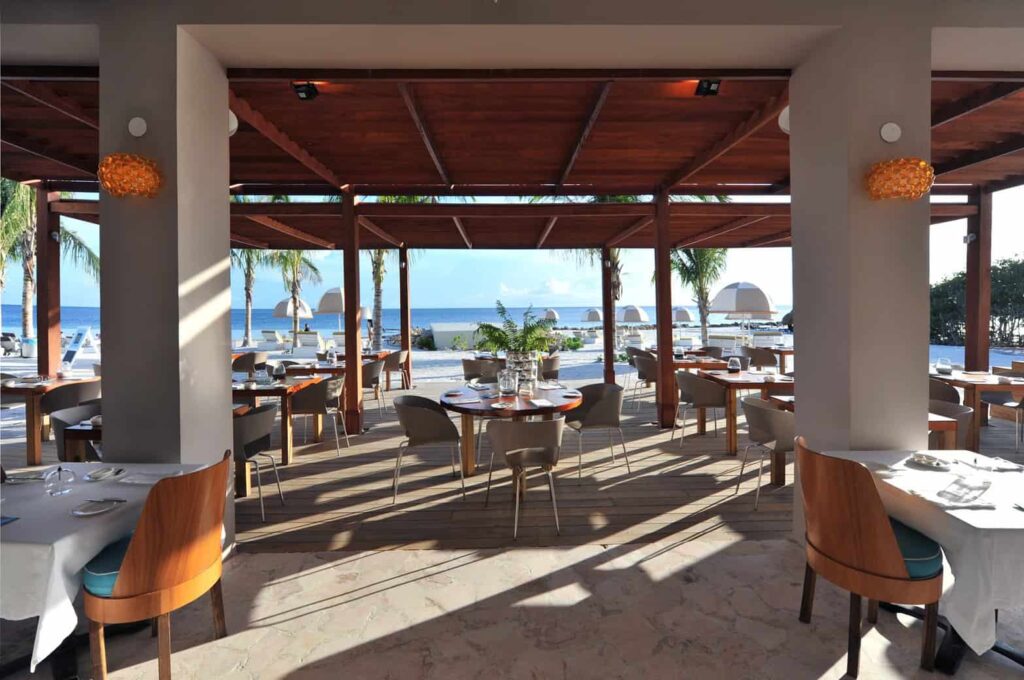 Tinto Bar Y Cocina da la bienvenida a los huéspedes a partir de las 17.00 horas para degustar deliciosos platos argentinos. Se recomienda encarecidamente reservar. El concepto único de Tinto Bar Y Cocina gira en torno a algo llamado «cena compartida». Además, el establecimiento ofrece excelentes cócteles, una carta de vinos seleccionada por expertos, fantástica música en directo e impresionantes puestas de sol. Aquí no falta de nada.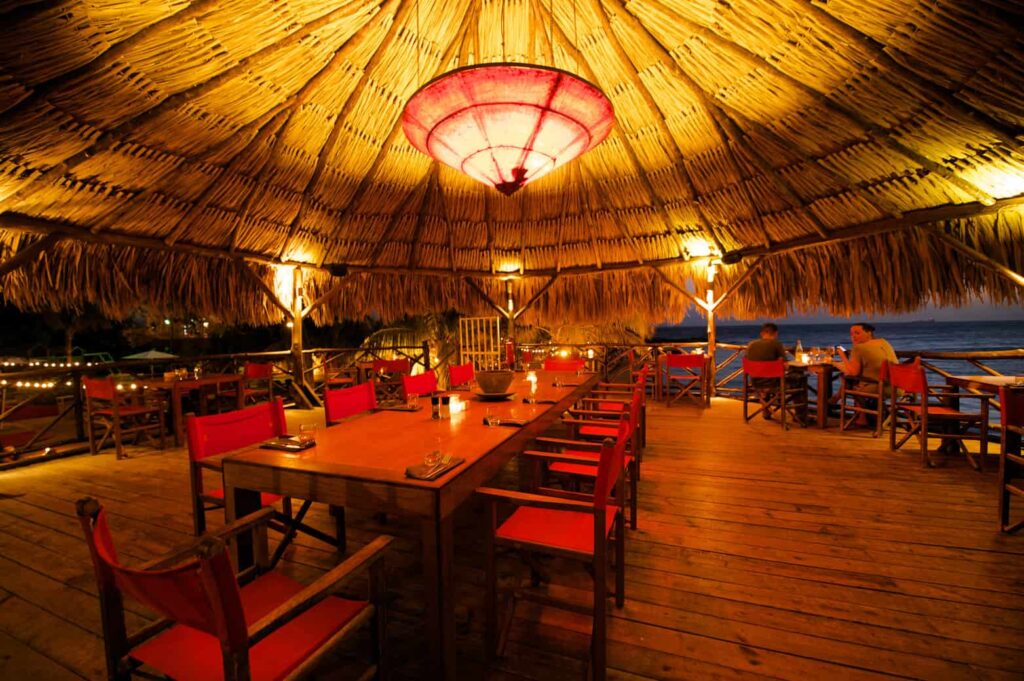 Sin duda, hay que visitar esta joya escondida. Este lugar secreto, digno de Instagram, está escondido en la parte menos transitada de la playa de Jan Thiel. ¿Un día normal en Koko's? ¡Café o cóctel! Relájese en una de las lujosas camas de playa mientras disfruta tranquilamente de sus vacaciones. Compre un menú personalizado al camarero y elija entre una variedad de batidos frescos, batidos saludables y cócteles únicos. Es tu día, así que relájate en una silla de playa y disfruta del almuerzo o elige una mesa en el patio cubierto del restaurante. El menú de Koko se basa en la «comida callejera» internacional.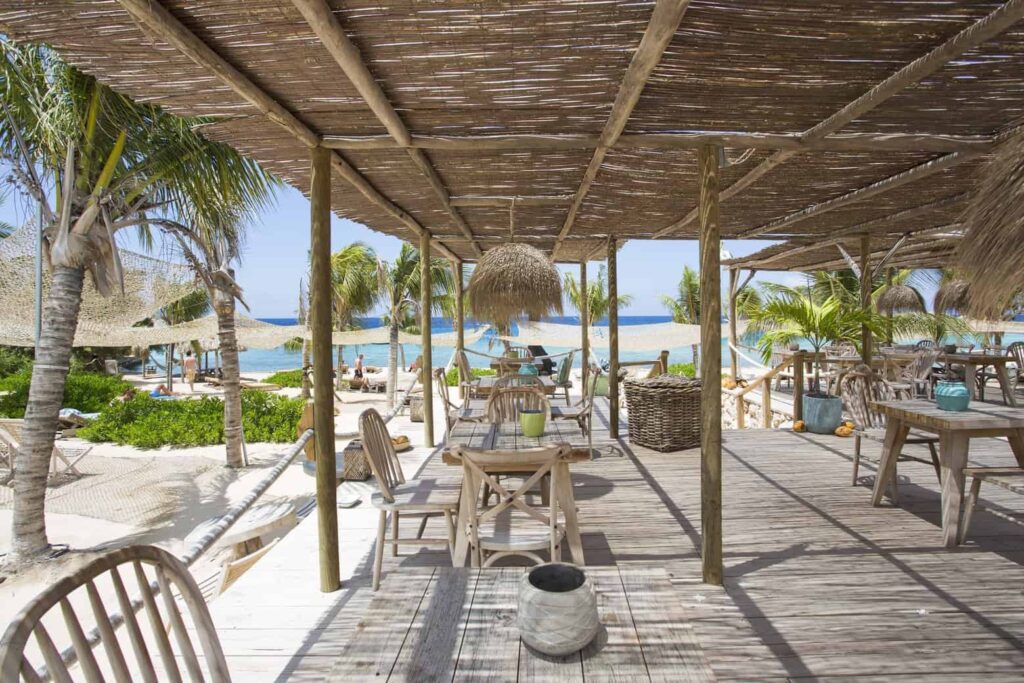 La bahía de Jan Thiel es un lugar estupendo para realizar su (primera) inmersión. Hay varias escuelas de buceo donde se puede hacer una inmersión o un curso de iniciación. Aquí también se pueden alquilar equipos si ya tiene un certificado en el bolsillo. Puedes ir a bucear a Jan Thiel en Papagayo o al Dive Center Scuba Doo entre Koko's y el Restaurante Zest, entre otros.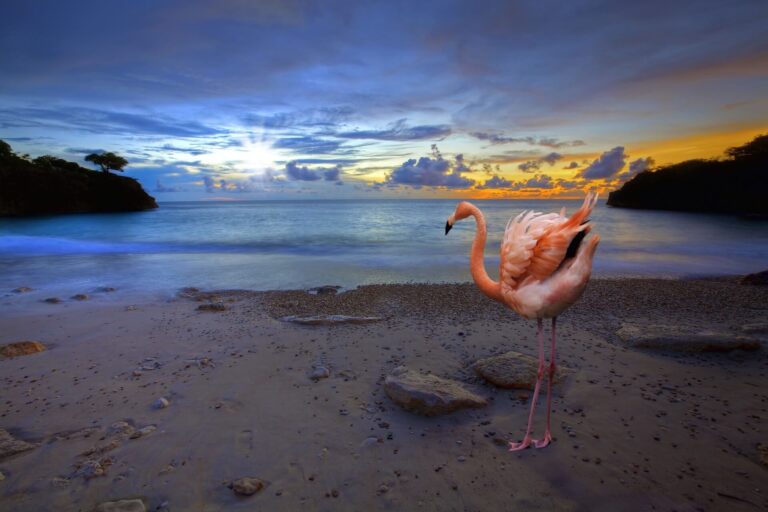 Curaçao, país de las Antillas Neerlandesas, está situado al sur del mar Caribe y en el Caribe neerlandés. Se encuentra a unos 65 kilómetros al norte de la costa de Venezuela. En la isla le esperan animales exóticos. El clima semiárido de Curaçao ha impedido que vivan allí muchas especies de aves tropicales, mamíferos y
Leer más "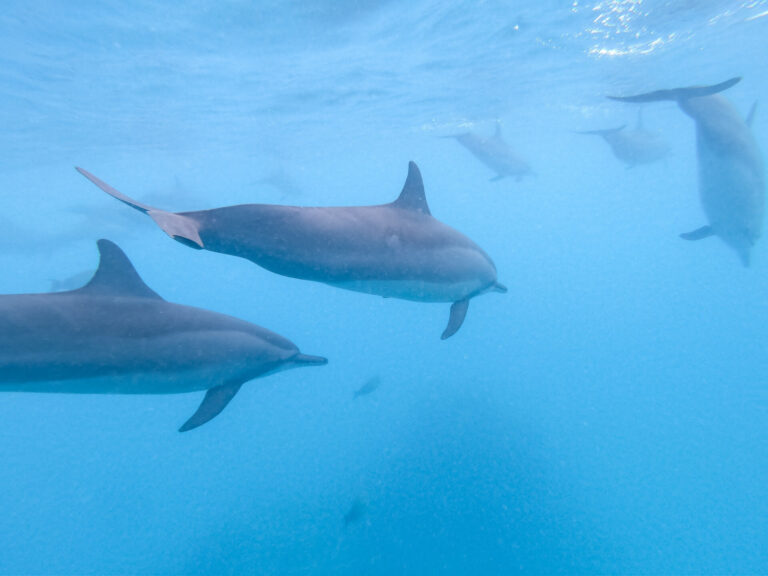 Curazao es conocida por sus delfines Conocer, nadar o bucear con un delfín Curaçao es el lugar perfecto para avistar delfines, nadar con ellos e incluso bucear con ellos. Curaçao suele ser conocida por su delfinario, la Academia de Delfines. La Academia de Delfines de Curaçao se encuentra en el recinto del Sea Aquarium de
Leer más "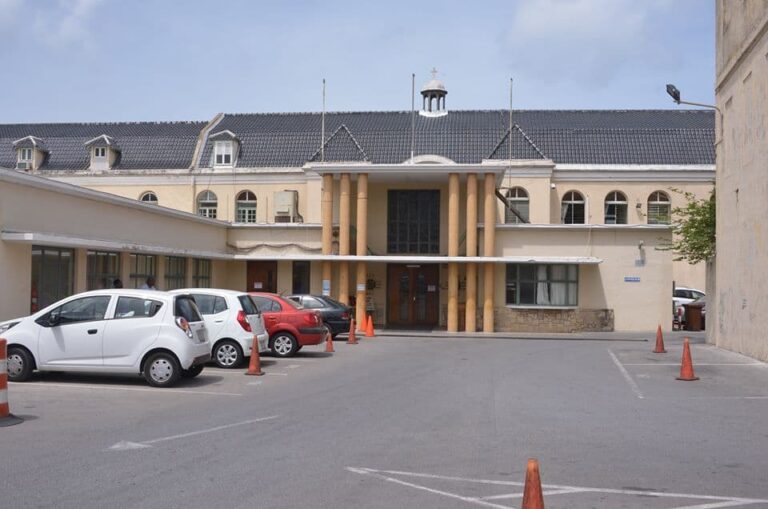 El Hospital Santa Isabel (SEHOS) es el antiguo hospital situado en el pueblo de Kura Hulanda, en el distrito de Otrobanda. El 3 de diciembre de 1855, monseñor Ferdinand Kieckens, con el apoyo de las monjas franciscanas de Breda, fundó esta primera residencia de ancianos, el Hospital de Santa María. Elisabeth Hostpital. Al principio, se
Leer más "