Add a header to begin generating the table of contents
Curaçao Famous Happy Hours 
Curaçao offers a great amount of restaurants, entertainment and nice beach bars where you can enjoy a tasty cocktail, like the famous
Blue Curaçao cocktail.
Almost every bar in Curaçao has a happy hour, therefore it is possible to enjoy a happy hour every single day of the week. 
On this island, there is no such thing as a boring night out, because every night has something special for everyone and what better way than to enjoy a drink while feeling the sand under your toes.
A Happy hour in Curaçao is much more than simply a drink at the bar; it is a way of life, and perhaps one of the greatest parties. Happy hours are organized just around every day of the week, and offer different types of music and drinks. There are even some days when a Happy hour is combined with a party.
Most popular happy hours in Curaçao
Zanzibar
Zanzibar is one of the most popular bars on Curaçao Island. People love it because of the atmosphere, the food and the drinks. On Saturdays there is a special Happy Hour between 17:00-18:00. This is where the locals, students, and tourists of every age go to enjoy themselves. You've probably seen the famous picture of a bucket of beer at Zanzibar Curaçao.
The regular menu includes delicious cocktails, snacks and pizza. And of course live music between 18:00-21:00 and lots of fun people. No worries, after 9 p.m. there is still music to dance to.

Cabana Beach
One of the most visited beaches on Curaçao, Cabana Beach, offers a wide range of activities. There are many bars, restaurants, shops, and even a casino. If you want to relax, there are plenty of hammocks where you can take a break and read a book. On Wednesdays, people come here to enjoy the famous Cabana Happy Hour. The happy hour is between 8 p.m. & 9 p.m. Cabana Night is the night to really go out and dance until 1 a.m.

Wet & Wild Beach Bar
Next to Cabana Beach, you will find Wet & Wild Beach Bar. This is one of the oldest beach bars that are favorite on the list of most popular happy hours/beach bars.
Wet & Wild is known for the happy hour on Friday (from 5 p.m.) and Sunday (from 6 p.m.). Sunday is meant for partying, they say.

Chill Beach Bar & Grill
You know what makes a great happy hour? A good drink and some delicious food. And that's exactly what Chill offers. On Fridays, the bar serves up tasty drinks like mojitos and daiquiris while enjoying live music. In addition, there are snacks such as burgers, pizzas, wings and fries.
The happy hour lasts from 5 to 7 p.m. every Friday.

St. Tropez Ocean Club
If you are looking for a place to relax and enjoy some drinks, Saint Tropez might just be what you're searching for. With its beautiful St. Tropez style white interior and infinity pool, this place is picture perfect and a trendy place to wine and dine. You'll find a lot of bars and restaurants around this area, Pietermaai, offering different kinds of food and beverages. If you're a sushi lover, it's worth dining and drinking cocktails on Mondays at Saint Tropez's sushi & cocktails night. On Wednesday they have their ribs special and on Friday and Sunday you can enjoy their happy hour while listening to some good (live) music.

Mundo Bizarro
Mundo Bizarro is located in the pittoresk Pietermaai district. This café has a homey feel and looks like a vintage Cuban home. At Mundo Bizarro you can enjoy a meal, drinks and good coffee with friends and on Thursday Mundo Bizarro hosts its salsa night. It's a really fun place to discover the beautiful salsa dance, watch people dance and maybe try some out yourself.

Café 40 B
A popular spot among locals and visitors is Café 40 B, located at Mambo Boulevard Curaçao overlooking the ocean.
The bar serves up delicious drinks and tasty snacks like burgers and fries. But what really sets this place apart is the hospitality of the owners. Their warm smiles and genuine interest in making sure everyone enjoys their experience makes Cafe 40 B feel like home away from home. It is a good place to watch a sports game such as soccer and Formula 1 during your vacation.

MOOD Beach Curaçao
MOOD Beach is a trendy restaurant located in the heart of downtown Willemstad. With a unique atmosphere and great food, it attracts locals and tourists alike. Whether you are looking for a romantic date, a family meal, or just want to enjoy some drinks while watching the sunset over the ocean, MOOD Beach delivers.
The menu features a variety of dishes inspired by different countries around the world. The menu includes a wide selection of appetizers, salads, sandwiches, burgers, pasta, ribs, steaks, seafood, pizza, desserts, and much more. In addition to the extensive menu, there is live music every night, making this a perfect location for a party or special event.

Madero Ocean Club
The Madero Ocean Club is located at the heart of Curaçao's most popular tourist area, Mambo Beach Boulevard. This oceanfront beach club features a large outdoor swimming pool, a variety of restaurants and bars, a nightclub, and a surfside bar. Madero Ocean Club offers a variety of entertainment so make sure to look for their upcoming events.

Bonita Beach Bar
This gem is one of the new kids in town. It's also located at the Sea Aquarium Beach, which makes it a fun bar to go to, where you can enjoy their great menu, drinks and… happy hour!
On Fridays and Sundays Bonita Beach Bar's happy hour (Friday 5:30 pm – 7:00 pm & Sunday 5:00 pm – 6 pm) is the place to go to. Make sure to go beach bar hopping while you're there.

Koko's
Curaçao beach bars are often known for being loud and crowded. But there are some exceptions, such as Koko's, located on the quieter side of Jan Thiel Beach. This little spot is a hidden gem of curacao beach bars, with fewer people but friendly and personalized service.
They are open all day so it makes sense to come here for a quiet cup o' coffee and breakfast in the mornings or grab a craft cocktail or dinner along the sea shore in the evenings.
The menu is uniquely inspired by take away street food from around the globe. Everything from classic Cuban sandwiches to pulled pork tacos and pulled beef burgers, nacho chips, buffalo chicken pizzas, and even sliders are served up.
You can enjoy everything here from specialty cocktails to smoothies and health shakes, Cuban sandwiches to grilled cheese sandwiches and wraps, and even salads.

Café de Tijd
Café de tijd is a really nice low key bar and restaurant. Everyday they offer their menu of the day. Café de Tijd is famous for their ribs and fun happy hour on Thursday (9 pm – 11 pm). The Café is located in Punda, the city center of Curaçao. Just a short stroll away from the Pontjesbrug (make sure to see it at night, to see the colorful lights of the bridge).

Every day there are dozens of happy hours in Curaçao, where you can enjoy delicious cocktails and some live music while meeting friends. But which ones are the best? Let us know which one is your favorite.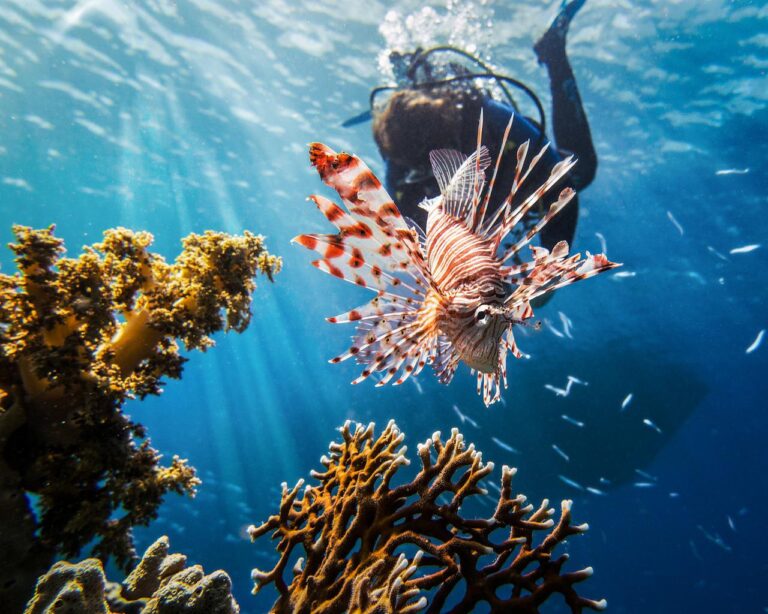 Diving Curacao It is not surprising that every year many people choose to vacation in Curaçao. Besides the fact that you can speak Dutch here, it is also true that you can do excellent diving here. Chances are you are thinking about booking a diving vacation to Curacao, you came to this article for a
Read More »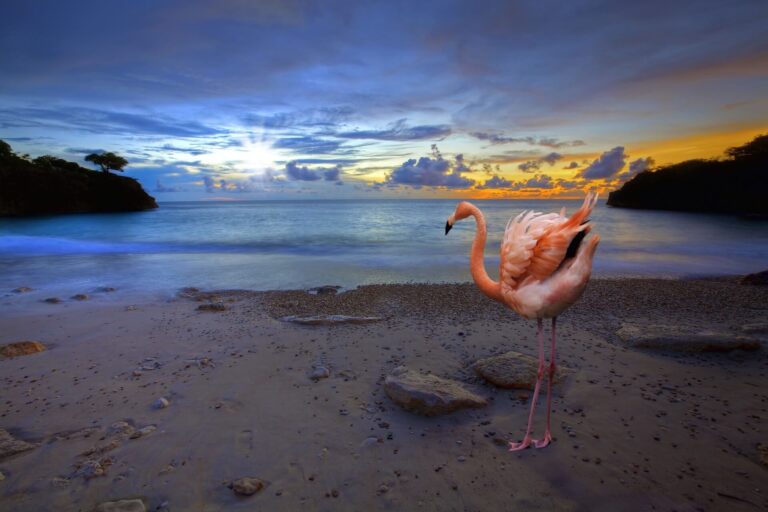 Curaçao, a country of the Netherlands Antilles, is located in the southern Caribbean Sea and in the Dutch Caribbean. It is located about 65 kilometers north of the coast of Venezuela. On the island, expect exotic animals. Curacao's semi-arid climate has prevented many tropical bird species, mammals and lizards associated with rainforests from living there.
Read More »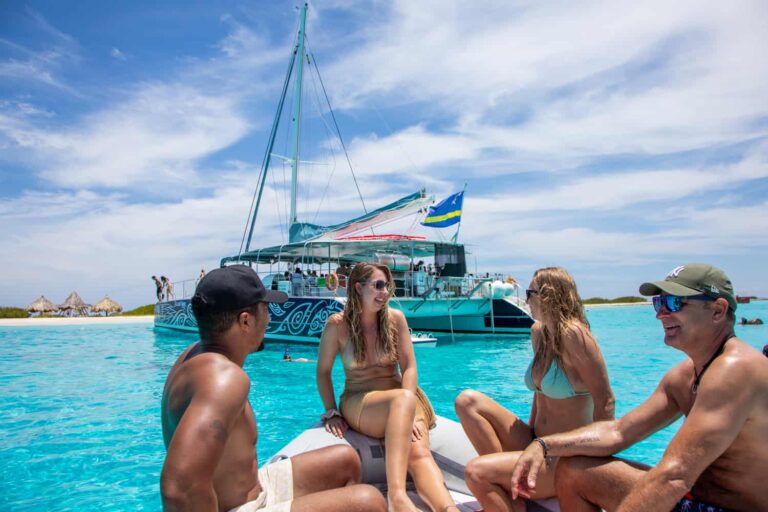 BlueFinn Charters offers you Curacao's newest and largest catamarans: 75ft Catamaran BlueFinn and 80ft Catamaran BlueFinn2. Both catamarans are equipped with a large covered seating area, including a bar, benches with storage compartments, tables and two marine bathrooms. The catamarans also feature a large net area, outdoor benches, a barbecue, music system, snorkeling equipment and
Read More »